S.T.A.L.K.E.R. Performance
NVIDIA has been pushing this game since the GeForce FX days, and now it is finally here. We have to use FRAPS to benchmark it even though a demo_play feature is included. Apparently the demo_record facility had to be removed at the last minute.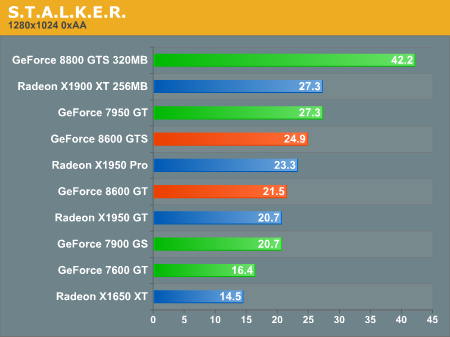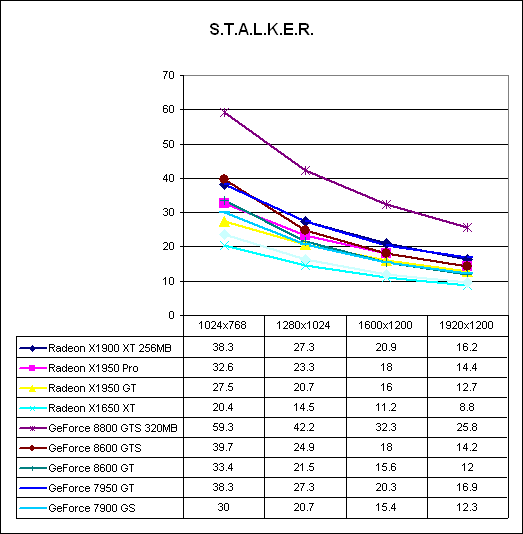 Interestingly, at 1024x768, both the 8600 GTS and 8600 GT perform well compared to their competitors. The 8600 GTS manages to beat the X1900 XT 256MB while the 8600 GT keeps up with the X1950 Pro. Unfortunately, the new hardware can't keep its lead beyond 1024x768, as moving up to 1280x1024 gives us a much sharper drop on G84 than on other hardware.
With the added texture address capability per shader and drastically reduced memory bandwidth compared to other 8 series hardware, the problems we are seeing could be related to memory pressure. This would also help to explain the poorer than expected performance in older games that rely more heavily on lots of textures rather than shader speed. We would need to do many more synthetic tests to really get to the bottom of this issue though.
At 1280x1024, a resolution many midrange gamers run, the new 8600 series just isn't able to handle S.T.A.L.K.E.R. with all the settings turned up except grass shadows. Some settings will need to be lowered a bit to achieve better performance at higher than 1024x768.