The Test
First off we'll start with the results we ran ourselves under Intel's supervision. Intel set up three identical systems, one based on a Core 2 Extreme X6800 (dual core, 2.93GHz/1066MHz FSB), one based on a Wolfdale processor (Penryn, dual core, 3.20GHz/1066MHz FSB) and one based on Yorkfield (Penryn, quad core, 3.33GHz/1333MHz FSB).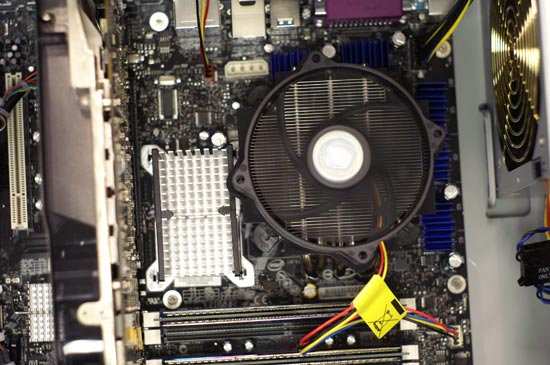 The modified BadAxe 2 board; can you spot the mod?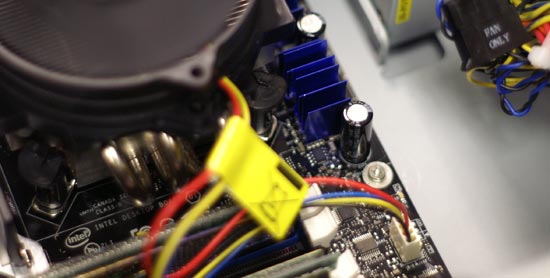 Can't find it? It's under that blue heatsink
The processors were plugged into a modified Intel BadAxe2 motherboard, with the modification being necessary to support Penryn. Each system had 2GB of DDR2-800 memory and a GeForce 8800 GTX. All of our tests were run under Windows XP.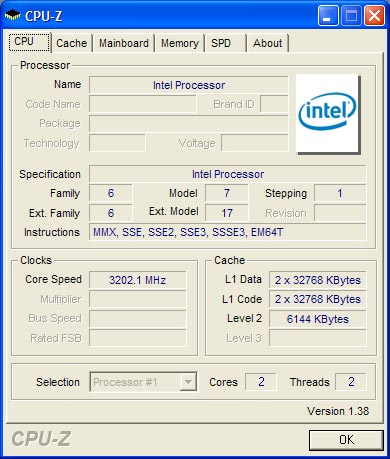 Wolfdale - 2 cores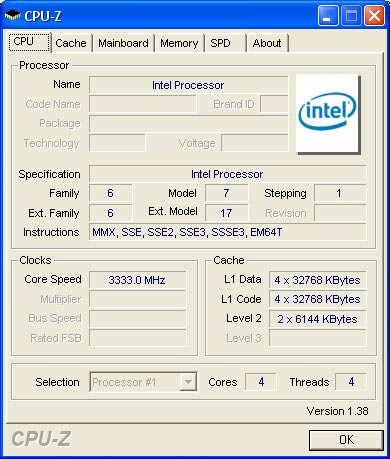 Yorkfield - 4 cores
The Cinebench 9.5 test is the same one we run in our normal CPU reviews, with the dual core Penryn (Wolfdale) scoring about 20% faster than the dual core Conroe. Keep in mind that the Wolfdale core is running at a 9.2% higher clock speed, but even if Cinebench scaled perfectly with clock speed there's still at least a 10% increase in performance due to the micro-architectural improvements found in Penryn.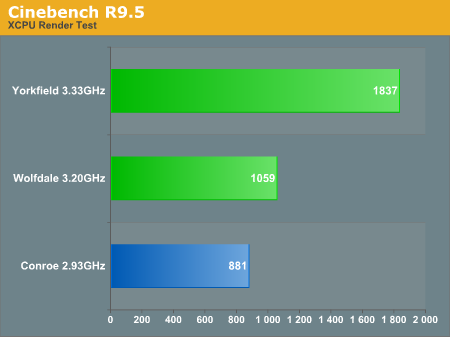 Next up was Intel's Half Life 2 Lost Coast benchmark which was run with the following settings:
| | |
| --- | --- |
| Setting | |
| Model Detail | High |
| Texture Detail | High |
| Shader Detail | High |
| Water Detail | Reflect World |
| Shadow Detail | High |
| Texture Filtering | Trilinear |
| HDR | Full |
Half Life 2 performance at a very CPU bound 1024 x 768 has Wolfdale just under 19% faster than Conroe. Once again, clock speed does play a part here but we'd expect at least a 10% increase in performance just due to the advancements in Penryn.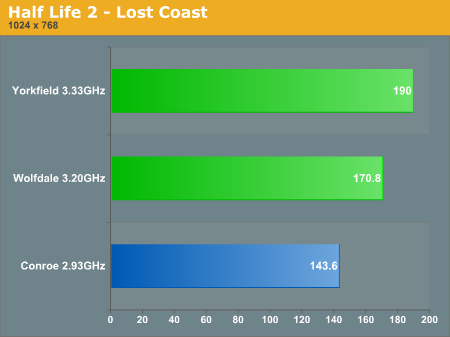 At 1600 x 1200 the performance difference shrinks to 10.6%, still quite respectable: