Additional Fan Tests
Initial test results showed the fan of the Scythe Ninja Plus B, while a better performer than the OCZ Vindicator fan, was still more slanted to silence than cooling performance. The stock fan provided average results in AnandTech cooler overclocking tests. To determine whether the overclocking limitations were a result of the cooler design or the fan selection, additional cooling tests were run with a new fan first used in the OCZ Vindicator review.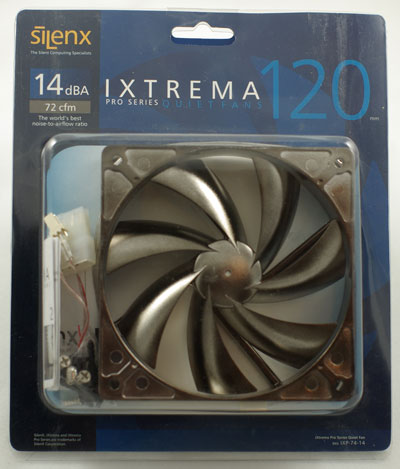 The SilenX IXTREMA 120 claims to provide the world's best noise-to-airflow ratio. The specifications claim a 14 dB-A noise level coupled with 72 CFM airflow. Perhaps even more remarkable is the rated watts of 1.92 which should be safe on almost any motherboard fan header.
The SilenX made quite a difference in the performance of the OCZ Vindicator which may be a rebadged Ninja Plus B. To determine if that was really the case we were interested in testing the Ninja Plus B with the same fan to see if results were the same. This will help answer the question as to whether the two coolers merely look similar or are in fact the same cooler with a different name. Results with a single stock fan and a single SilenX IXTREMA 120 are reported in all performance charts and graphs for the OCZ Vindicator and the Scythe Ninja Plus B.
We extend our sincere thanks to
Frozen CPU
for providing the SilenX IXTREMA 120 for testing. We are preparing for a roundup of 120 fans and Frozen CPU has provided an assortment of new and innovative fans that we think you will enjoy seeing in the upcoming 120 fan roundup.
Push-Pull Testing
Since a push-pull fan configuration made a significant improvement in our review of the Scythe Infinity cooler, push-pull was briefly tested using two stock Scythe Ninja Plus B fans. Overclocking performance was also tested briefly using two SilenX IXTREMA 120 fans.
Push-Pull results were similar to the findings on the Infinity. A single stock Scythe fan topped out at an overclock of 3.83Ghz. Using two of the 49.6 CFM fans allowed us to reach a top stable overclock of 3.9GHz, matching the top heatpipe tower coolers and the push-pull Infinity.
However, a single 72 CFM SilenX also allowed a top stable overclock of 3.90GHz, matching the top results with the Thermalright Ultra 120/SFLEX, Tuniq Tower 120, OCZ Vindicator (with SilenX fan), and Scythe Infinity (with two push/pull 46.5 CFM fans). This certainly points to a better fan providing better results with the Ninja Plus B. The soon-to-be-released Thermalright Ultra 120 Extreme remains alone at the top of our performance charts with an overclock of 3.94GHz combined with temperatures among the lowest tested at each overclock.
With these results with a single SilenX we tried two SilenX 72 CFM fans in a push-pull configuration on the Ninja Plus B . This configuration provided no better overclocking than a single 72 CFM SilenX, but cooling was 2C better at the highest overclock of 3.9GHz. The Single SilenX was 42C idle and 62C load at 3.9GHz, where the two SilenX measured 40C at idle and 60C at load.
We can surmise from these results that airflow in the 72 CFM to 100 CFM range is likely optimum for highest overclocking and best cooling performance with the Ninja Plus B. Of course this is also impacted by the static pressure of the fan chosen for cooling. Certainly increasing airflow in the Ninja Plus B definitely improves performance, but the increase is not without limits. Eventually you reach the point where increasing airflow provides no further improvements in overclocking or cooling. This optimum point is likely to vary with each cooler and each type of design. It is a subject we will explore further in our 120mm fan roundup.