The
680i SLI motherboards
were launched with a tremendous public relations effort by NVIDIA back in November. There was a lot of hype, speculation, and fanfare surrounding NVIDIA's latest chipset for the Intel market, and it promised an incredible array of features and impressive performance for the enthusiast. At the time of launch we were promised the mid to low range 650i SLI and Ultra chipsets would be shipping shortly to flesh out NVIDIA's Intel portfolio. NVIDIA had plans to truly compete against Intel, VIA, ATI, and SIS in the majority of Intel market sectors within a very short period of time after having some limited success earlier in 2006 with the C19A chipset.
However, all of this planning seemed to unravel as the weeks progressed after the 680i launch. It seemed as if NVIDIA's resources were concentrated on fixing issues with the 680i chipset instead of forging ahead with their new product plans. Over the course of the past few months we finally saw the 650i SLI launched in a very reserved manner, followed by the
680i LT launch
that offered a cost reduced alternative to the 680i chipset. While these releases offered additional choices in the mid to upper range performance sectors, we still did not know how well or even if NVIDIA would compete in the budget sector.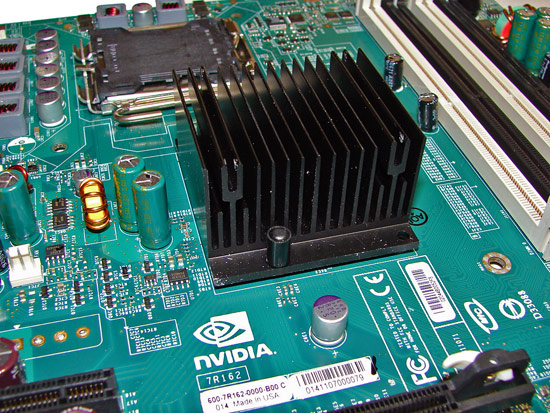 When discussing current Intel platform chipsets, the phrase "budget sector" is somewhat of an oxymoron. While there are a lot of choices in the $50 to $60 range for Core 2 Duo compatible boards, these are mainly based on older chipsets that do not offer anything in the way of extended overclocking, RAID, or performance oriented designs. This is not to say they are in any way bad, as one of our favorite budget boards in the lab is the VIA based
ASRock 4CoreDual-VSTA
, but rather these boards are targeted for an audience that is very price sensitive.
As you go up the price ladder there are some very good 945P boards from the likes of EPoX and Gigabyte, followed by the budget P965 boards from ECS, MSI, Foxconn, and Biostar. These boards usually offer solid performance and a decent set of features for prices in the $75 to $105 range. Once again, nothing in this sector is designed to offer mid-range performance capabilities at a price under $100. Well, this all changes with the eerily silent release of the NVIDIA 650i Ultra today. The EVGA 650i Ultra board we are reviewing today will initially be offered at $99 but prices should drop as supply and competition become widespread. What is different about this chipset and does it really offer an attractive alternative to the Intel chipsets in the $100 market? Let's find out in today's review of the EVGA 650i Ultra motherboard.