OCZ Vindicator
The Vindicator is packaged is a slick acrylic box. This certainly allows the package to stand out on shelves, since you can see everything about the cooler through the clear shell.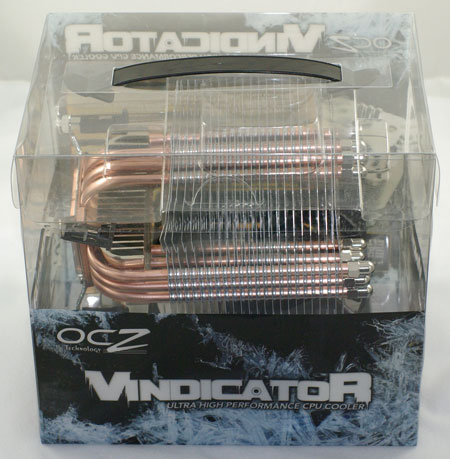 While the packaging makes the Vindicator stand out, we do have some questions about how well it protects the heatpipe tower from damage during shipment. The cooler we received looked great in the package and the package seemed sturdy enough, but the shipping process had caused a lot of crushed fins opposite the visible side of the package. They were straightened with a knife and some patience, but not all buyers will want to straighten fins on a new cooler. A sturdier package would help.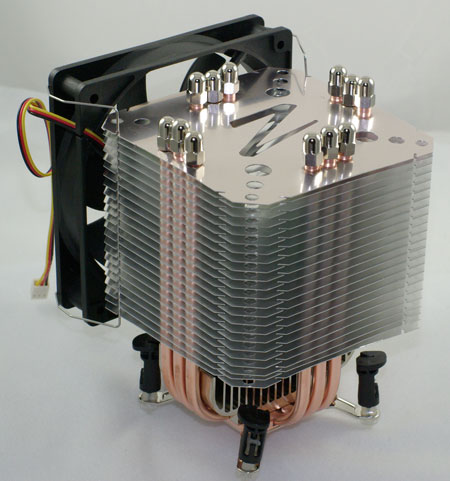 The Vindicator cooler is a bit different in configuration from most other heatpipe coolers. While it uses 6 u-shaped heatpipes to cool they are arranged as 3-pipe arrays at a ninety degree angle. This places three heatpipe rods on each side. Unlike the Scythe Infinity or Thermalright Ultra 120, which are wider than they are flat, the Vindicator design makes a square cooler which is much deeper than most of the other heatpipe coolers. This is the same configuration used in the Scythe Ninja Rev. B.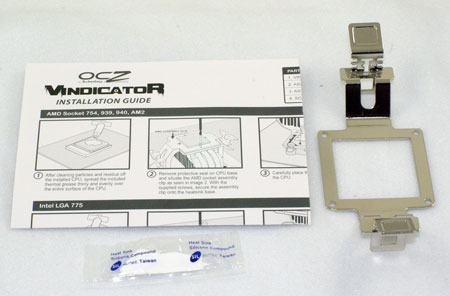 As already mentioned the Socket 775 adapter is installed, but the AM2/939/940/754 adapter is also included along with a small packet of thermal compound and installation instructions. You are
not
required to remove the motherboard to mount the Vindicator. It uses standard Intel-type push pins for mounting on Socket 775. However, space is very limited above the mounting area so you will likely want to mount the Vindicator before installing a fan.
The Vindicator is a big cooler and it takes up a lot of space in the case. While a simple installation is always preferred, the weight that is being supported by those four pop-in clips is a real concern. With no back plate this is not a cooler you will want to use in a system you move around. The motherboard could easily be overstressed and fail or it could actually break the board with rough handling.
Specifications
The Vindicator will mount on all current CPU sockets, but it does not support the older Intel Socket 478. If you have a Socket 478 CPU you will need to buy the Scythe Ninja Rev. B instead.
OCZ Vindicator Specifications
Heatsink
Dimensions
110(L) X 110(W) X 150(H)mm (excluding fan)
Weight
640g (excluding fan)
Material
Copper and Aluminum
Fan Configuration
Supports 120mm fans (120mm fan included)
Open or closed mounting posts.
Included Fan
Fan Size
120mm x 120mm x 25mm
Bearing Type
Sleeve Bearing
Noise Level
18.5 dB-A
Speed
1000 RPM
Air Flow
40 CFM
Static Pressure
1.40mm H2O
Weight
130g (fan only)
The fan included with the Vindicator is clearly aimed at the silent cooler market. The airflow is relatively low and noise is rated at just 18.5 DBA. However, the fan mount will handle any 120mm fan, so you can choose from a wide variety of popular 120mm fans if the stock fan does not deliver what you are looking for.
The Vindicator also allows mounting of multiple fans if you choose, as we demonstrated in the
Scythe Infinity review
. The aluminum cooling fins have a pair of grooves on each side to provide flexibility in fan mounting. Using extra wires and careful positioning you should be able to mount as many as 4 fans for cooling on the Vindicator.