Readers who have been around the enthusiast market for a while may remember OCZ heatsink/fans from the past. OCZ was a big player in the enthusiast cooler market several years ago, but OCZ cooling solutions have been few and far between in recent years. We took a look at the somewhat traditional OCZ Tempest last year, but we could never get the Tempest to mount properly on our test bed. We did try an alternate test board but performance was not really any better than the stock Intel cooler so the cooler didn't justify a special review in our mind.
OCZ has recently introduced another enthusiast cooler, which they call the OCZ Vindicator. Those familiar with current coolers will recognize a striking resemblance to the Scythe Ninja Plus Revision B, a cooler that is also in our schedule for review.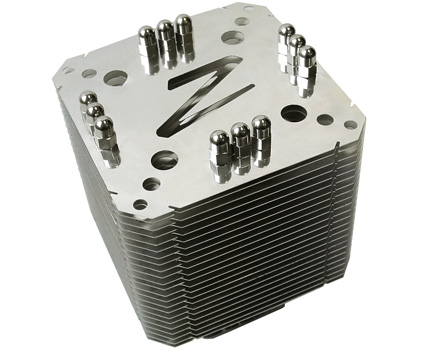 When we asked OCZ if the Vindicator was just a relabeled Ninja Rev. B they told us the Vindicator is built for OCZ. OCZ stated they did not have any agreement with Scythe and that the Vindicator is not a rebadging of the Scythe Ninja. Regardless, the designs are very similar. The good news is the OCZ Vindicator comes preconfigured for Intel Socket T, where the Scythe requires installation of a bracket before it can be used on that socket. Mounting socket plates on both coolers are similar in design, but they differ slightly in the screw layout used to attach the plates to the base cooler.
OCZ ships with an Intel 775 mount installed and an AMD AM2/939/940/754 adapter in the package. The Ninja Rev. B includes the same assortment with a slightly different design. The Ninja Rev. B also includes an Intel Socket 478 adapter.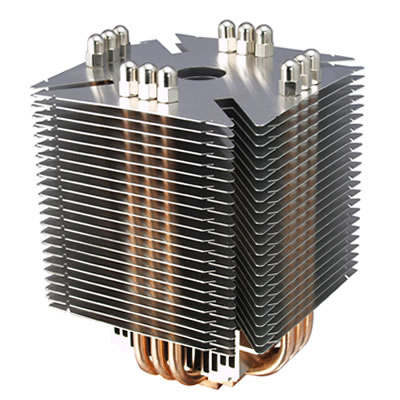 Where OCZ and Scythe differ quite a bit is in the included fan. The OCZ fan is rated at 1000 RPM, 40 CFM, and a very low 18.5 dB-A. This compares to the Ninja at 1200 RPM, 49.6 CFM, and 20.9 dB-A. Both are very quiet fans, but the OCZ is specified at almost half the sound pressure of the Ninja Rev. B. The Ninja, on the other hand, is capable of moving more air.
In the end the question is whether the OCZ fan, which is definitely quieter, is capable of moving enough air to keep up with other coolers in overclocking - a domain that is certainly a part of almost everything OCZ markets. That is a question that will be addressed in this review, when the performance of the Vindicator is compared to the other heatpipe towers we have tested in recent months.