Introduction
We've taken a look at several high-end 30" LCDs recently, like the
HP LP3065
and the
Dell 3007WFP
. While these are undoubtedly nice monitors, many people have a few concerns with them. One of the major problems is that they require a dual-link DVI connection, so they essentially require a higher end graphics card than what many people have. Hooking them up to a notebook is also generally out of the question, with a few exceptions. They are also quite large, but with their 2560x1600 native resolution they still have a very fine pixel pitch. Some will think that's a good thing, while those who are more visually challenged
[Ed: raises hand]
might prefer a slightly lower native resolution.
Furthermore, while nearly everyone will agree that running your LCD at its native resolution is the best solution, gaming on a 30" LCD at 2560x1600 requires some serious graphics horsepower. Then there's the lack of input options on the 30" LCDs; due to a lack of any scaler ICs that can handle the native resolution, the displays
only
support dual-link DVI connections (or single-link with a very limiting 1280x800 resolution, with a few caveats).
This is not to say that 30" LCDs are bad; merely that they are not a solution that all find ideal. Enter the 27" LCD panel.
There are definitely people that would like something slightly larger than a 24" LCD, but they don't want to deal with some of the aforementioned problems with 30" LCDs. These people basically have a few options. First, they could always look at some of the 1080p HDTV solutions, which are currently available in 32", 37", 42", and several larger sizes. If resolution isn't a concern, there are plenty of other HDTV solutions out there, but those are less than ideal for computer work. The other option, and the one we'll be looking at today, is to get something like
Dell's 27" 2707WFP
.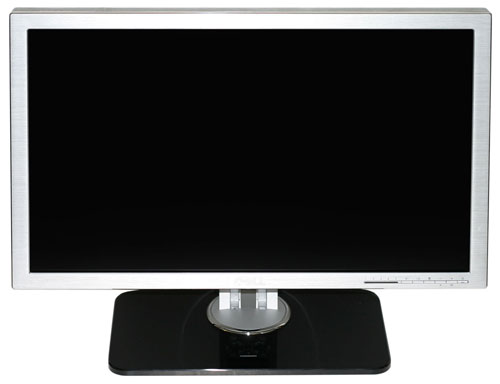 We've already looked at Dell's 2407WFP and 3007WFP, so we refer back to the earlier review for anyone interested in additional information about Dell's other LCDs, warranty, and support policies. Our primary focus here is going to be on how the 2707WFP compares to both the slightly larger and slightly smaller offerings on the market.
One of the factors that many people are going to be interested in is the pixel pitch of the various LCD offerings. We've compiled a list of typical pixel pitch sizes for a variety of LCD panels and resolutions. Some people feel a smaller pixel pitch is always more desirable, and while that might be true for some uses, reading text on an extremely fine pixel pitch can at times be difficult for some of us. If you've used a 15" laptop with a 1920x1200 resolution, you will hopefully understand. We know plenty of other users that find the typical 17" LCDs are not comfortable to use at the native 1280x1024 resolution, which is why many people prefer 19" LCDs. (Modifying the DPI setting of Windows can help in some areas, but there are quirks to changing the DPI from the default 96dpi setting.)
LCD Pixel Pitch vs. Display Size and Resolution
Panel Size
Resolution
Pixel Pitch
15"
1024x768
0.297mm
17"
1280x1024
0.264mm
17" WS
1440x900
0.255mm
19"
1280x1024
0.294mm
19" WS
1440x900
0.285mm
20"
1400x1050
0.292mm
20"
1600x1200
0.255mm
20" WS
1680x1050
0.258mm
22" WS
1680x1050
0.282mm
24" WS
1920x1200
0.270mm
26" WS
1920x1200
0.287mm
27" WS
1920x1200
0.303mm
30" WS
2560x1600
0.250mm
32" WS
1920x1080
0.370mm
37" WS
1920x1080
0.427mm
42" WS
1920x1080
0.484mm
As you can see from the above table, the 27" LCDs currently boast the largest pixel pitch outside of HDTV offerings. However, the difference between a 15" or 19" pixel pitch and that of the 2707WFP is really quite small. If you're one of those that feel a slightly larger pixel pitch is preferable - for whatever reason - the 2707WFP doesn't disappoint. Dell has made some other changes relative to their other current LCD offerings, however, so let's take a closer look at this latest entrant into the crowded LCD market.