Specifications and Basic Features
ASUS P5N32-E SLI Plus
Market Segment:
High-End Performance - $185
CPU Interface:
Socket T (Socket 775)
CPU Support:
LGA775-based Pentium 4, Celeron D, Pentium D, Pentium EE, Core 2 Duo, Core 2 Extreme
Chipset:
NVIDIA 650i SPP (C55) + 570 SLI MCP (MCP55P)
Bus Speeds:
Auto, 533 to 3000 QDR (133~750) in 1MHz increments
Memory Ratios:
Auto, Sync., 1:1, 5:4, 3:2
Memory Speed:
400MHz~2600MHz in various increments
PCIe 1-2-3 Speeds:
100MHz~200MHz in 1MHz Increments
LDT Frequency:
1x, 2x, 3x, 4x, 5x, 6x, 7x, 8x
Core Voltage:
Auto, 0.83125V to 1.90000 in 0.00625V increments
FSB Options:
Optimal, Linked, Unlinked
CPU Clock Multiplier:
Auto, 6x-11x in 1X increments - Core 2 Duo, downwards unlocked,
Core 2 Extreme 6x-50X
DRAM Voltage:
Auto, 1.8500V to 3.4250 in .025V increments
DRAM Timing Control:
Optimal, Manual - 13 DRAM Timing Options
NB Voltage:
Auto, 1.20V to 2.75V in .05V increments
1.2V HT Voltage:
Auto, 1.20V to 1.95V in .05V increments
SB Voltage:
Auto, 1.50V to 1.85V in .05V increments
CPU VTT:
Auto, 1.20V to 1.55V in .05V increments
Memory Slots:
Four 240-pin DDR2 DIMM Slots
Dual-Channel Configuration, DDR2-400, 533, 667, 800
Regular Unbuffered Memory to 8GB Total
Expansion Slots:
2 - PCIe X16 (2-x16 electrical for SLI or Multi-GPU)
1 - PCIe X16 (x8 electrical)
1 - PCIe x1
2 - PCI Slot 2.2
Onboard SATA/RAID:
6 SATA 3Gbps Ports - 570 SLI MCP
(RAID 0, 1, 0+1, 5, JBOD)
Onboard IDE:
1 ATA133/100/66 Port (2 drives) - 570 SLI MCP
Onboard USB 2.0/IEEE-1394:
10 USB 2.0 Ports - 4 I/O Panel - 6 via Headers
2 Firewire 400 Ports by VIA 6309P - 1 I/O Panel, 1 via Header
Onboard LAN:
NVIDIA Gigabit Ethernet - PCIe - 2 x Marvell 88E1116 PHY - 2 ports via 570 SLI MCP
Onboard Audio:
ADI 1988B - 8-channel HD audio codec, Supreme FX audio card
Power Connectors:
ATX 24-pin, 8-pin EATX 12V
I/O Panel:
1 x PS/2 Keyboard
1 x PS/2 Mouse
1 x S/PDIF Optical - Out
1 x S/PDIF Coaxial - Out
1 x IEEE 1394a
2 x RJ45
4 x USB 2.0/1.1
Auto Overclocking:
AI Overclock - 5%10%, 15%, 20% Fixed; N.O.S. - 3%, 5%, 8%, 10% Variable
BIOS Revision:
Award 0602
Board Revision:
v1.0
The latest ASUS BIOS offers a very good level of options that are available for tweaking the board with specific emphasis placed on the available memory settings. We found in memory testing that switching to manual settings and changing the tCAS, tRCD, tRP, and tRAS was required to ensure optimum performance.
Compared to the 680i LT board, the number of voltage options and range of changes are extensive but the lack of GTL Ref voltage settings limited our quad core overclocking results to 360 FSB but the board was able to reach benchmark stable FSB speeds of 495 with our dual core processors.
One other issue we have with the 0402 and 0602 BIOS releases is that memory sub timings are very tight, especially tRC rates which ended up causing stability issues with some of our lower cost memory modules with ProMOS or Elpida ICs. While the aggressive memory timings allow for optimum performance, we generally had to hand tweak them to ensure stability across a wide range of memory modules.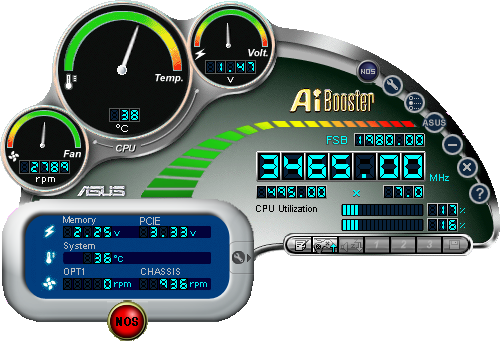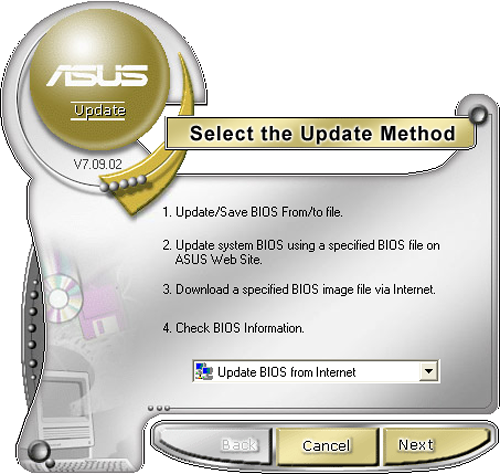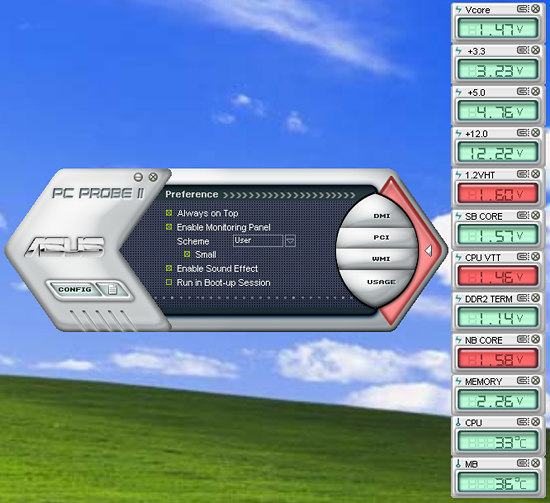 ASUS offers minimum support for NVIDIA's nTune system utility but includes several proprietary programs for tweaking and monitoring the board. The AiBooster utility offers the ability to tweak FSB speeds and certain voltages along with monitoring basic temperatures, fan speeds, and voltages. This utility allows the user to fine tune the AI NOS program that detects system load and dynamically increases system performance up to 10%. We were able to set NOS at 10% and complete our benchmark suite without issues. However, when using the AI Overclock option in the BIOS, we were unable to get the fixed 20% setting stable during benchmarking and had to back off to 15%.
Also included is the ASUS Update program that allows for BIOS updates within Windows from the ASUS FTP site (or from your hard disk if the BIOS was already downloaded). We have not had any issues recently when updating our BIOS with the ASUS Update program, but we still prefer the DOS floppy method. The ASUS PC Probe II utility is one of the better manufacturer supplied programs for tracking voltage settings, fan speeds, and basic temperatures. We still believe abit's µGuru technology offers the best combination of tweaking and monitoring capabilities in a supplier provided program, but ASUS's AiSuite is certainly capable enough for most users.