Storage
Looking at the storage front, the 2U Promise Vtrak E310f looks a lot like
the VTrak J300s
(a 2U 12 disk JBOD system). Looks can deceive of course: the E310f is an RBOD which has built-in failover/failback RAID 6 dual SAS controllers. The VTrak E310f connects to your SAN Switch via 4Gb fiber channel ports. The price of the 310f is around 4000 Euro (probably about $4500).
It is one of the first RBODs to use the Intel IOP341 CPU. This is a highly integrated, system-on-a-chip I/O processor incorporating the low-power Intel XScale processor, which runs at clock speeds of about 800 MHz. The IOP341 has also a rather large 512 KB L2 for an embedded chip. The XScale chip provides "pure hardware" or IOP-based RAID, including support for RAID 6. RAID 0, 1, 1E, 5, 10, 50, 60 are also supported. No less than 512MB cache is available (with a maximum of 2GB).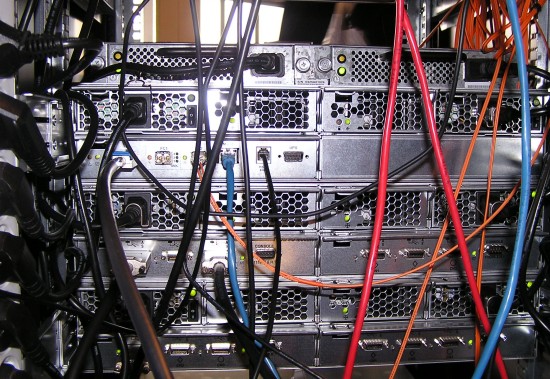 Up to four VTrak J-Class JBOD systems can be daisy chained via the SAS port to provide more storage space. The RBOD can be completely configured via a comprehensive remote management web server interface.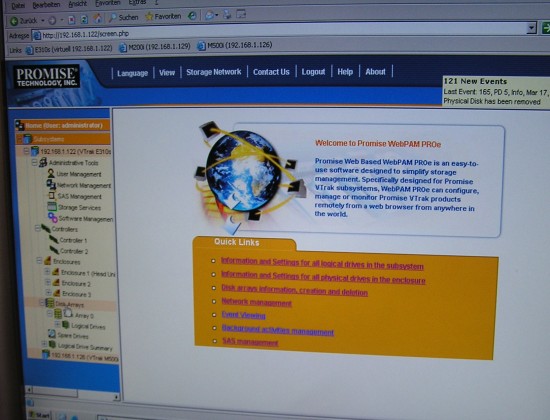 This kind of RBOD still needs a third party SAS controller from Adaptec or LSI. Promise offers only SAS controllers with internal ports.