Since our
AMD 690G performance review
was published we have been inundated with questions. One of the most common requests is to see how an integrated graphics chipset destined for the typical µATX (commonly referred to as microATX or mATX) platform compares to a more performance-oriented chipset designed for mainstream ATX configurations, with all other components being equal.
This is not necessarily a question we typically ask ourselves as we have always assumed the answer centers on the board design and BIOS options. These will in general determine any performance differences between motherboards using the same chipset, or in this case between boards using chipsets within the same family. We typically find the integrated graphics chipset designs are based upon their non-integrated graphics siblings so performance from a chipset level is usually considered to be equal.
However, there appears to be an urban myth or general misconception from some that integrated graphics chipsets offer inferior system level performance when compared to their sexier siblings. This thought process has been created in part by the standard IGP board design, as most IGP systems are based on the µATX form factor, a standard that usually ends up being featured in the typical low cost office or home machine. These systems represent about 90% of the personal computers sold in the North American market each year and just a little more worldwide.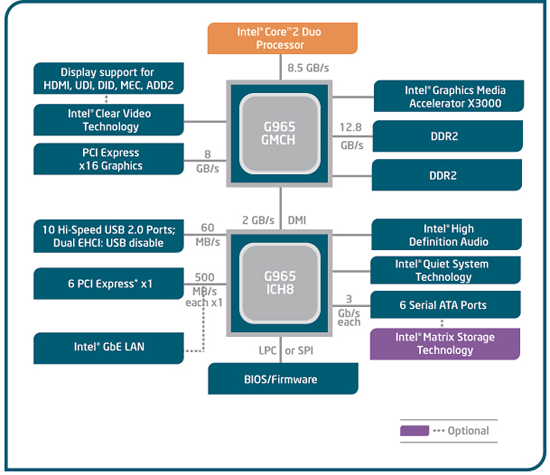 The µATX platforms usually offer few BIOS tuning options and are geared for the value sector, yet they still offer reliable operation in an environment where performance is secondary to compatibility, ease of use, and serviceability. Naturally, these µATX units usually do not offer the performance level of systems targeting the gaming, workstation, or enthusiast users but that does not mean their overall performance potential should be any less. After all, there is not a standard that dictates µATX boards or IGP designs should perform worse, just a perception they will even if all other factors are equal.
We generally find that if the manufacturer offers the same level of component quality and BIOS options on µATX designs then performance is equal to or at least close enough to the ATX setups that benchmarks are required to spot any differences. We are also surprised that more non-integrated graphic chipsets do not find their way onto µATX boards, although potential cooling issues for overclocking and the limited amount of expansion slots are likely the main reasons for this.
With this in mind and our mailboxes full of requests we decided to break away from our normal test routines and do a little
myth busting
to see if a couple of very similar boards in our arsenal offer the same level of performance. Let's see what happens when you have a G965 µATX board square off against a P965 ATX board.