Gaming Performance
As usual, gaming performance was tested with a variety of current games. We ran benchmarks at a 1024x768 resolution. Any more than this resulted in completely unplayable game conditions, although we did find several older non-FPS games such as the Civilization series, Railroad Tycoon 3, Rollercoaster Tycoon series, and others played acceptability at 1280x1024 with the quality settings at normal. We concentrated on Direct X games as OpenGL support under Vista is bad at this time.
Battlefield 2
This benchmark is performed using DICE's built-in demo playback functionality with additional capture capabilities designed in house. During the benchmark, the camera switches between players and vehicles in order to capture the most action possible. There is a significant amount of smoke, explosions, and vehicle usage as this a very GPU intensive Battlefield 2 benchmark. We run Battlefield 2 using medium quality graphics settings available in the video settings. The game itself is best experienced with average in-game frame rates of 35 and up.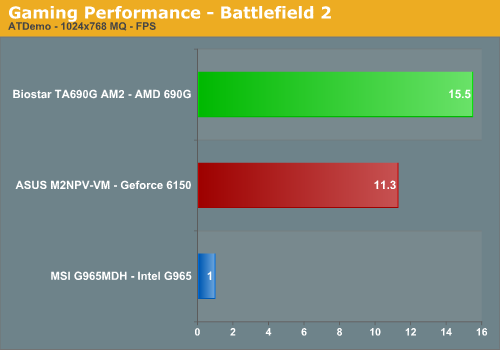 Half-Life 2: Lost Coast
We use the built-in timedemo feature to benchmark the game. Our timedemo consists of starting at the bottom of the hill near the lake and ending in the old church. The Source engine timedemo feature is similar to the nettimedemo of Id's Doom 3 engine, in that it plays back more than just the graphics. The visual quality settings were set to high or medium where possible with HDR off. While the Source engine is notorious for giving great frame rates for almost any hardware setup, we find the game isn't as enjoyable if it isn't running at 35fps or above.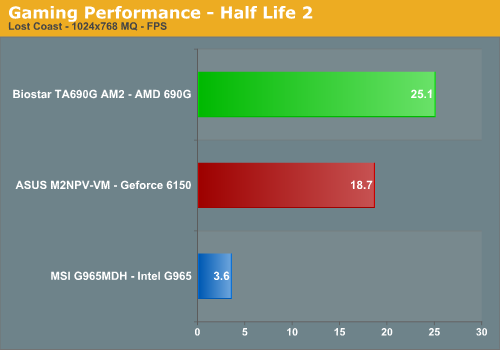 Company of Heroes
Company of Heroes was recently released and is proving to be a very addictive RTS game around the office. This game is very GPU intensive and also requires a hefty CPU at times. The game contains a built-in performance test that utilizes the game engine to generate several different action scenes along with a coffee argument as a sideline distraction before the war starts. We found the performance test gives a good indication of how well your system will perform throughout the game on average. Some of the in-game action sequences are more demanding than the performance test, but we generally found the game to be enjoyable with an average performance test frame rate above 30fps.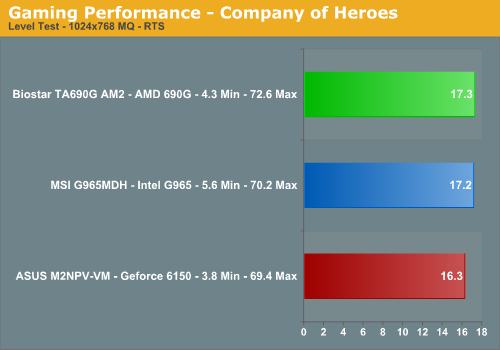 Sims 2
Sims 2 was released over two years ago and is constantly being updated with best selling expansion packs. In testing with the various expansion packs we did not notice any measurable differences in performance so our benchmark will be reflective of game play using the base game title. This particular game requires a decent CPU and very good GPU when utilizing the antialiasing, shadow, or high quality texture options.
We utilize FRAPS to capture the results from our replay file. Our benchmark consists of a three character scenario that takes approximately twenty minutes to set up and cycle through a series of daily events. The camera movements are varied as is the movement so we feel like this benchmark represents the typical game. We set most video options to high but disable shadows. We generally found the game to be enjoyable with an average frame rate above 30fps.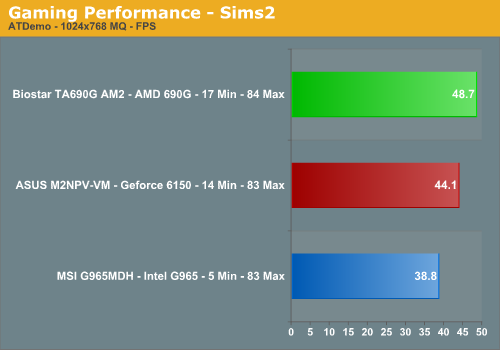 Gaming Summary
What else can you really say after reviewing the results? They are generally pathetic from a gaming perspective but the 690G obviously has some potential left in it at the lower resolutions. The 6150 performs okay considering the age of its core and we will see the new 6150SE and older 6100 chipset performing a few percent better overall but not enough to catch the 690G.
Considering the G965 was launched last fall and promised to bring about a difference in on-board video performance, we are still not seeing the results live up to the hype. The G965 was incapable of running Battlefield 2 at all and Half-Life 2 was an interesting slide show that allowed you to see every detail of the benchmark session in an excruciatingly slow way that would make a visit to the dentist for a root canal seem pleasant. However, G965 was able to generate decent results (for this grouping) in Company of Heroes and Sims 2, though the minimum frame rates in Sims 2 would bring the game to a slow crawl at times. Image quality generally favored the 690G in the majority of games we tried but the NVIDIA 6150 was close in most titles. The G965 had acceptable image quality but we could tell certain details were not as sharp or even evident when compared to the competing AM2 solutions.