The Chip
Barcelona is AMD's first quad-core processor, featuring four cores on a single 65nm die. Unlike Intel's quad-core Kentsfield, Barcelona is not made up of two dual core die, which is why AMD calls it a "native" quad core solution. Although there is a technical performance advantage to AMD's approach, we're unsure if it's something that will be visible in real world testing.
Built on AMD's 65nm process, Barcelona is a more complex design than the K8 requiring a total of 11 metal layers compared to 9 for K8 and 8 for Core 2. AMD has required more metal layers at the same process generation than Intel in previous years, so Barcelona is not unique. Additional metal layers make manufacturing a bit more complicated, but there are no significant downsides to the end user.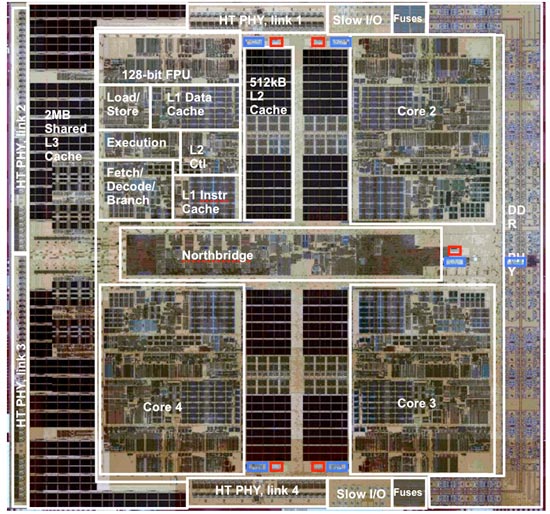 With four cores and an optional 2MB of L3 cache on-die, Barcelona weighs in at 463 million transistors. At 463 million transistors, Barcelona is 119 million transistors shy of Kentsfield's 582M count. The lower transistor count boils down to a lack of cache; each Barcelona core has a 128KB L1 cache and a 512KB L2 cache, with all four cores sharing a 2MB L3 cache, for a total of 4.5MB of cache on-die. Each of the two die that compose a single Kentsfield have two cores, each core with its own 64KB L1 and a shared 4MB L2. A single Kentsfield chip has a total of 8.25MB of cache on-die, over 80% more than Barcelona, thus explaining the 25.6% increase in transistor count.
However, Barcelona is far more than a quad-core K8 with an L3 cache. We estimate the number of non-cache transistors in a dual-core Athlon 64 X2 to be approximately 94M, and the Barcelona core is around 247M; even doubling the dual-core K8 figure won't get you close to Barcelona. Note that simply doubling the 94M number also isn't an accurate comparison as Barcelona only features a single on-die Northbridge. In essence, there are more than 60M additional transistors (or more than 15M per core) that went into architectural enhancements outside of more cores and cache in Barcelona.