Scaling of Cooling Performance
The Scythe Infinity was an excellent performer in CPU cooling at stock speeds. However, as overclocks were raised, the performance of the single fan (stock) Infinity was below average. The Infinity reached relatively high overclocks, topping out at an average 3.83Ghz, but the cooling temperatures were higher than expected for a top cooler. It appears that this performance curve is mostly the result of the very low noise 1200 RPM fan Scythe ships with current Infinity coolers.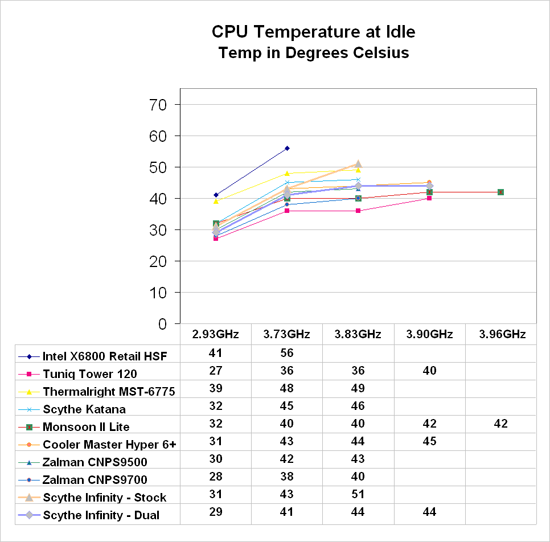 Further evidence that the low-noise fan is holding back cooling performance during overclocking can be seen by comparing the two fan Scythe Infinity results. Using two of the low-noise Scythe fans in a push-pull configuration significantly lowers the CPU temperature. In this configuration one fan pushes air through the cooling fins while the fan on the opposite side pulls the air. In other words both fans are blowing in the same direction toward the back of the case.
At 3.73GHz the retail HSF is running at 56C, compared to 43/41 with the Infinity in stock/dual fan setup. At every speed the idle performance is much improved with the push-pull fan setup. The delta becomes greater as the overclock increases. At 3.83GHz the idle with the stock single fan is 51C compared to the push-pull dual temp of 44C - a significant 7C improvement in cooling.
As described already, stress testing utilized the Far Cry River demo in a continuous loop for 30 minutes. Cooling efficiency of the Scythe Infinity under stress conditions was then compared to the retail HSF and other recently tested CPU coolers. Once again we tested both the stock and push-pull fan configurations.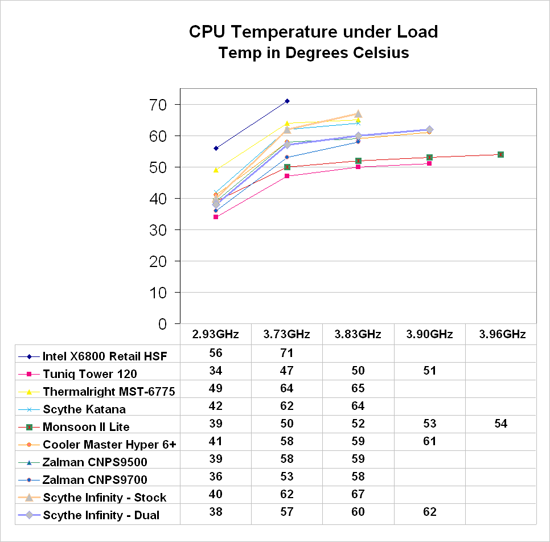 By 3.83 GHz, which is the highest overclock the stock Infinity could reach with stability, the Tuniq is at 50C compared to the stock Infinity at 67C. Add a second fan to the Infinity with push-pull cooling, however, and the load temperature at 3.83GHz drops to 60C. What's more the dual fan Infinity can overclock higher - to 3.90GHz - to match our highest overclock on air with this CPU. That makes the push-pull Scythe Infinity the first air cooler to overclock to the same 3.90GHz reached with the Tuniq, which is excellent performance.
As stated many times, the overclocking abilities of the CPU will vary at the top, depending on the CPU. This particular CPU does higher FSB speeds than any X6800 we have tested, but the 3.9GHz top speed with the Tuniq is pretty average among the X6800 processors we have tested with Tuniq cooling. A few of the other processors tested with the best air coolers reach just over 4 GHz, but the range has been 3.8 to 4.0GHz. Stock cooling generally tops out 200 to 400 MHz lower, depending on the CPU, on the processors tested in our lab.