Zalman is a name that instantly comes to mind with Computer Enthusiasts when cooling is mentioned. However, Zalman built its reputation with low-noise products and not with high performance. Silence and Zalman go hand-in-hand, but that is not normally the same as best performance. Zalman is a company that builds an exotic fanless power supply, a fanless GPU cooler, the Reserator 2 fanless water-cooled case, and huge copper fin CPU coolers with large, low-speed fans for cooling.
To be frank, Zalman most likely is the reason for the current fashion of large fans running at slow speeds, which has proven to provide superior cooling with much lower noise than smaller fans running at high speeds. A South Korea based company, Zalman has quickly grown in the past few years from a "good-idea" product to a huge product line based on the silent or low-noise cooling concept. With the growth have come additional offices, with US offices located in Garden Grove, California.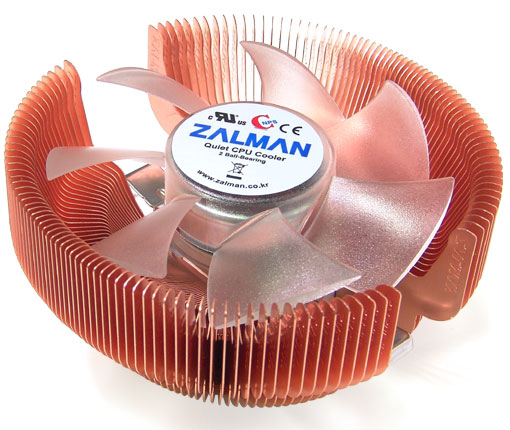 The CNPS9500 and CNPS9700 families are roughly based on the current thinking about heatpipe tower cooling - with a Zalman twist. From the very first Zalman coolers a few years ago, we have seen huge multi-finned circular coolers with a large, proprietary contained cooling fan. The CNPS7500 you see above is a good example of the typical Zalman CPU cooler.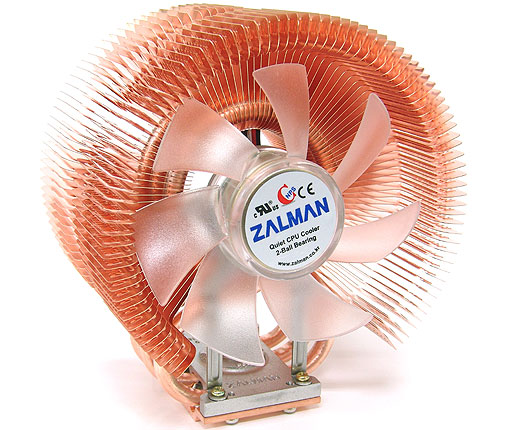 Last year Zalman introduced an update to this concept in the Zalman CNPS9500. The 9500 turned the large orb on its side, supported by looped heatpipes that claimed the efficiency of a six heatpipe design. Zalman had their version of the increasingly popular and effective heatpipe tower.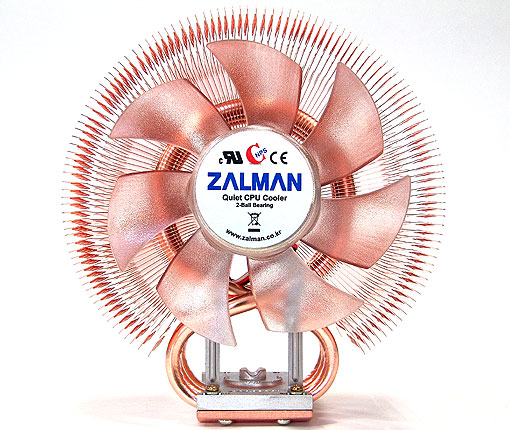 A few weeks ago at CES, Zalman introduced a larger version of the 9500 which they call the CNPS9700. The larger all-copper 9700 increased the embedded fan size from 92mm to 110mm. This provided a larger and higher capacity "air tunnel" for cooling.
With so much attention from Zalman on cooling, the obvious question is whether the Zalman 9500 and 9700 continue the Zalman tradition of ultra quiet cooling. Does Zalman still lead the pack in quiet designs, or have competitors caught up? There is also the important question of whether the Zalman is also a good choice for performance cooling. Large fans move a lot of air at low noise, so are the Zalman 9500 and 9700 CPU coolers a good choice for the overclocker?