Final Words
As Cell-like as Intel's Teraflop Research Chip may be, it's never going to be a product. In fact, there's no rhyme or reason to choosing 80 cores as the magic number, it was simply the number of cores Intel was able to cram into the design given the target die size. At the same time, the teraflop chip isn't here to set any performance records either, its sole purpose is as a test vehicle for its tiled network approach, power management with many cores, 3D stacked memory, and as a whole for the future of multi-core processors.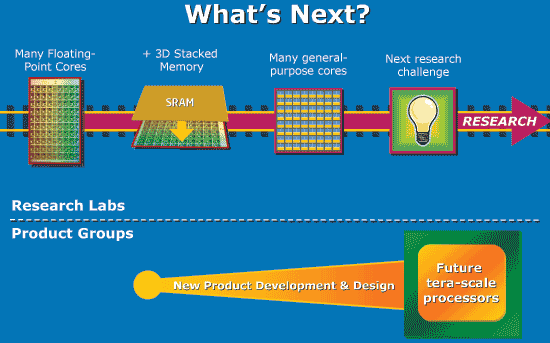 Intel stated that the two next steps for this research chip are to introduce a 3D stacked die, which we're suspecting Intel has already made significant progress on, and to introduce some more capable cores.
Intel's goal with this chip isn't to build a FP monster, but rather a fast general purpose chip. Chances are that what this chip evolves into won't be an array of 80 general purpose processors, but maybe an 8 or 16 core chip complete with x86 cores, specialized hardware, and 3D stacked memory.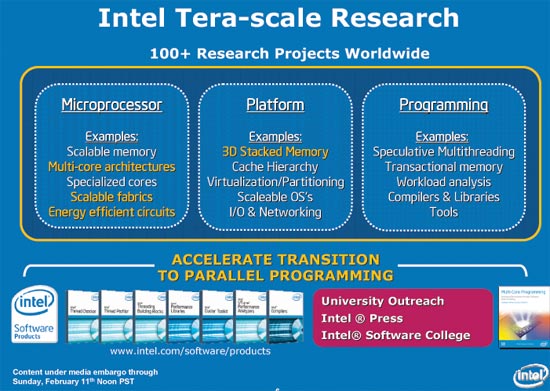 What's the time to fruition for these technologies? Intel estimates 5 - 10 years before we see the tangible benefits of this research in products. By the end of the decade we can expect quad-core to be mainstream on the desktop, so by 2015 you can expect that many of these many-core problems we recapped here today will be a reality. Intel's Tera-scale research that we've seen today will hopefully mitigate those problems, leading to a much smoother transition to the era of tera.