iPeak Business Application Tests
Our iPeak Winstone benchmarks offer a glimpse into how well our hard disk drives will handle general office applications, media encoding, and graphics manipulation. While the business applications that are being tested tend to be more CPU bound at times, the performance of the hard drive can and will make a difference in the more disk intensive video and graphics applications where large media files are typically being edited.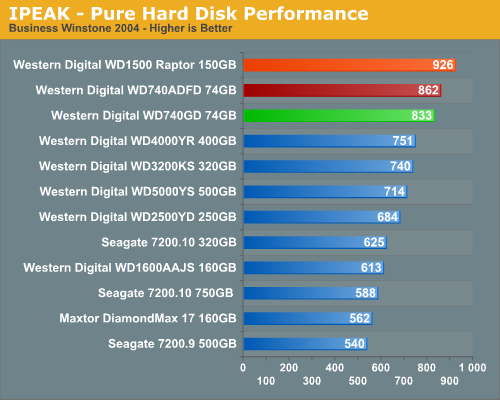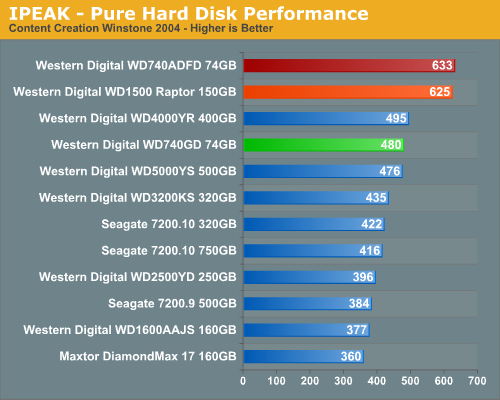 As expected the WD Raptor drives finish at the top in our business application tests as their 10k RPM spindle speed and optimized cache play an important role in their ability to sustain high transfer rates, especially in the Content Creation benchmark where transfer block sizes are significantly larger and more random than in the Business application benchmark. We see our WD74ADFD finishing ahead of the WD1500ADFD in the Content Creation benchmark where write operations account for a large portion of the test and just barely trailing in the Business Winstone test that emphasizes small block sizes of data in non-sequential order.
iPeak General Task Tests
The iPeak based General Task benchmarks are designed to replicate utility based application tasks that typically are disk intensive and represent common programs utilized on the majority of personal computers. While the WinRAR program is very CPU intensive it will typically stress the storage system in short bursts. Our antivirus benchmark will stress the storage system with continual reads and sporadic write requests while the defragmentation process is split between continual read and write requests.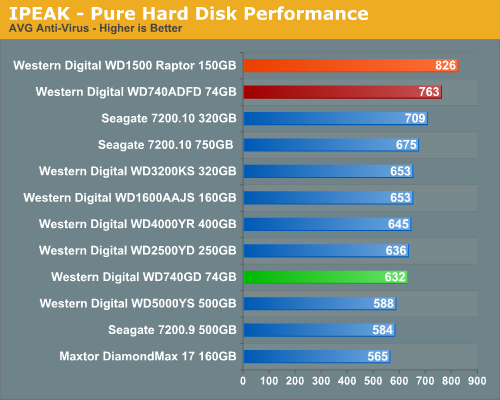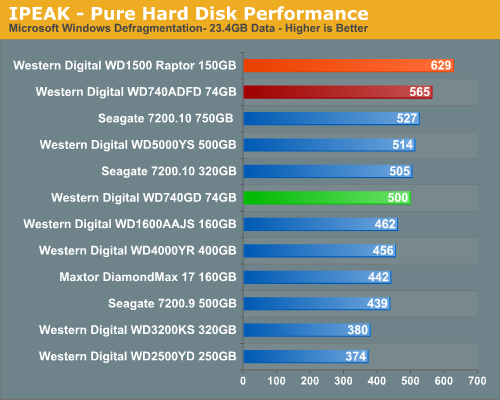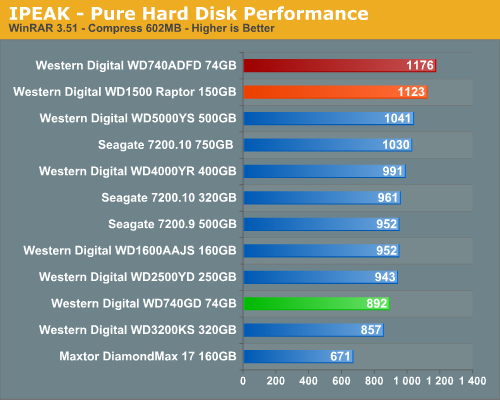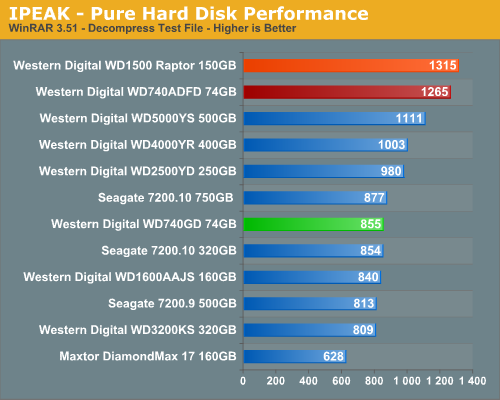 The WD740ADFD slightly trails the WD1500ADFD in our AVG and Defragmentation tests with results that mirror the PCMark 2005 testing. The WD1500ADFD performs better in tests slanted towards read operations while the WD740ADFD performs as well or better in write operations due to slightly better sustained transfer rates. Our WD740GD is unable to keep up with the other Raptor drives - or for that matter several of our other drives that contain the larger 16MB cache sizes. This is especially true in the WinRAR tests where large cache sizes are very advantageous for improved performance.