Feature Set: WD Raptor WD740ADFD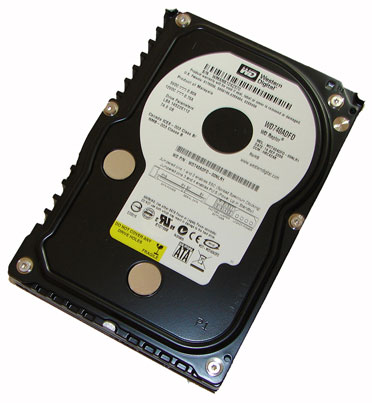 The external design of the Western Digital Raptor series is the same as the majority of their SE16 and RE2 offerings. The familiar all black casing gives the drive a Darth Vader presence in the system as does its performance. The drive is based on the industry standard 3.5" form factor platform with pertinent part number and warranty information embossed on a white sticker on the top of the casing.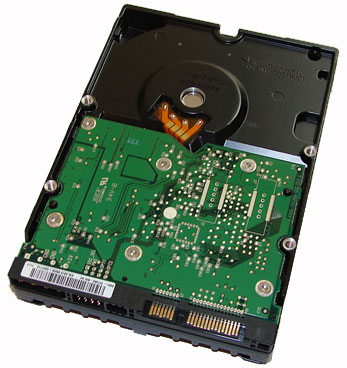 The current Raptor family ships with the SATA data and power connectors along with a 4-pin Molex power connector designed for use with older ATX power supplies. To the left of the SATA data and power connectors is an eight-pin jumper block. This jumper block can be utilized to implement spread spectrum clocking or power up in stand by operation. Our test drive was manufactured in Malaysia.
Hard Disk Test Comparison and Features
Hard Drive Specifications
WD Raptor 150GB
WD1500ADFD
WD Raptor 74GB
WD740ADFD
Stated Capacity:
150GB
74GB
OS Capacity:
139.73 GB
69.24 GB
Interface:
SATA 1.5Gb/s
SATA 1.5Gb/s
Rotational Speed:
10,000 RPM
10,000 RPM
Cache Size:
16 MB
16 MB
Average Latency:
2.99 ms (nominal)
2.99 ms (nominal)
Read Seek Time:
4.6 ms
4.6 ms
Number of Heads:
4
2
Number of Platters:
2
1
Power Draw
Idle / Load:
9.19W / 10.02W
9.19W / 10.02W
Command Queuing:
Native Command Queuing
Native Command Queuing
Warranty:
5 Year - Retail or OEM
5 Year - Retail or OEM
The Western Digital WD740ADFD drive we are reviewing today will be compared directly against the WD1500ADFD and WD740GD-00FLC0 drive in our limited benchmark test suite. We have also included the results of drives from our previous articles and will provide additional reviews of drives up to 500GB capacity ranges in the near future. The Western Digital Raptor drives ship with a five year warranty.
Hardware Setup
Storage Test Bed
Playback of iPeak Trace Files and Test Application Results
Processor:
AMD Opteron 170 (2.0GHz 2x1MB)
RAM:
2 x 1GB Corsair 3500LL PRO
Settings - DDR400 at (2.5-3-3-7 1T)
OS Hard Drive:
1 x Maxtor MaXLine III 7L300S0 300GB 7200 RPM SATA 16MB
System Platform Drivers:
NVIDIA Platform Driver - 6.85
Video Card:
1 x Asus 7600GS (PCI Express)
Video Drivers:
NVIDIA nForce 84.21 WHQL
Optical Drive:
BenQ DW1640
Cooling:
Zalman CNPS9500
Power Supply:
OCZ GameXStream 700W
Case:
Gigabyte 3D Aurora
Operating System:
Windows XP Professional SP2
Motherboard:
MSI K8N Diamond Plus
Our current test bed reflects changes in the marketplace over the past six months. Based upon the continuing proliferation of dual core processors and future roadmaps from AMD and Intel signifying the end of the single core processor on the desktop in the near future, we settled on an AMD Opteron 170. This change will also allow us to expand our real world multitasking benchmarks in the near future while providing a stable platform for the next six months. We are currently conducting preliminary benchmark testing under Vista with both 2GB and 4GB memory configurations. We will switch to Vista once the driver situation matures and our benchmark results are repeatable.