Networking Benchmarks
Just to get a quick idea of what these new features can do, we ran our usual networking benchmark suite on a pair of ASUS P5B-Deluxe motherboards using both the on-board PCI and PCIe connected gigabit network controllers (Marvell 88E8056 and 88E8001 respectively). We used two tests for this, a multiple small file transfer test consisting of about 450 files totaling 600MB, and a large file transfer test consisting of a pair of ISO images totaling 3GB. In order to keep the load on our D-Link Gamer Lounge router consistent, we also had the WMV-HD version of Terminator 3 streaming in the background. We tested Windows XP SP2 for a base score, followed by Vista with Compound TCP switched on and off.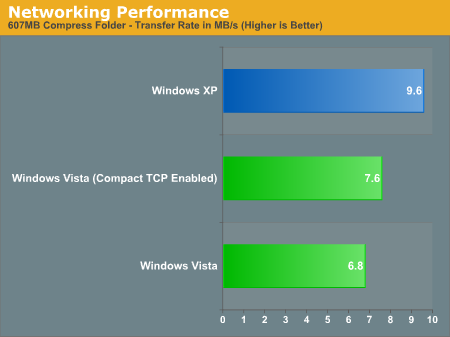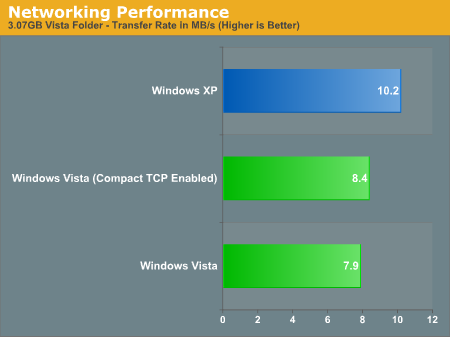 Unfortunately for Vista, neither test is particularly favorable. Compared to XP when Compound TCP is disabled, Vista is anywhere between 25% and 50% slower than XP in terms of the total time required for these tests. Without the ability to separate Vista's networking stack from the drivers for our NICs, it's impossible to tell if this slowdown is the fault of the networking stack being worse for this situation, or if the Vista drivers for this line of Marvell NICs are not quite as tuned, so as a comparison to XP this test is inconclusive. Either way, for this particular setup Vista ends up being slower at file transfers than XP.
The one bright spot however is that when enabled, Compound TCP is clearly having some effect even on our low-latency network. The 5% or so boost in Vista's low scores won't bring it back above XP, but it clearly proves that Compound TCP does have a real-world effect on performance. This will be something we will be able to talk more about as Microsoft perfects this algorithm set for the release of Longhorn Server later this year. Hopefully, the relatively slow performance we're seeing right now is being caused by drivers rather than by Vista's "new and improved" networking stack. We will definitely keep an eye on networking performance over the coming months, as most of the people we've talked with expected Vista's networking performance to be faster than XP's.