NETGEAR: Communication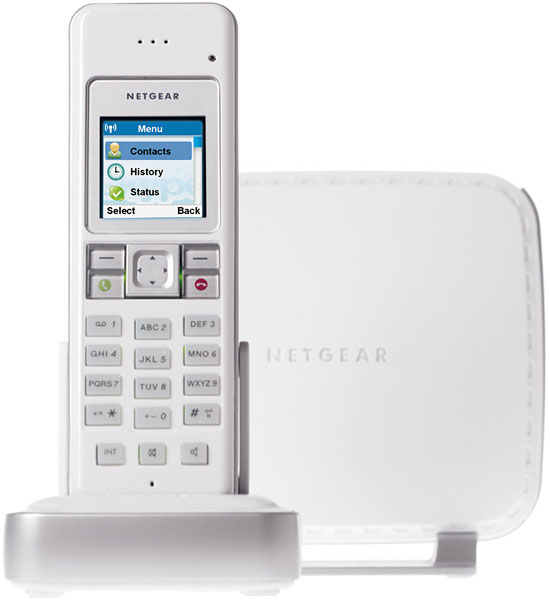 The NETGEAR Dual-Mode Cordless Phone with Skype (SPH200D) is the company's first dual-mode DECT cordless phone to support both landline phone calls and Skype Internet calls. The SPH200D base station simultaneously connects to a user's home network router and phone line wall jack enabling users to place and receive both traditional phone calls and Skype Internet calls from a single cordless handset without the need to be connected to a computer.
The Skype Certified SPH200D incorporates DECT (Digital Enhanced Cordless Telephony) technology which utilizes the 1.9GHz band enabling the cordless phone to avoid interference from WiFi networks, and it should provide longer range and ensure crystal clear voice quality. The Cordless Phone Base Station incorporates an Ethernet (RJ-45) connector which plugs into the home network router and a PSTN (RJ11) connector which plugs into a traditional telephone wall jack. The SPH200D can support up to four cordless handsets per household (additional handsets sold separately) and supports multiple languages.
The fairly small handset incorporates a built-in speakerphone and displays all of the users' contacts on the phone's color display, letting them see at a glance who is online. Access to a broadband Internet connection is required for Skype support. The unit is currently available and selling for around $199. We recently received a unit and will be reviewing it shortly.
Acer: Plunging into the desktop market space
Acer is currently the fourth largest branded PC vendor in the world. They rank number three in notebook sales and number four in LCD sales with double digit year over year growth for the past few years. Acer is determined to reach the number two slot in notebook sales this year while greatly expanding their presence in the desktop market.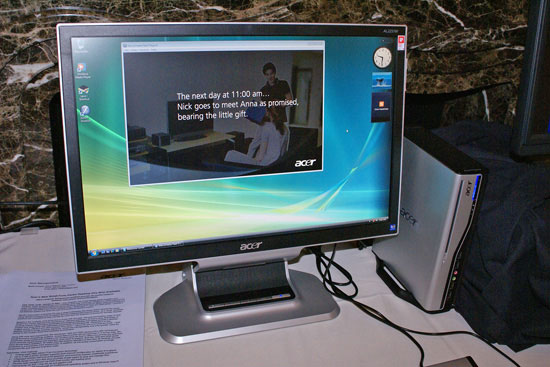 Two of the more interesting desktop products we noticed are the new SFF systems for both the home and general business user with the home version being displayed next to their new 22" widescreen monitor that features 1680x1050 resolution with a street price of around $329.
The new AcerPower 1000 and 2000 series are housed in a case designed for quiet operation, excellent thermals, and featuring a footprint the size of a small text book. The 1000 series features AMD Athlon 64 processors, up to 2GB of DDR2-667, integrated NVIDIA GeForce 6150 graphics, 80GB hard drive, slim line DVD-RW slot loading drive, 802.11b/g WLAN, and Gigabit Ethernet that is Vista capable. The 2000 series features Intel's Core 2 Duo processor, Intel 946GZ chipset with X3000 integrated graphics, up to 2GB of DDR2-667, 160GB hard drive, slot loading Super-Multi DVD drive, and Gigabit Ethernet. Both series are now available with prices starting at $579 for the 1000 and $649 for the 2000 series and feature Acer's unique Empowering Technology software. In our limited time with each system we found them to be very responsive, quiet, and extremely cool after extended periods of running office applications under Vista.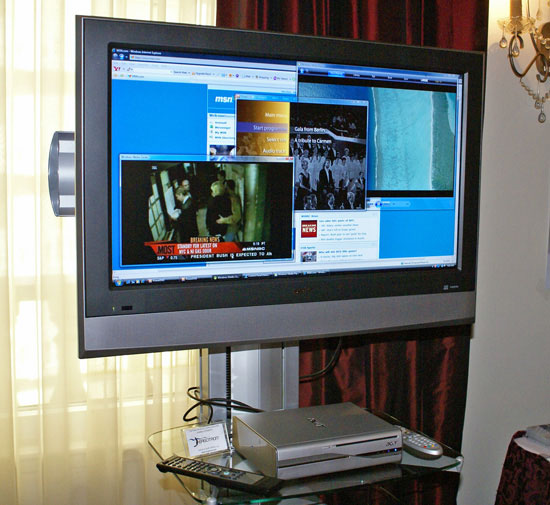 Acer was also showing off a prototype HTPC system based on the 2000 series desktop unit with an enclosed Digital TV tuner card, increased storage options, RF based keyboard and mouse, and HDMI output to one of their new LCD TVs. We expect to see a product launch using this technology in the early summer with prices ranging around $999 for the desktop unit.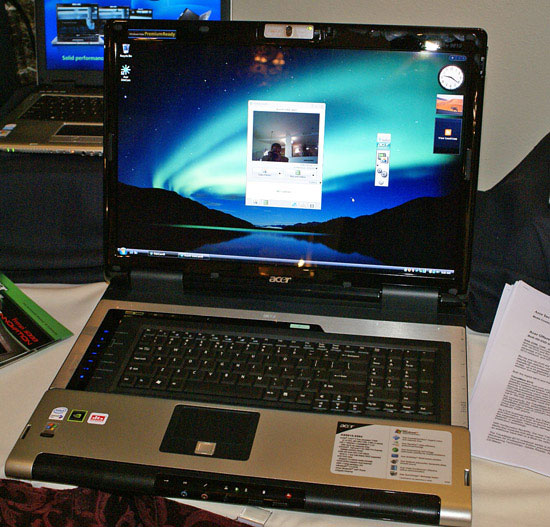 One of the more impressive notebooks (desktop replacement) we viewed was the Acer Aspire 9810. This unit features a widescreen 20.1" LCD with Acer's CrystalBrite technology. The unit uses the Intel Core 2 Duo mobile processor, NVIDIA GeForce Go 7600, up to 4GB of DDR2-667, HD-DVD, and up to 240GB of storage space via two 120GB drives. The unit also provides a built in analog and digital TV tuner, two Acer 3DSonic stereo speakers, BasSonic subwoofer, and a 1.3 megapixel camera with prices starting at $2899.