Once you progress beyond the basic heatsink with a fan on top, the big thing in air cooling is the tower cooler. A combination of heatpipes, aluminum cooling fins, and large, quiet low-rpm fans, the tower coolers are very effective. This was clearly demonstrated in the recent
AnandTech review of the Tuniq Tower
.
However, the added efficiency is not without a few compromises. Most of the effective tower coolers are extremely large, with many barely fitting in a standard case. Prices are also at the upper end of the air cooling spectrum, although $50 to $80 for an effective tower cooler must still be considered a bargain compared to other computer components. The big towers are also normally heavy, exceeding manufacturers' maximum recommendations for heatsink weight.
This added weight has not been a particular problem in desktop/tower setups with a secure motherboard, but it can be a real issue for those who take their PCs with them to LAN parties, for example. Anyone who has ordered a PC and had it shipped to them has sometimes been greeted by a CPU heatsink/fan that worked its way off during transport. Moving a PC with a heavy and bulky cooling tower is risky.
Despite these concerns there is one thing that is difficult to ignore with the big tower coolers. They cool exceptionally well, lowering CPU temperature dramatically and extending overclocking capabilities of the systems that use them. That is certainly why the design is so attractive in today's market.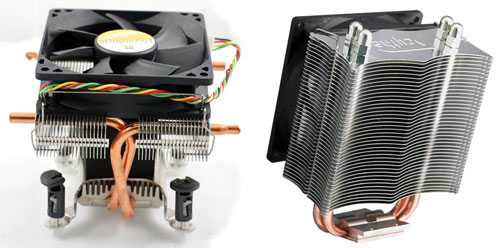 Several manufacturers have tried to produce lighter and cheaper cooling towers in an effort to address some of these concerns. Two such efforts are the focus of today's review - a comparison of the new Thermalright MST-9775 and the Scythe Katana. Both Thermalright and Scythe are big names in the cooling tower business, with Scythe producing the Scythe Infinity and Thermalright marketing the Thermalright Ultra 120.
The Scythe Katana and Thermalright MST-9775 are a different approach to the cooling problem. While both are tower inspired, they are both very lightweight. To put this in perspective keep in mind that the excellent Tuniq Tower weighs about a kilogram (2.2 lbs) with a 120mm fan. The Scythe Katana weighs around 300g and the Thermalright MST-9775 tips the scale at just 425g with the supplied fan. These specifications are well within the Intel and AMD specifications for any motherboard either cooler can be used with.
Both coolers are also much smaller than most towers, meaning they will fit almost any motherboard and case. The cost is also low. The Katana and MST-9775 normally sell for less than $30, and we found them both selling around $25 at several sites. The Thermalright MST-9775 was just recently introduced and it was supplied to AT by
Frozen CPU
, which always seems to have the latest in cooling. The Scythe Katana was purchased for review.
All of this is good, but it really doesn't mean much unless the coolers deliver better performance than the stock cooler. There are a couple of questions then. First, can the coolers outperform our retail Intel cooler? If they can, is there any reason to spend more on the big towers like the Tuniq or Infinity?