Introduction
Even though micro-ATX motherboards have been in rather widespread use for a while now, the small form factor PC is still relatively new to most people. Show an average PC user a no-holds-barred system roughly the size of a bowling ball and they will most likely be impressed... even if they already know about Mac Minis and Shuttle PCs. This is not to say that the market isn't growing, however. Indeed the computer industry as a whole will probably never cease to try to miniaturize even the most powerful of machines, even if there are already
computers smaller than a C battery
.
Smaller contraptions containing more processing power pose real thermo-dynamic challenges though, and without good enclosures systems built in these compact sizes will be prone to all sorts of problems stemming from the high heat levels. Unfortunately, the only way most manufacturers deal with heat problems is by compensating with more noisy fans, which ironically defeats a primary purpose of the small form factor PC - simply being a less noticeable computer.
Worse yet, even if a case company happens to get the heat and noise issues of a small PC enclosure handled admirably, they might make the case so impossibly difficult to work in that no one would ever want to put up with the headache of installing parts in it. Extrapolating this mentality brings us to an even worse scenario, where a company would choose to use the case to build a mass quantity of miniaturized computers and they could lose all sorts of revenue simply to lost time spent futzing with poor construction.
As usual with our evaluation of computer cases we have decided it is most beneficial to view several models at once to see how different manufacturers choose to handle the design challenges. We'll compare these techniques to give an overview of not only what we think about these particular models, but the ideas and methodology used to design these units and how they might be improved.
From a mile-high perspective, here's how the three cases we are looking at in this article 'stack up'.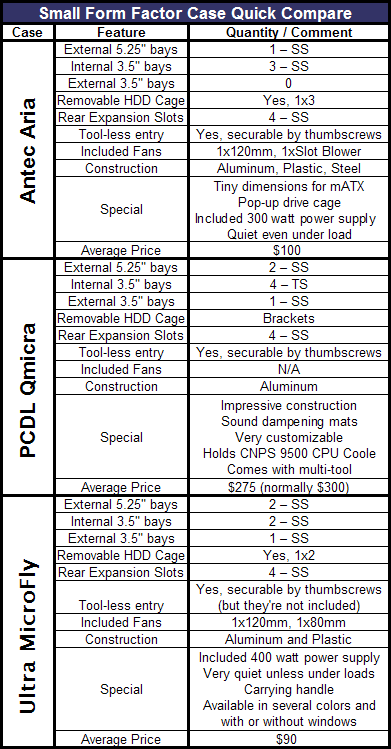 (TL: Tool-less, TS: Thumbscrews, SS: Standard Screws, TR: Tool-less rails, SR: Screwed rails)