MySQL Configuration
To avoid the scaling problems of MySQL, we compiled version 5.0.26 with
Peter Zaitsev's Mutex patch
. This Patch gives much better scaling and performance using up to four cores. Eight cores and more give variable results. All testing was done with InnoDB as our storage engine in MySQL 5.0.26. Here is our MySQL configuration:
MySQL Configuration
default-storage-engine
InnoDB
skip-external-locking
skip-locking
key_buffer
256M
.
table_cache
64
max_allowed_packet
1M
thread_stack
128K
.
sort_buffer_size
2M
read_buffer_size
2M
innodb_buffer_pool_size
1G
.
thread_concurrency
16
innodb_thread_concurrency
16
innodb_additional_mem_pool_size
8MB
read_rnd_buffer_size
8MB
thread_cache
64
max_heap_table
256MB
tmp_table
128MB
.
innodb_log_file_size
250MB
innodb_table_locks
0
innodb_flush_log_at_trx_commit
0
max_user_connections
2000
max_connections
2000
The "query cache" was off, as we wanted to test worst case performance. Our test database is still the same ~1GB database. The workload consists of more than 90% selects, mostly a "read intensive" workload.
MySQL results
All numbers are expressed in queries per second (Y-axis), and the X-axis shows the number of concurrent accesses.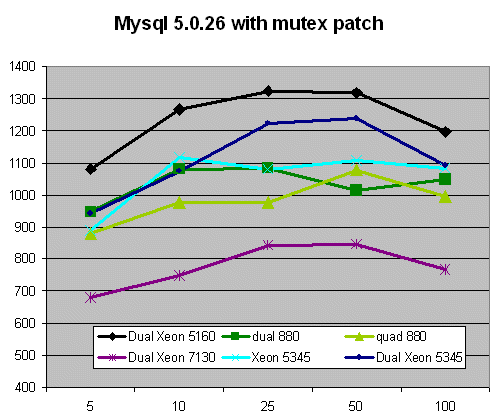 While the Opteron's performance decreases when we add another 4 cores, a second Xeon E5345 pushes the number of queries/s slightly higher. Clearly, MySQL is not ready for more than four cores right now, and it serves as a great reminder for all those with wild "Tens of cores on one die" dreams: making software scale with massive multi-core systems is and will never be easy. Below you can see the scaling of MySQL running on one Xeon 5160 (one core disabled), two (one CPU) and four (Dual CPU configuration).
MySQL Core Scaling
Concurrency
1 core
2 cores
4 cores
5
735
900
1082
10
826
1082
1267
25
823
1105
1323
50
780
1109
1319
100
689
1075
1196
For those running MySQL, clock speed still rules. One 3GHz Xeon 5160 is already capable of no less than 1000-1100 queries/s. Compare this with the clock speed scaling (1 core):
MySQL Clock Scaling
Concurrency
2.33 GHz
3 GHz
5
568
735
10
647
826
25
619
823
50
579
780
100
531
689
You can see that a 28% higher clock speed results in 28% higher performance. We can conclude that clock speed still matters, and that it is often much harder to get more performance out of multiple cores, even in applications that are relatively easy split up into threads.
Although our current DB2 results are "beta" and not ready for publication, we can already say now that DB2 is slower than MySQL but scales much better. We get an 80% increase from 2 to 4 cores.