As a result of the recent rush to 10 megapixel digital SLR cameras, everything that has been held sacred in the camera business is now upside down. At the price of yesterday's 6 megapixel cameras you can now buy almost twice the resolution - and you can definitely see the difference in pictures taken at 6 and 10 megapixels. The $1700 Nikon D200 is now mostly the same feature set and virtually the same 10 megapixel sensor as the new $999 Nikon D80, and the $800 Canon Rebel XTi has almost the same processing engine as the $1500 Canon 30D and a 10 megapixel resolution compared to the 8 megapixel of the 30D. Since so much has progressed so fast in the last few months, it is time for a hard look at what is available in the hottest digital camera segment - digital SLRs.
The new "entry" level digital SLR market, generally defined as digital SLR cameras that sell for $1000 or less, has certainly expanded at both the bottom and the top. Today you can actually buy a digital SLR camera in the $400 to $500 price range, which was unheard of as recently as last year's Holiday buying season. This lower entry price has practically made the popular fixed lens SLR and "quality" pocket digital cameras all but obsolete. Why pay $800 for a fixed lens digital when you can get more features and flexibility with an interchangeable lens digital SLR at a lower price? This "prosumer" category of the past is rapidly disappearing, but it is worth pointing out that there is always room for a high-quality, pocketable fixed-lens digital camera.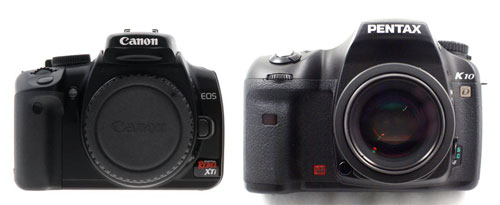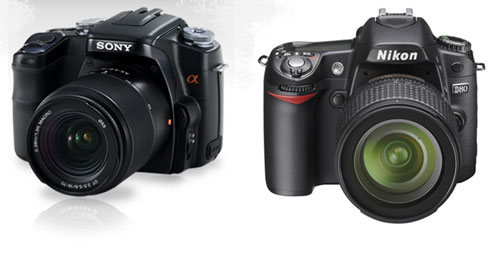 The $1000 and under segment, which used to be entry level SLR cameras, now includes10 megapixel models at the top, and the feature sets for this new generation include enhancements previously available only on much more expensive cameras. All of the 10 megapixel SLRs are faster than their predecessors - borrowing processing engines from higher priced models (Nikon and Canon) or pioneering new high-speed processing circuits (Pentax and Sony).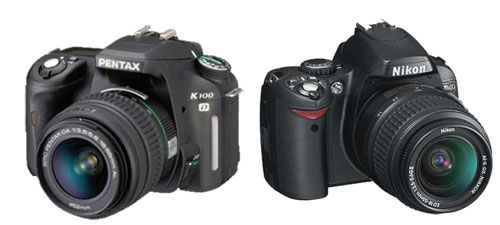 The "entry" market is now segmented into true entry level SLR cameras in the $400 to $600 price range, the new 10 megapixel mid-range SLRs at $700 to $1000, and a couple of mid-range 8 megapixel SLRs that straddle the middle in the $600 to $700 range. In practical terms it is very difficult to tell any difference between 6 and 8 megapixel images, or between 8 megapixel and 10. However, there is a discernable improvement in moving from 6 to 10 megapixels.
This SLR Buyer's Guide will take a closer look at the top of this range, comparing the new 10 megapixel models. We will also compare models in the true entry level $400 to $600 range. The 8 megapixel models will be considered at both ends of the spectrum for features and value. Prices quoted in this guide are based on the best prices we could find at major online retailers like Newegg or Amazon. These are also typical prices in our own price engine. The prices quoted should be available to any online shopper, but you may find even better prices if you are willing to do more searching. Conversely, local photo specialty retailers normally provide better customer support and return options than etailers, and their prices for the same item will generally be higher.
If you are shopping for a digital camera but you're not really a photo hobbyist, you might want to start with our overview of digital photography in
Digital Photography from 20,000 Feet
.
In that introduction we cover the terms and concepts
used in this Buyer's Guide. If you're a photo hobbyist then dive in. Our advice is not jaded, and many will be surprised that Nikon and Canon were not our first choices in every category. 2006 was definitely the year of the Digital SLR camera, and the names that are new or that resurfaced this year are definitely making shopping for a new Digital SLR more fun than it has been in a very long time.