Test Setup
Standard Test Bed
Performance Test Configuration
Processor:
Intel Core 2 Duo E6600
(2.4GHz, 4MB Unified Cache)
RAM:
OCZ Flex XLC (2x1GB), 2.30V
(Micron Memory Chips)
Hard Drive:
Western Digital 150GB 10,000RPM SATA 16MB Buffer
Seagate 750GB 7200.10 7200RPM SATA 16MB Buffer
System Platform Drivers:
Intel - 8.1.1.1010
NVIDIA - 9.35, 8.26
ATI - 6.10
Video Cards:
1 x MSI X1950XTX , 2 x MSI 8800GTX for SLI testing
Video Drivers:
ATI Catalyst 6.11, NVIDIA 97.44 for SLI Testing
CPU Cooling:
Scythe Infinity
Power Supply:
OCZ GameXstream 700W
Optical Drive:
Sony 18X AW-Q170A-B2, Plextor PX-B900A
Case:
Cooler Master CM Stacker 830
Motherboards:
ASUS Striker Extreme (NVIDIA 680i) - BIOS 0505
ASUS P5N-E SLI (NVIDIA 650i) - BIOS 0101
ASUS P5B-E (Intel P965) - BIOS 0601
DFI LANParty UT ICFX3200-T2R/G (AMD RD600) - BIOS 12/07
Intel D975XBX2 (Intel 975X) - BIOS 2333
Operating System:
Windows XP Professional SP2
.
A 2GB memory configuration is now standard in the AnandTech test bed as most enthusiasts are currently purchasing this amount of memory. Our choice of high-end OCZ Flex XLC memory from OCZ offered a very wide range of memory settings during our stock and overclocked test runs. We also utilized our Corsair XMS2 Dominator (Twin2x2048-9136C5D) memory on this board to verify DDR2-1066 compatibility with another memory type. We are currently testing several other memory modules ranging from TwinMOS DDR2-800 down to A-DATA DDR2-533 for compatibility and performance benchmarks. Our memory timings are set based upon determining the best memory bandwidth via MemTest 86 and test application results for each board. This includes optimizing the memory sub-timings to ensure each board performs at its absolute best.
We are utilizing the MSI X1950XTX video card to ensure our 1280x1024 resolutions are not completely GPU bound for our motherboard test results. We did find in testing that applying a 4xAA/8xAF setting in most of today's latest games created a situation where the performance of the system starts becoming GPU limited. Our video tests are run at 1280x1024 resolution for this article at High Quality settings. We also tested at 1600x1200 4xAA/8xAF for our NVIDIA SLI results on the two NVIDIA based boards. Although not reported, we also completed the same SLI tests at 1920x1200 4xAA/8xAF but did not report the scores as the performance delta between each board was the same as the 1600x1200 results.
All of our tests are run in an enclosed case with a dual optical/hard drive setup to reflect a moderately loaded system platform. Windows XP Pro SP2 is fully updated and we load a clean drive image for each system to ensure driver conflicts are kept to a minimum.
Overclocking
ASUS P5N-E SLI
Overclocking Testbed
Processor:
Intel Core 2 Duo E6600
Dual Core, 2.4GHz, 4MB Unified Cache
1066FSB, 7x Multiplier
CPU Voltage:
1.52500V (default 1.3250V)
Cooling:
Scythe Infinity Air Cooling
Power Supply:
OCZ GameXStream 700W
Memory:
OCZ Flex XLC (2x1GB) (Micron Memory Chips)
Video Cards:
1 x MSI X1950XTX , 2 x MSI 8800GTX for SLI
Hard Drive:
Western Digital 150GB 10,000RPM SATA 16MB Buffer
Seagate 750GB 7200.10 7200RPM SATA 16MB Buffer
Case:
Cooler Master CM Stacker 830
Maximum CPU OC:
402x9 (4-4-4-12 1T, 804MHz, 2.34V), CPU 1.52500V
3622MHz (+51%)
Maximum FSB OC:
502x7 (4-4-4-12 2T, 804MHz, 2.34V), CPU 1.50000V
3519MHz (+89% FSB)
.
We were easily able to reach a final benchmark stable setting of 9x402 FSB resulting in a clock speed of 3622MHz. The board was capable of running at 9x409 FSB but would consistently fail several of our game benchmarks. We attributed this overclock limit to the lack of proper cooling for our MCP and SPP at the voltages we set. We added additional fan cooling along with proper heatsink paste to the SPP and a small passive heatsink to the MCP unit and reached 9x417 before stability became an issue again. We believe this is near the limit of the CPU/chipset combination. Vdroop was terrible on this board during overclocking with an average drop of .06 ~.09V during load testing.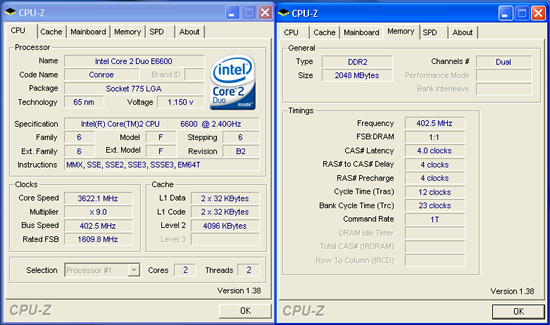 We operated our memory at 4-4-4-12 1T with all sub-timings set at Auto for a final speed of 804MHz. We could not get the board stable with CAS 3 and 1T settings at DDR2-800. We were able to finally reach DDR2-1066 at 5-6-6-24 2T in a stable manner but the memory latencies were so lax that performance actually decreased in most benchmarks. The BIOS has the majority of memory sub-timings set very tight along with the SPP timings. We found this to be our issue with trying to operate memory at the higher speeds or utilizing lower latency settings. However, we have found this board performed extremely well with the 4-4-4-12 1T settings due to the aggressive sub-timings. We were able to run 4-4-4-12 2T timings up to around DDR2-880 but had to switch to 5-5-5-15 2T timings up to DDR2-1000, anything over that required very loose timings across all memory settings for stability.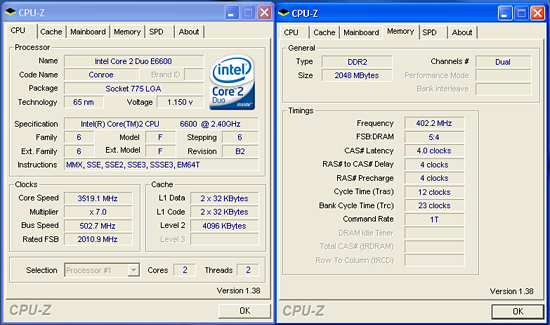 We dropped the multiplier on our E6600 to seven and were able to reach 502 FSB without an issue. We were able to enter XP at 7x509 and the board would post at 7x519. However, at least with our sample, stability over 504FSB dropped off quickly and we feel like the board was designed with 500FSB in mind but not much more. We have seen user results that are around 480~506FSB with and without additional cooling so we feel confident that our review sample is not "special". We have a full retail kit arriving and will verify our results against it. We will also utilize the retail kit when we have other 650i SLI boards to review. Overall, the overclocking capability surprised us as we initially expected this chipset to be closer to a maximum bus speed of around 450 FSB.