General Application Performance

Click to enlarge
The performance of the board was very good and usually slotted itself in between the Intel D975XBX2 and ASUS Striker Extreme in our benchmark scores. While not a great SuperPi or Folding@Home number crunching motherboard, we did find the application performance to be very good and consistently near the 975X based Intel motherboard, with 3D performance normally leading both boards as our game benchmarks will reveal shortly. Throughout testing we generally found the AMD RD600 chipset to be slightly faster than the NVIDIA 680i when operating at like settings. We changed the tCAS, tRCD, tRP, tRAS, and the command timing rates (RD600/680i) for each board but left the sub-timings at auto settings for our tests. Once we optimized the sub-timings on both boards, the results improved about two percent when compared to the 975X.
However, neither chipset could match the stock performance of the Intel 975X board. In our Nero Recode test we consistently found the performance of the 680i to be lacking due to disk access issues. The conversion process would consistently slow down while the disk was being accessed. The quality of the video conversion was not affected but it appears under heavy CPU usage that disk performance suffers at this time. NVIDIA is aware of this issue and is working on a driver update currently. We will provide a full suite of benchmarks and include additional chipsets in our upcoming in-depth review.
Synthetic Graphics Performance
The 3DMark series of benchmarks developed and provided by Futuremark are among the most widely used tools for benchmark reporting and comparisons. Although the benchmarks are very useful for providing apple to apple comparisons across a broad array of GPU and CPU configurations they are not a substitute for actual application and gaming benchmarks. In this sense we consider the 3DMark benchmarks to be purely synthetic in nature but still very valuable for providing consistent measurements of performance.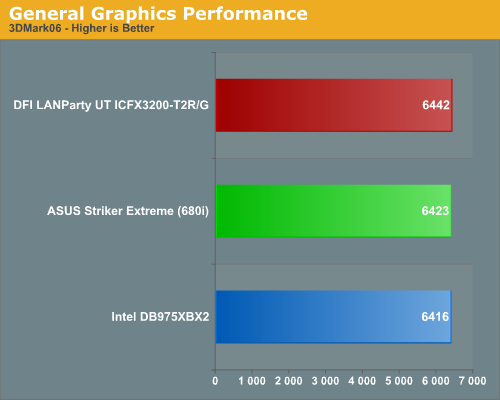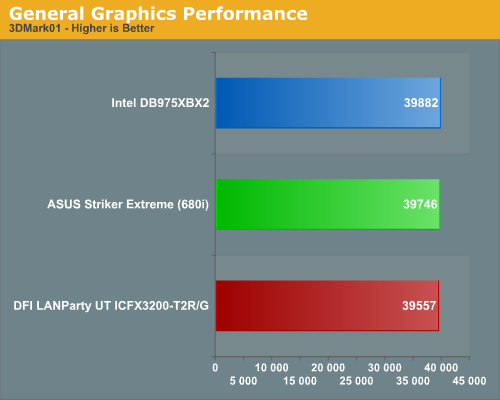 In our 3DMark06 test, each platform score is so close that there is no real winner here. In the more memory and CPU sensitive 3DMark2001 benchmark we see the Intel 975X board pulling away from the 680i and RD600 boards due to its superior memory bandwidth at stock settings. Although our reported Sandra memory bandwidth scores along with Memtest86 testing consistently show the RD600 performing better than the 680i, our 3DMark2001 benchmark is not showing this advantage. While our first thought was to look at lower than expected video throughput performance our gaming scores indicate otherwise. In additional testing with higher memory speeds or optimized memory sub-timings we did find the 3DMark01 scores improved consistently, leading us to believe this board just does not perform as well as the others in this particular benchmark.
General System Performance
The PCMark05 benchmark developed and provided by Futuremark was designed for determining overall system performance for the typical home computing user. This tool provides both system and component level benchmarking results utilizing subsets of real world applications or programs. This benchmark is useful for providing comparative results across a broad array of Graphics subsystems, CPU, Hard Disk, and Memory configurations along with multithreading results. In this sense we consider the PCMark benchmark to be both synthetic and real world in nature while providing consistency in our benchmark results.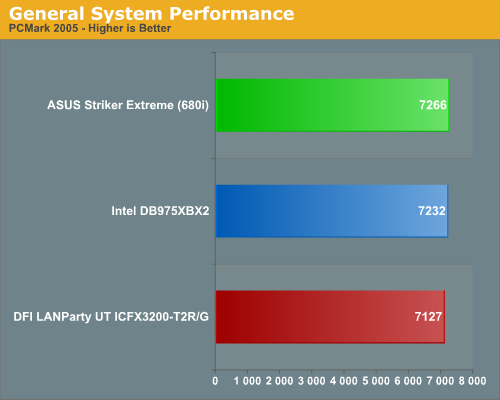 The ASUS 680i based board has a strong showing in this benchmark and finishes ahead of the other two offerings. All three boards actually score very close together and after reviewing the individual test results we noticed the 680i had very competitive disk benchmarks which is unusual considering our Nero Recode tests. The disk performance of the SB600 was slightly better than the ICH7R on the Intel board and both were about two percent faster on average than the 680i. However, the 680i performs best on the graphics subsystem tests with the RD600/975X splitting the three multitasking tests.