It has been over a year since ATI announced CrossFire for Intel. The original reference board that we looked at was code named Stingray and to be quite honest, performance was not up to par at that time even though the feature list was class leading. The main issue that we found with Stingray was its DDR2 memory performance. While the RD480 for AMD was launched amidst a lot of fanfare and was soon followed up with the impressive RD580/SB600 combination for AMD, the ATI Intel chipset design lagged in both development and performance.
ATI was able to overcome most of the early performance concerns that centered on memory throughput performance and had a revised version of the chipset ready for use last spring. However, the merger between AMD and ATI threw a kink into any plans that motherboard manufacturers might have had for this chipset. With the uncertainty of continued Intel support and future product plans, most motherboard manufacturers were content to pass on the RD600 chipset as the well proven and still excellent performing Intel 975X chipset provided CrossFire support for customers needing this functionality.
Although uncertainties abound concerning how Intel will view and eventually react to the AMD/ATI merger regarding licensing approval, DFI persevered in designing a high performance platform based on the RD600 chipset. Other motherboard manufacturers have certainly looked at this chipset with interest. We know of a few engineering samples floating around certain engineering departments but with today's release of the LANParty UT ICFX3200-T2R/G, DFI becomes the first and perhaps only motherboard manufacturer to release product based upon this unique chipset. We first looked at an early beta of this motherboard a few months ago and recognized it had potential - real potential - to compete with the 975X chipset and do so at a lower price point.
Since our first look the motherboard has undergone several design changes and ATI/AMD revised the chipset based upon their close working relationship with DFI. However, in the time it has taken this board to get to market, NVIDIA has released the 680i chipset and 975X based boards such as DFI's own Infinity can now be bought for around $165. Of course, everyone's question is if the performance of this chipset, or more importantly DFI's implementation, lives up to the hype. We look to answer this question with today's performance preview and will provide additional information in an in-depth review of this ballyhooed (we are guilty of this) yet mysterious chipset and motherboard.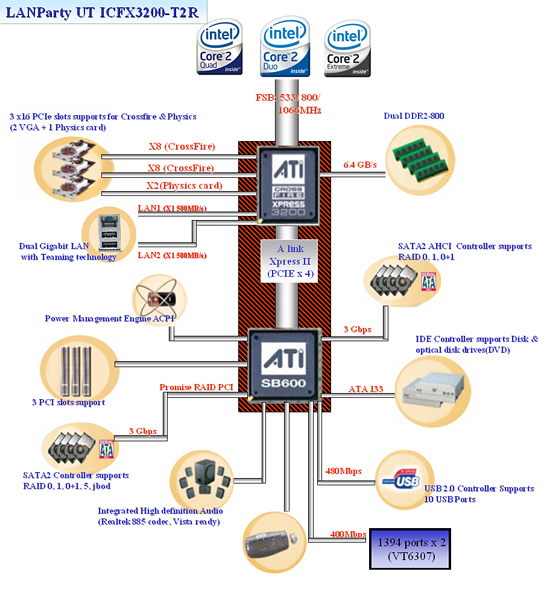 ATI introduced the Radeon Xpress 200 CrossFire for Intel (RD400) in September of 2005 and its successor known as the RD600 is being officially released now. The highlights of the RD600 include independent memory and FSB overclocking capabilities, 1066MHz front side bus support, 1066MHz+ DDR2 memory support, automatic PCIe overclocking, and full support for the entire Core 2 Duo processor lineup. The chipset is officially called the ICFX3200 which is a misnomer in our opinion. The RD580 for AMD series was designated the Radeon Xpress 3200 based upon having true dual x16 PCI Express capability for graphics with the Radeon Xpress 1600 (RD480) nomenclature being used for the dual x8 PCI Express graphics capable motherboards.
The RD600 numbering scheme gives us the impression of it being a new chipset. While true to a certain degree, the original design (RD400) was actually developed alongside the AMD RD480 chipset. The RD600 improves greatly upon the RD400 in several areas but carries over the dual x8 PCI Express design from the RD400/480 series instead of the RD580 dual PCI Express x16 layout. However, the RD600 does share the Xpress II link design with the RD580 as well as sporting additional PCI Express lanes (24) over the RD400/480 series but still not enough for true dual x16 graphics.
In fact, this chipset has been heavily revised over the course of the past year and is on its fourth core revision yet still retains the dual x8 design. However, unlike the RD480 or RD580, this chipset offers an improved PCI Express logic core with enhancements for CrossFire operation along with improved DDR2 memory performance. The performance difference at this time between dual x8 and x16 CrossFire capable boards is minimal at best, but this could potentially change with the upcoming R600 video card release. While the x8/x16 difference might be important to some, for the majority of users we still recommend buying the fastest single card available based on cost to performance ratios.
DFI pairs the RD600 up with the SB600 Southbridge that features four SATA-2 3Gb/s ports featuring NCQ and hot plug support, ten USB 2.0 ports, HD audio interface, and multiple Gigabit Ethernet support depending upon the Northbridge utilized. We have found the performance of the SB600 to be very competitive with other current Southbridge designs and it is a great improvement over the previous SB450 Southbridge.
This leads us into today's performance preview of the DFI LANParty UT ICFX3200-T2R. In our article today we will briefly touch on the performance aspects of this board, present some basic features, and provide our initial opinions after using it for the past few days. We will provide in-depth coverage of the board, additional performance results including multiple RAID, audio, quad core, and memory benchmarks along with some of the best ways to properly configure this board/BIOS in a few days.