Gaming Performance & Power Usage - Continued
Our final gaming test is Half Life 2: Episode One, which provides us with another example of slightly lower performance of the new 65nm chip. The difference is less than 5%, so it could just be an unusually high variation between chips. If it isn't an issue with the benchmark then it could be a CPU problem, expected behavior, a BIOS tweak, or an issue with our test platform itself. Rest assured that as soon as we know more we will report it.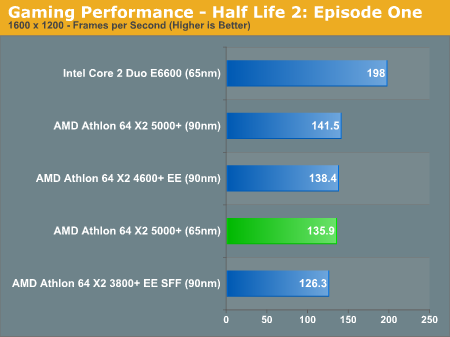 Power consumption under Half Life 2: Episode One is actually very good for the X2 5000+, due in part to its lower performance compared to the other AMD/Intel CPUs. The Core 2 Duo E6600 actually consumes the most power here, as it is also feeding the GPU the fastest out of all of the contenders. The higher performance still keeps it in the lead in terms of performance per watt, however.