Media Encoding Performance & Power Consumption
In the interest of time we skipped our general application suites (SYSMark/Winstone) and dove directly into the individual application benchmarks to give us a more direct idea of how AMD's new 65nm chips will fare. We start off with our Windows Media Encoder test: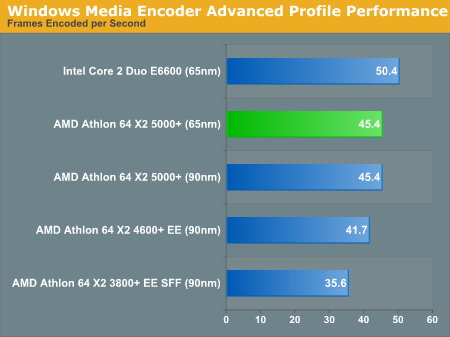 At the same price point, Intel is still faster with the E6600 as we've seen in the past, but what we're here mainly to do is to compare power usage, so let's see how Brisbane stacks up.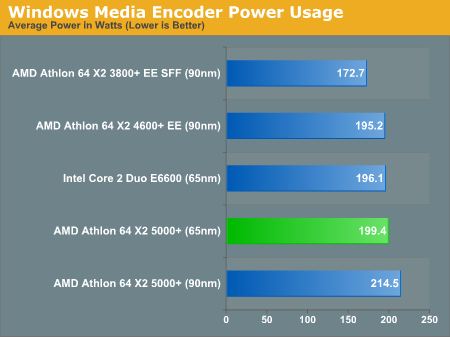 Power consumption is down from 90nm, as the 65nm system used about 15 fewer watts than its predecessor. The move to 65nm actually brings AMD in line with the power consumption of Intel's Core 2 Duo E6600, but it is still not enough to best the EE and EE SFF chips, the latter of which is rated at a cool 35W TDP.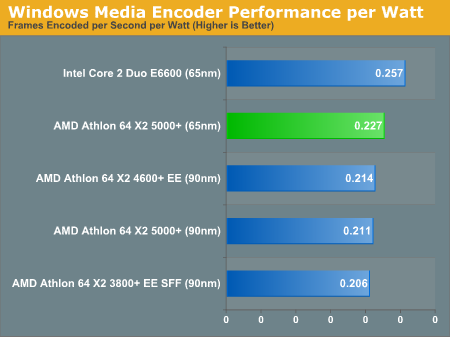 Performance per watt is a different story; although AMD can compete with Intel in terms of power usage, it will take a new architecture to close the performance gap and thus performance per watt suffers in comparison to Core 2 Duo. The good news is that if we just look at the AMD CPUs in the performance per watt chart, it looks like the new 65nm processor offers better performance per watt than anything else in AMD's lineup - even the EE/EE SFF CPUs.
Moving on to our DivX test we see more of the same: the performance lead clearly goes to Intel's Core 2 Duo E6600: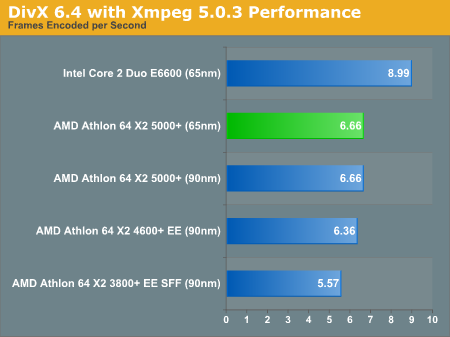 Power usage is actually slightly lower on the 65nm AMD system than on the Core 2 Duo platform, and a bit lower than the 90nm X2 5000+ setup. The difference between 90nm and 65nm isn't huge here, a matter of just under 10W, but hopefully it's merely a sign of an early 65nm process compared to a more mature 90nm process.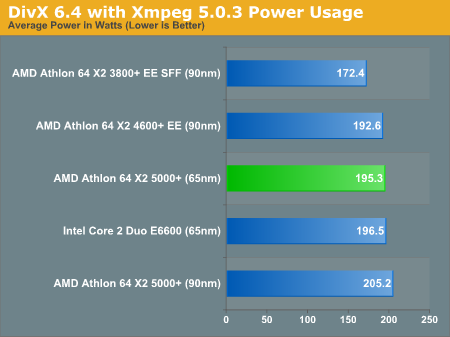 The performance per watt crown still belongs to Intel, but if you look at AMD alone, Brisbane offers better efficiency than anything else in AMD's lineup.