Overclocking Performance (Highest Ratio at Highest Speed)
With the OCZ PC2-9200 Flex XLC rated at DDR2-1150, you are already at the highest overclock we have tested on DDR2 at the speed rating of the memory. It is noteworthy that The Flex XLC goes even further - to DDR2-1172 - on what is one of the most demanding motherboards for testing DDR2 memory. Performance of the aggressively binned Micron D9 memory chips proves the utility of binning for speed. OCZ Flex XLC is the fastest memory we have tested so far by a wide margin.
The timings required for a top DDR2-1172 were the rated 5-5-5-18 at 2.35V. These are certainly not glamorous timings compared to 3-3-3 at DDR2-800, but the fact remains that memory speed and performance still scaled well to the top speed.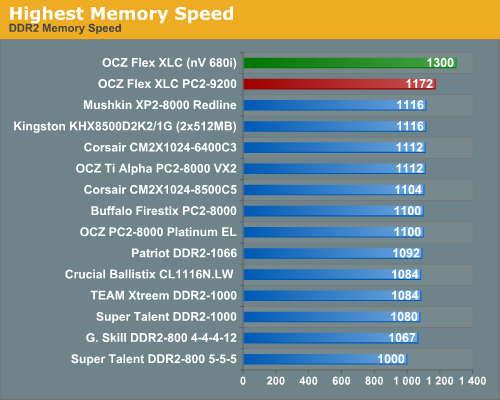 The NVIDIA nForce 680i motherboard allowed us to climb even higher. OCZ Flex XLC was stable at an unlinked CPU FSB of 1733 and a memory speed of DDR2-1300.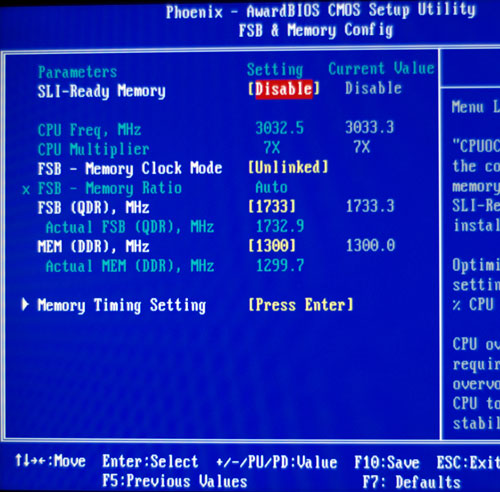 To get the CPU speed close to our stock test speed of 2.93 GHz, we lowered the multiplier to 7 at this 433 base. This yielded a CPU speed of 7x433 or 3.03 GHz. Memory at this speed was a stable DDR2-1300.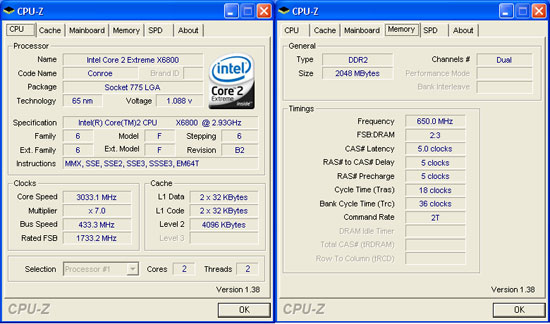 Click to enlarge
Comparing test results to those from the ASUS 975X test platform will show you faster results with the ASUS. This is a result of the 3.22GHz speed of the ASUS at the top compared to 3.093GHz top speed on the 680i. If you refer back to the performance charts on page 3 you will find performance numbers at DDR2-1172 at 2.93GHz. Comparing those to the 680i performance results shows performance data in line with the speed expectations.
The OCZ PC2-9200 Flex XLC topped the overclocking chart by a wide margin. Performance was impressive on the P5W-DH at DDR2-1172, but it was even more outstanding on the 680i at DDR2-1300.