We received two late entries into our P965 roundup, the MSI P965 Platinum and ECS PX1 Extreme motherboards. Both of these motherboards are touted by their manufacturers as offering high-end performance features and options not found on their P965 value boards. We took one look at their features lists, glanced at the motherboards, checked their pricing, and did a double take when we realized both boards were going to be offered for under $150. Based upon these feature sets that include everything from CrossFire compatibility to extended SATA drive options, we felt like the boards belonged in our high-end grouping with the ASUS P5B-Deluxe and Gigabyte GA-P965-DQ6 motherboards. After all, both boards had the looks, came with an impressive resume of features, and were touted for their performance.
Our tests proved otherwise as you will find out shortly. We really were disappointed at first with our board's performance numbers. Although one board scored extremely well at stock speeds and the other one performed decently, we could not shake our let down with the results. However, before we get into the actual performance numbers let's see why we're disappointed. Was it truly with the performance of the boards or were we merely disappointed with ourselves?
Our analogy will be of going to the prom with a blind date. We had listened to the buildup of our date from friends and family for so long that we were convinced this person would be the one. Our vision was obscured to the point of imagining fireworks ablaze, running together with hands locked together down the beach, and knowing that love at first sight was indeed possible. The hype was there in abundance, our expectations were set to unbelievably high levels, giddiness abounded, and our palms were sweating as we opened the door to meet the perfect one. We stood there in total amazement, and then shock and disbelief set in as we realized our blind date was none other than our sibling.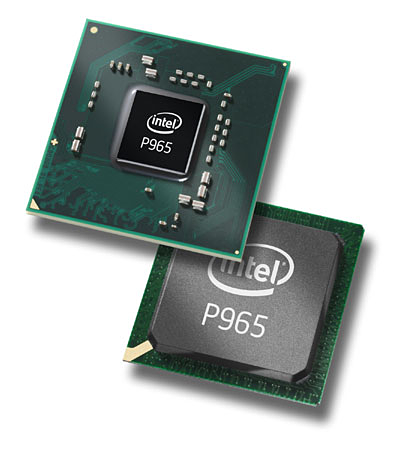 As we pondered our predicament at the front door we become fully aware that we had completely bought into the hype without first asking some direct questions. Sure, all of the statements from our friends and family were true, but we had bought into their marketing spin without looking at the facts. Once we came to our senses we began to look at the situation in an entirely different way. Sure our sibling had great qualities that could not be denied but there was no way we were going to the prom with her (or him as the case may be). If we had concentrated and focused on the facts in the beginning then we would have known the situation we were in before we opened that door.
Once we tested our two motherboards we realized we had also bought into the hype without first reviewing the facts. While the feature sets on these two motherboards clearly put them in the same category as the upper-end P965 boards there were clear indicators these boards belonged in the midrange sector at best. Let's take the ECS PX1 Extreme as an example.
ECS has been touting their Extreme lineup for the past year as a value based performance alternative to other suppliers. While they have made some significant strides in this area, the last
ECS Extreme motherboard
we reviewed was anything but extreme in the performance area. We looked at the PX1 board's specifications, the Extreme moniker, and figured ECS had a P965 motherboard that would complete with the best of them by offering very good performance and overclocking capabilities of at least 450FSB as an example. We were wrong in the last assumption. The ECS BIOS limits overclocking to 366FSB as it turns out and we were still south of even that if we wanted stability.
This ECS PX1 really could not be considered an "Extreme" performance based P965 based motherboard without very good overclocking and performance at the high-end, so why market it as such? We dug a little deeper and found ECS designed this board for digital home purposes as it is ViiV approved and even utilizes the new Intel ICH8DH Southbridge. As we delved over the specifications of the motherboard and its test results we realized its capabilities might be extreme for an
Intel ViiV
based system but certainly not in the same class as the ASUS P5B-Deluxe. While it's marketed as an Extreme series motherboard it is really a Windows Media Center 2005 centric motherboard, and if viewed as such it does a good job. As we've said in the past, calling a motherboard "Extreme" does not make it so, a point ECS continues to prove. However, not everyone needs extreme overclocking.
In MSI's case, their P965 motherboard carries the Platinum name and is expected to be one of the best performing and fully featured motherboards on the market. The P965 Platinum is actually one of the fastest stock P965 motherboards you can purchase and it has an incredible amount of features for its $134.99 price (actually $119.99 with a year end rebate promotion). After being spoiled by the overclocking performance of the
Biostar 965PT
for around $110 we expected a similar performance from the MSI board. This did not happen and at first it disappointed us until we realized this board comes with excellent stock performance, a complete set of features, great support, and an incredible price with the rebate. We had to ask ourselves if 400FSB overclocking is good enough when considering the remaining attributes of this motherboard.
400FSB overclocking was certainly considered leading class back in June when the P965 motherboards were released. As the manufacturers have improved their BIOS revisions over time we now expect to see 500FSB levels as the norm in a performance oriented P965 motherboard. The question is how many buyers will actually deem this FSB capability important. Certainly the enthusiast group sees 500FSB as a given for extracting the most performance from an E6300 or E6400 Core 2 Duo processor - as they should - but a large majority of buyers are really looking for solid stock performance, great features, decent overclocking capability, good support, and most of all an excellent price. The MSI P965 Platinum no longer disappoints us when viewed in this manner.
Let's get started and see how well our MSI and ECS motherboards perform today.