Internal Storage Products:

Western Digital and Seagate/Maxtor
The hard disk market has been in a lull for the past couple of months but we are starting to see additional technologies being rolled out and the upcoming months should be very interesting as Western Digital and Hitachi implement perpendicular recording technology on their desktop products. We will also start seeing the first hybrid mobile drives with NAND flash built-in to take advantage of Vista's ReadyBoost technology.
16GB and 32GB Solid State Disk drives are being launched and utilized in a variety of platforms in the industrial, medical, and military sectors. With costs expected to drop throughout the year we should see the SSD technology on the desktop later in the year, although performance will not be up to par with the latest hard drive technologies. However, performance will be fine for general desktop usage and we might even see the return of the thin client model in the enterprise with these drives.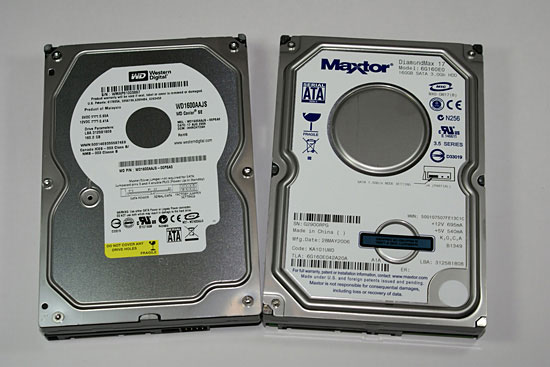 Our next storage review will concentrate on the new 160GB per platter drives from Western Digital, Seagate/Maxtor, and Hitachi. This drive platter capacity offers excellent desktop performance for the price and should spread widely into the value class drive sector. While it does not always offer top performance, for the desktop most users will find the thermals, acoustics, and pricing of these drives to be very compelling for the near future.
Plextor
Plextor
has been providing optical drive products for a number of years now and is usually considered to be one of the true innovators in this market, offering excellent quality. We will be reviewing their
B900A Blu-ray
drive in the near future but to kick off our revised Optical Drive section we will compare the PX-760A to the Sony DRU-830A shortly. In our discussions with the majority of optical drive manufacturers, we can finally expect to see widespread adoption of the SATA interface by Q3 in 2007.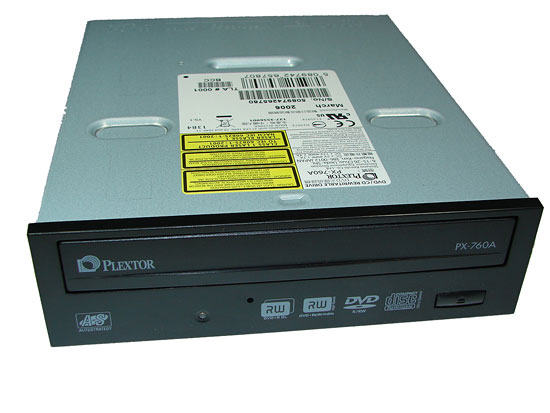 The PX-760A is a DVD±R/RW CD-R/RW internal E-IDE (ATAPI) drive that features Plextor's unique SilentMode, GigaRec, VariRec, PowerRec, Q-Check, SecureRecording, and PlexEraser technologies. The drive offers 18x DVD±R, 10x DVD+R DL, and 8x DVD-R DL capability along with 16x DVD-ROM and 48x CD-ROM speeds among its features. The current retail kit ships with the Roxio CD and DVD burning suite.
The Plextor PX-760A offered very good DVD-R and DVD+R write quality and speeds with most media. The drive took about five and three quarter minutes to write 4.7GB of data. This was not the fastest time in our tests but overall media compatibility was very good across the board. Its P-CAV writing method meant it turned in some above average numbers in our DVD+RW and DVD-RW tests. The drive was a monster in our DVD+R DL writing test as its 10x write speed resulted in a 15 minute session to burn 8.5GB of data.
The PX-760A was able to read both single layer DVD-ROM's and DVD-Videos at 16x with very good seek times. The drive hit a maximum 41x speed in our DAE extraction tests. This drive also read pressed and standard CD-R media at 48x and CD-RW discs at 42X. Of course this drive comes with a significant amount of features pioneered by Plextor along with some of the best support in the industry. The features and capabilities of this drive do not come cheap, but we think the $100 price tag is worth it in the end.
Sony
While Sony does manufacture their own optical drives, they have been providing optical drives based upon some of the better known OEM units for quite some time. They were also a leading pioneer in the development of the first compact disc standards and introduced the first dual format DVD writer. The
Sony DRU-830A
unit is based upon the Samsung SH-S182D drive but offers an extremely elegant faceplate design along with additional features.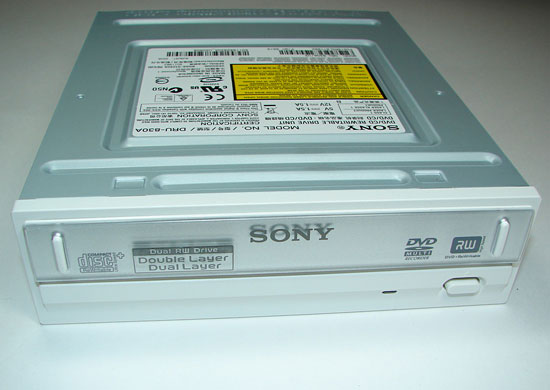 The Sony DRU-830A offers 18x DVD±R, 8x DVD+RW, and 8x DVD±R DL writing speeds with a maximum DVD read speed of 16x. The DRU-830A fully supports DVD-RAM media at 12x read or write speeds and includes 48x CD read/write speeds along with 32x rewrite capability. The drive also features Power-Burn buffer underrun protection and includes the Nero 7 CD and DVD burning suite.
We generally found the drive offered excellent DVD-R and DVD+R write quality and speeds provided we had the correct media. The drive took about five and a half minutes to write 4.7GB of data. However, its Z-CLV writing method meant it was slower than normal in our DVD+RW and DVD-RW tests. The drive performed very well in the DVD±R DL writing tests as its 8x write speed resulted in a 19 minute session to burn 8.5GB of data. Our only issue with the DVD±R DL tests was higher than normal PI/PF error rates that could be fixed in a firmware update.
The Sony DRU-830A was able to read both single layer DVD-ROM's and DVD-Videos at 16x with decent seek times. The drive also proved to be very good at audio extraction with 40x readings in our DAE tests. Overall, the drive performs very well and we would not hesitate to recommend it as one of the better DVD-RW drives on the market; with a current $20 rebate you can pick up the full retail kit for around $70.