We recently returned from a whirlwind trip that had us visiting the majority of motherboard manufacturers, memory and storage suppliers, and a few interesting OEM/ODM manufacturers of personal computer and consumer electronic devices. We will be receiving some really interesting products over the course of the next month but already have several in the labs that are in the final phases of testing. We will follow up with full reviews of these products in the very near future but for now we feel like the performance and features offered makes them worth considering for purchase. Here's a quick look at our storage and media products today with a follow up shortly featuring memory, audio/video, and motherboard items.
External Storage Products:

Sans Digital
We stopped by
Sans Digital
to view their complete line of Mobile Silver products. While they have been marketing their AccuRAID (2U Rackmount), EliteStor (1U Rackmount), and EliteRAID (3U Rackmount) products into the business sector for some time, it is their MobileStor and MobileRAID products they are featuring for the home and small office user that we found to be very interesting.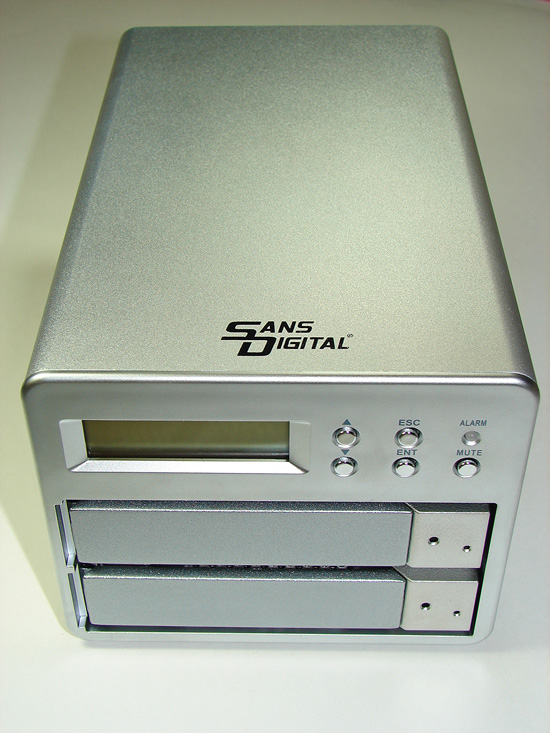 The MobileStor Series MS2UT that we have been testing is a 2-bay external RAID solution primarily designed for personal video editing and data storage. The unit has proven to be very simple to use and offers an excellent software package along with all required interface cables. The MS2UT is equipped with two hotswappable 3.5" lockable drive trays with both USB 2.0 and eSATA host interfaces. The unit supports SATA 1.5Gb/s and SATA 3Gb/s operation with full support for Hot Swap, RAID 0 or RAID 1, along with online data auto-rebuilding capability. The maximum drive capacity supported at this time is 750GB in each slot for a total of 1.5TB in storage capacity. Naturally, when larger SATA drives become available, the MS2UT should support those as well.
The unit is enclosed in a compact aluminum housing and features an LCD display panel. The LCD panel provides the status of the cooling fans, temperatures, and can be used to select the RAID mode or automatic backup scheduling. The two internal fans are temperature controlled and the unit offers full sensor capabilities for the hard disk drives. The power supply is rated at 70W and the entire unit was extremely quiet during operation with our Seagate Barracuda 7200.10 and Western Digital SE16 hard drives.
We found the unit offered excellent performance during testing and the enclosed RAIDGuide GUI software (Windows based) was easy to navigate. The MS2UT fully supports MAC operating system 10 and above, Linux Core 2.4 and above, and Windows ME/2000/XP/Server 2003 without the need for additional hardware level drivers. If you are using Microsoft Windows the unit will also support remote location support and monitoring via the enclosed RS232 cable (provided your PC has the required port).
Thecus
Although
Thecus
was founded in 2004, they have rapidly become a leader in the personal and small business storage sector. We currently have two of their products in our labs for review and in testing to date we have been very impressed with the features, performance, and versatility of the N2100 and N4100 storage devices.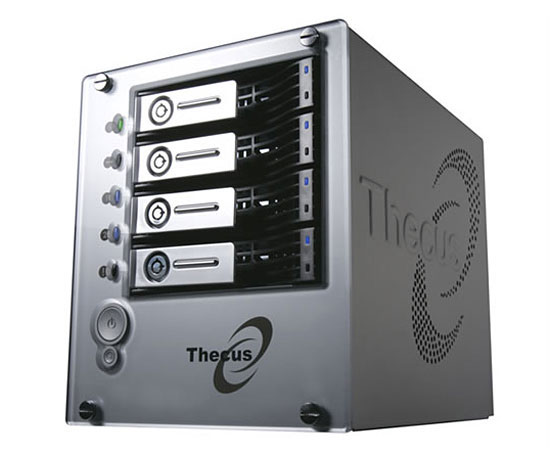 Our first Thecus product review will feature the
N4100
network storage appliance. This device is targeted to the Small Business, Small Office/Home Office, or computer enthusiast looking for a very affordable central data server. The N4100 features terabyte capacity via four drive bays, SATA 1.5Gb/s and 3Gb/s support, and RAID 0, 1, 5 operation. The unit also supports JBOD, Auto Rebuild, Hot Swap under RAID 1 or 5, and Hot Spare support under RAID 5.
The unit also features the Intel XScale 80219 processor, Intel 82541 Gigabit Ethernet controller, optional second 82541 controller or a wireless 802.11 b/g controller, 16MB of flash memory, LED based system status, and a 200W ATX power supply. Client support includes Windows 98/ME/NT/2000/XP, UNIX/Linux/BSD via CIFS, and Apple OS/X via AFP.
The enclosed Web-Based management software was intuitive and fairly simple to use during the unit configuration and ongoing system maintenance. With the latest 1.3.04 firmware the performance of the unit was excellent and we had no issues with the Hot Swap or Hot Spare capability in RAID 5 operation. User authentication support was very good with built-in user account capability for local users and full Windows 2003 Active Directory Support available for external users.