Power
We regularly look at power consumption when talking about card performance, and for this review we want to look at two different aspects of power consumption. Since these cards all have potential for home theater systems given their HDCP compatibility, we want to look at not only power consumption during game performance, but also during BD video playback.
3D Acceleration Power Consumption
It's important to be aware of how much power your card draws when gaming so undue stress isn't put on your computer's power supply. Also, high wattage power supplies have bigger fans to keep them cool; that means a card with a lower power draw might be more desirable in a system that is built for as quiet operation as possible. To test the power load of these cards during 3D acceleration, we recorded the total wattage of the system with each of the cards installed while the system was idle for reference (i.e. no programs running), and then we recorded the total wattage of the system while running a few of the demos from 3DMark06. The 3DMark06 demos put stress on the GPU and we can then compare this to the idle wattage to get a general idea of how power hungry a card is.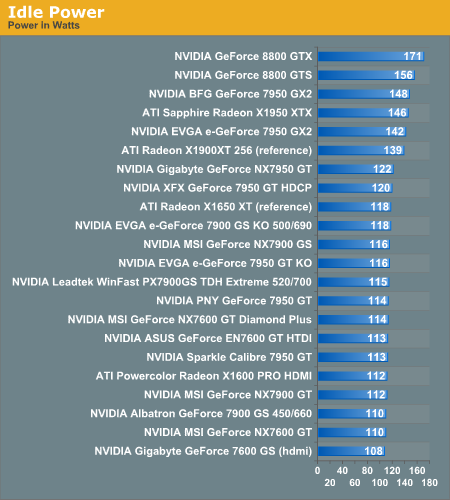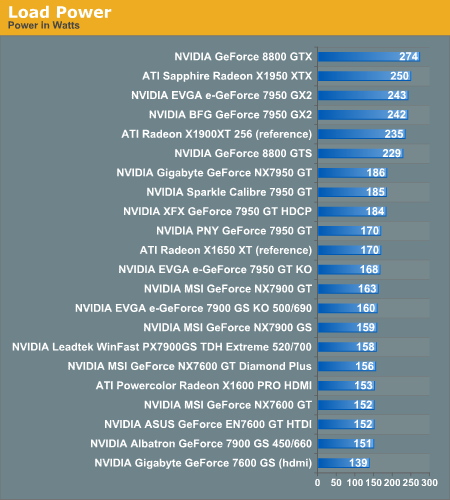 We can see that as you would expect, higher performance cards like the Sapphire Radeon X1950 XTX as well as the EVGA and BFG GeForce 7950 GX2 saw some of the biggest power draws. The reference NVIDIA 8800 GTX required a bigger power supply than the one we used for the other cards, so we put in a more powerful one with the necessary two PCIe connectors for that particular configuration. This will make these power numbers less consistent with the others, but we can still get an idea of how power-hungry these new cards from NVIDIA are. These cards are going to require higher watt power supplies to run, and so might not be the best choice for a quiet system. We noticed that the Albatron 7900 GS had a lower power draw than the others in its class, and the Gigabyte 7600 GS was the least power-hungry of all of these cards (as well as the least effective in video decoding).
Blu-Ray Playback Power Consumption
We also want to look at power consumption while playing back a BD movie with these cards. Because 3D acceleration takes more processing power than decoding video, we will expect to see a lower power draw in these tests, but as with CPU utilization, we will probably be seeing higher power draws with future Blu-Ray and HD-DVD content which will make use of higher bitrate encoding.
We took power reading in the same way as with CPU utilization: by playing back about a minute of video from our Blu-Ray movie "Click." We are also interested in seeing the kinds of power loads these cards have when hardware acceleration is disabled in order to see the contrast between power loads. Because cards of the same family (i.e. 7900 GS, 7950 GT, etc.) saw very similar power consumption without hardware acceleration enabled, we only recorded power in this state for one of each card family. These are the results of our tests.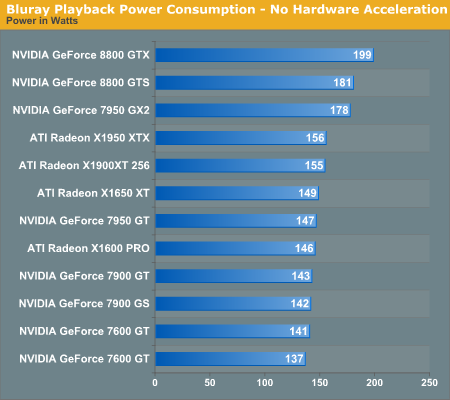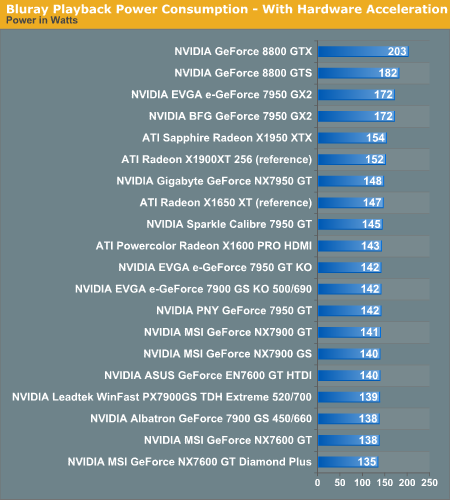 Again we see that not surprisingly, the higher performance cards see greater power draws than lesser performing ones, but we don't see a big difference here between most of the cards. In many cases, higher clocked cards of the same type see a little higher power draws than their competitors, but in some cases (like with the Leadtek WinFast PX7900 GS TDH Extreme) we see lower power draws. This tells us that there will be variation in power draw between cards of the same type depending on what types of modifications the different vendors make to their cards. Again keep in mind that we used a different power supply for the NVIDIA GeForce 8800 GTX, so it's not really an apples-to-apples comparison.
In the future, we could see power consumption go down with acceleration enabled. As graphics hardware is better suited to processing video than a CPU, efficiency should go up when using hardware acceleration. At this point, there isn't much difference, but this could change when we move away from MPEG-2 and into higher bitrate content.