Power Consumption
Power consumption is something that is important to look at when evaluating a graphics card, and because these 8800s are such high performers, they create very high power levels as well.
We tested power consumption for these parts in the same way we usually do, by measuring the total power draw of the system with each of the cards installed in two different states. The first state is with the system idle (no other programs running) and the second is while the GPU is under stress testing. We use a few of the benchmarks from 3DMark06 to stress the GPUs to find out their power consumption under load. Because we are measuring the wattage of the entire system and not simply the cards, we can only get a general idea of the type of power levels of these cards.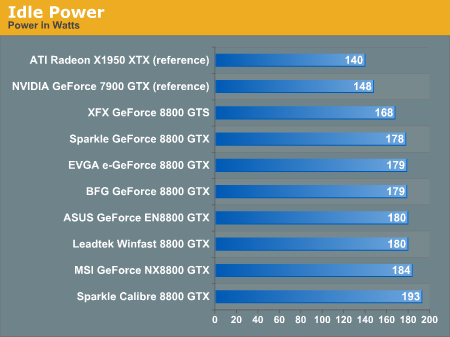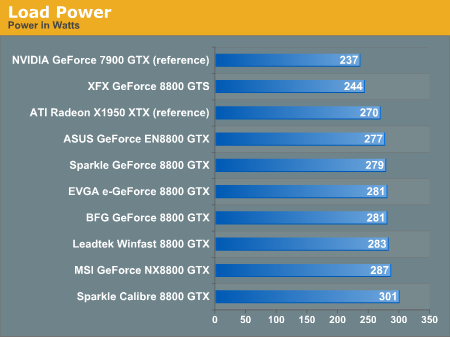 Looking at the data, we immediately see that the Sparkle Calibre 8800 GTX is the highest on the graphs for its power consumption. This was expected because of its peltier cooler. Most of these cards got results that remained around 180 Watts while the system was idle, and 280 Watts while the system was under load. The XFX GeForce 8800 GTS naturally got the lowest levels of the bunch, which makes sense given that it's the lone GTS out of a roundup of primarily GTX cards. Out of the 8800 GTXs though, the ASUS EN8800 GTX seemed to draw the least amount of power under load, and the reference design Sparkle 8800 GTX pulled the least while idle.