Intel SR6850HW4 Server
Our server was not a simple demo system, but a complete Intel Server system solution: the SR6850HW4 server. It is an enormous 6U rack/pedestal server, also available in a slimmer 4U form as the SR4850HW4. The main difference is that the 4U server has 5 (6U:10) disk bays, a bit less cooling, and smaller and slightly less powerful power supplies.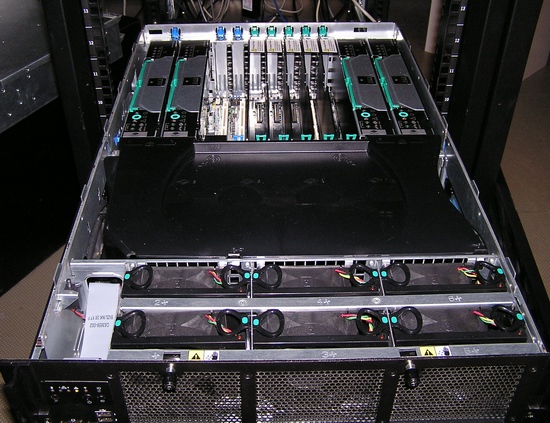 Below you can see the massive heatsinks used to cool the Xeon 71xx down.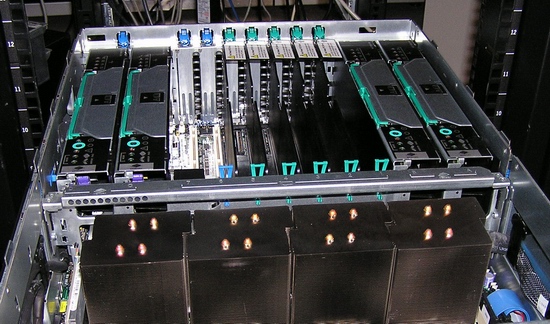 As the new quad socket Xeon 71xx CPU fits in a 4U server, we can easily compare it with one the most popular quad Opteron servers: the HP DL585.
HP ProLiant DL585 version 2006
The HP ProLiant DL585 available in the labs was not the recently introduced DL585G2 which features DDR2, the new AMD Opteron socket F and 2.5 inch SAS drives. It is a small evolution of the
HP DL585 which we reviewed back in 2004
. Back then, each of the four CPU boards had 8 memory slots and supported up to 16GB (8x2GB) of DDR-266, for total of 64GB RAM. The original HP was able to use up to 48GB of DDR-333.
The latest DL585 can use 4GB DIMMs, allowing it to access no less than 128GB of DDR266. It can also use 32GB of fast DDR-400 or 64GB of DDR-333, which is very impressive. Below you can find a schematic overview of the latest DL585 technology.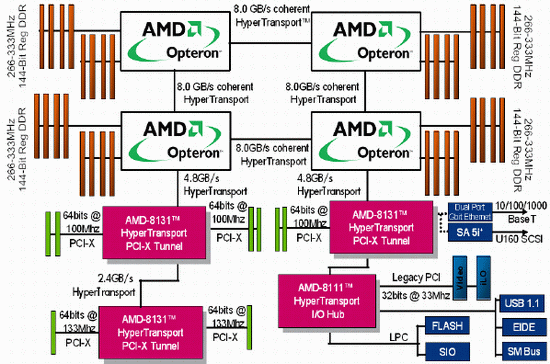 The Opteron keeps a few very important advantages over the Xeon MP, not the least of which is a very elegant platform design. The quad dual core configuration generates more cache coherency traffic, as the 8 cores of the Opteron have to keep 8 L2 caches coherent while the Xeon MP has to keep track of 4 L3 caches. However four 4GB/s full duplex point to point connections make this traffic flow very smoothly while each pair of Xeon MPs have to share a 6.4GB/s half-duplex bus. The Opterons also have a fast 4.8GB/s full duplex point-to-point connection to the I/O chips.
Supermicro SS6015b-8+ server
For the price of a 4U quad socket server you can get several dual socket 1U/2U servers. There are several reasons why you would still prefer to buy the more expensive 4U server: more disk bays, more RAS features, more full height expansion slots, and of course more performance. Depending on your needs one these factors might be the decisive one. In the case of the 4U servers reviewed here, direct attached storage will not be the deciding factor, as you can get 4 or 5 disk bays in a 1 or 2U server too. If performance is the critical factor, it is clear that we must include a 1U or 2U server to see how much more performance you gain if you choose the quad socket machine.
Enter the
Supermicro SS6015B-8+
, which is equipped with Supermicro's X7DBR-8+ dual Xeon "Bensley platform" server board, based on the Intel 5000P chipset. While it doesn't have the RAS features of the 4U machines (for example, it doesn't have redundant PSUs), it can compete on all other points. In terms of RAM capacity for example, the Supermicro motherboard has sixteen (!) 240-pin DIMM slots that can support up to 64GB of ECC DDR2-667/533 FB-DIMMs. You can also trade in some RAM capacity for RAS: the
similar SS6015B-3RV
features "only" 8 DIMM slots but two 650W PSUs. The SS6015-8+ is also equipped with a SCSI or SATA backplane that offers 4 drive bays.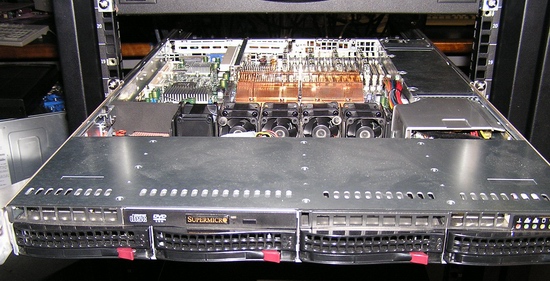 Due to the 1U form factor, you have to sacrifice a bit of expandability. One 133 MHz PCI-X slot can support two different riser cards, but not simultaneously. You have to choose between the PCIe riser card and the PCI-X one.
We are well aware that this particular Supermicro server is not a direct competitor. However, a similar 2U server like the 6025B will give almost the same performance numbers. The 6025B Server offers 8 drive bays, redundant power supplies and 6 expansion slots. So we are basically using the SS6015b-8+ as a "performance reference". We will try to answer the question: when do four Xeon MP or Opterons make sense, and how does it compare to the best dual Xeon available, the Xeon DP 5160?