Gigabyte GA-965P-S3: Feature Set
Gigabyte GA-965P-S3
Market Segment:
Budget Performance - $115.99
CPU Interface:
Socket T (Socket 775)
CPU Support:
LGA775-based Pentium 4, Celeron D, Pentium D, Pentium EE, Core 2 Duo, Core 2 Extreme
Chipset:
Intel P965 + ICH8
Bus Speeds:
100 to 600 in 1MHz Increments
Memory Ratios:
Auto, 2, 2.5, 3, 2.66, 3.33, 4
PCIe Speeds:
Auto, 90MHz~150MHz in 1MHz Increments
PCI:
Fixed at 33.33MHz
Core Voltage:
Normal, 1.0250V to 1.6000V in 0.00625V increments, 1.80V, 2.0V
CPU Clock Multiplier:
Auto, 6x-11x in 1X increments if CPU is unlocked, downwards unlocked, Core 2 Duo
DRAM Voltage:
Normal, +.1V ~ +.7V in +.1V increments
DRAM Timing Control:
Normal, 9 DRAM Timing Options, Memory Performance Enhance Mode
FSB Termination Voltage:
Normal, +.1V ~ +.3V in +.1V increments
MCH Voltage:
Normal, +.1V ~ +.3V in +.1V increments
Memory Slots:
Four 240-pin DDR2 DIMM Slots
Dual-Channel Configuration
Regular Unbuffered Memory to 8GB Total
Expansion Slots:
1 - PCIe X16
3 - PCIe X1
3 - PCI Slot 2.3
Onboard SATA/RAID:
4 SATA 3Gbps Ports - Intel ICH8
2 SATA 3Gbps Ports - (RAID 0,1,JBOD) - JMicron JMB363
Onboard IDE:
1 ATA133/100/66 Port (2 drives) - JMicron JMB363
Onboard USB 2.0/IEEE-1394:
10 USB 2.0 Ports - 4 I/O Panel - 6 via Headers
No firewire support
Onboard LAN:
Gigabit Ethernet Controller - PCI Express Interface
Marvel 88E8056
Onboard Audio:
Realtek ALC-883 8-channel High Definition Audio CODEC
Power Connectors:
ATX 24-pin, 4-pin EATX 12V
Fan Connectors:
2 - CPU, Chassis
I/O Panel:
1 x PS/2 Keyboard
1 x PS/2 Mouse
1 x Parallel Port
1 x S/PDIF Optical
1 x S/PDIF Coaxial
1 x Serial Port
1 x Audio Panel
1 x RJ45
4 x USB 2.0/1.1
BIOS Revision:
Award F6
The Gigabyte GA-965P-S3 is slotted in between the Biostar P965PT and the Gigabyte GA-965P-DS3. Like the Biostar P965PT it uses the Intel ICH8 but also adds two additional SATA ports and RAID capabilities via the JMicron JMB363 chipset that also serves as the IDE controller. The S3 does not come with Firewire capability which is a mistake in our opinion.
The BIOS is feature rich like the DS3 and is geared towards the enthusiast with a significant amount of voltage/memory timing options available, provided you remember to press Ctrl-F1 while in the BIOS setup screen. Why Gigabyte continues to force the user to remember this keystroke sequence for additional BIOS options is beyond us.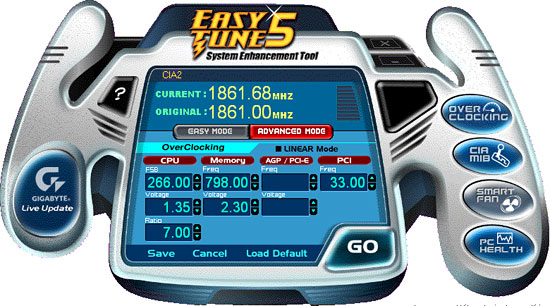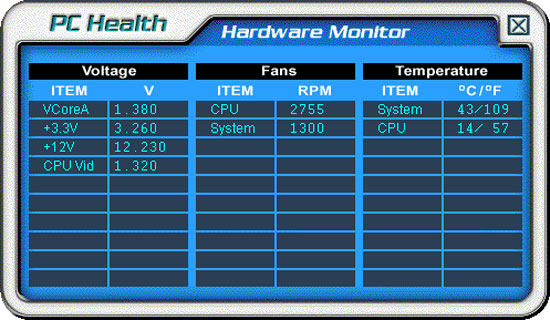 Gigabyte also includes a full suite of utilities for the board: EasyTune5, M.I.T. (Motherboard Intelligent Tweaker), Download Center, Xpress Install, @BIOS, Smart LAN, Smart Fan, and Virtual Dual BIOS. We found the @BIOS utility to be very handy for downloading and then updating the BIOS while in Windows. For those who are squeamish about updating their BIOS within Windows, Gigabyte has the Q-Flash utility built into the BIOS that allows updating from a floppy drive.
EasyTune5 is probably one of the most useful utilities in the Gigabyte arsenal and allows for control of the FSB settings and certain voltages within Windows, although a reboot is required to change most voltage settings. We found the utility worked well for squeezing out those last few FSB increases but we still found ourselves tweaking the BIOS the majority of the time. The PC Health monitor provided basic readings of the system but for some odd reason our CPU temperature liked to blip under 20C when capturing our screenshots. Our actual idle temps at stock settings were 25C on this board at time of testing. The Smart Fan utility allows control over the two fan headers located on the board.
Like our other boards in these roundups, Gigabyte includes a dynamic overclocking capability dependent on system load or preset attributes. This capability can be located within the BIOS under the C.I.A.2 setting. The settings range from Cruise (5% increase) to Full Thrust (17% increase). We decided to see how well this motherboard performed at Full Thrust. The blank screen after rebooting led us to believe we had selected the Zero Thrust option. After a quick CMOS clear event we backed down to the Turbo (15% increase) setting and were able to complete our benchmark testing. C.I.A.2 determined our Turbo settings would end at a final 7x308FSB providing a CPU speed of 2156MHz and our memory running at DDR2-924 with 5-5-5-15 settings. Just as predicted by C.I.A.2 an increase of just over 15% in the FSB speed was realized matching our settings on the DS3.