Overclocking Performance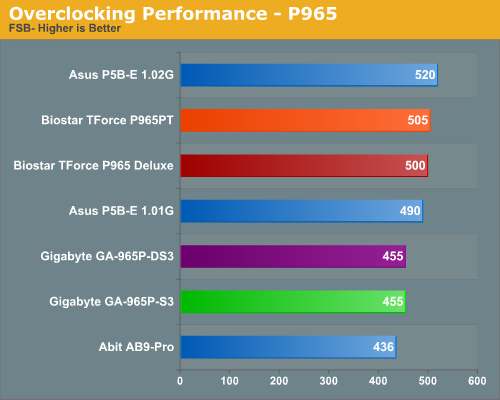 We have already reviewed the overclocking capabilities of each board in detail during our review of the boards' feature sets if additional information is required about the results. The ASUS P5B-E 1.02G is still the best overclocking board in our review to date but we were pleasantly surprised by the performance of the Biostar TForce 965PT. Actually, we were amazed as we had figured Biostar would have neutered the BIOS since the board is designed for the budget sector. We feel like the Biostar boards would have no issue matching the ASUS boards if they had memory voltage options up to 2.4V. The Gigabyte boards will be very competitive once the Micron D9 issues are resolved but until that time we hesitate to recommend them if you plan on overclocking an E6300 past 450 FSB.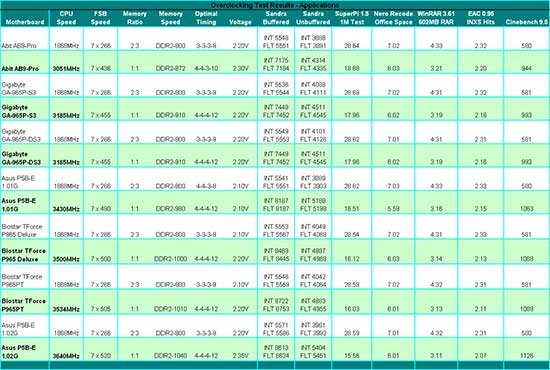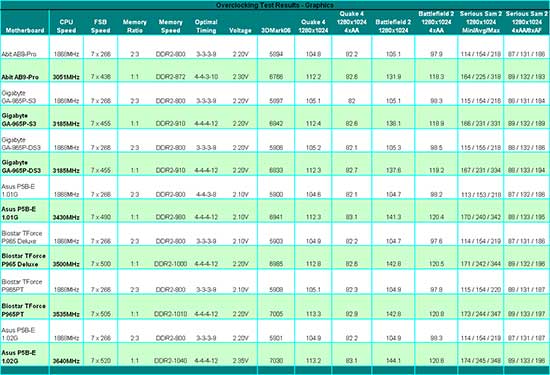 Click to enlarge
Our results have not really changed since the first roundup although we see the Biostar 965PT nipping at the heels of the ASUS P5B-E 1.02G due to its overclocking capability. In our application benchmarks that tend to be very CPU intensive we see the benefits of overclocking as our Nero Recode test shows an improvement of 16% on average with our WinRAR tests showing upwards of a 36% increase in performance. Our audio encoding test only showed an improvement of 11% but this is due to the fact that the CPU was waiting on the optical drive during the encoding process as it takes two minutes and three seconds to extract the audio files.
In our Sandra memory results we see the Gigabyte GA-965P-DS3 having the highest unbuffered results which directly translates to its class leading performance in most of our benchmarks. We also have to commend Biostar for very consistent performance from their boards with the second highest memory scores. ASUS is close behind but they generally run relaxed timings to a certain degree in order to improve overclocking at the high end.
In our gaming benchmarks we see differences of 7% in Quake 4, up to 38% in Battlefield 2, and 59% in the older Serious Sam II title when overclocking. This trend shows a definite improvement in the CPU/GPU balanced titles with little improvement in a title like Quake 4 that can become GPU limited at 1280x1024. We implemented 4xAA in Quake 4 and as expected the game shows no real differences in performance once it becomes GPU limited. This basically holds true for the balance of our games as overclocking will improve performance to a certain degree but the GPU is the biggest factor in most games today.