ASUS P5B-E: Feature Set
ASUS P5B-E (1.01G and 1.02G Revision)
Market Segment:
Mid-Range Performance
CPU Interface:
Socket T (Socket 775)
CPU Support:
LGA775-based Pentium 4, Celeron D, Pentium D, Pentium EE, Core 2 Duo, Core 2 Extreme
Chipset:
Intel P965 + ICH8R
Bus Speeds:
100 to 650 in 1MHz Increments
Memory Speeds:
Auto, 533, 667, 800, 889, 1067
PCIe Speeds:
Auto, 90MHz~150MHz in 1MHz Increments
PCI:
Auto, Fixed at 33.33
Core Voltage:
Base CPU V to 1.7000V in 0.0125V increments
CPU Clock Multiplier:
Auto, 6x-11x in 1X increments if CPU is unlocked, downwards unlocked
DRAM Voltage:
Auto, 1.80V ~ 2.10V in .10V increments on 1.01G, 1.80V ~ 2.45V on 1.02G
DRAM Timing Control:
Auto, 10 DRAM Timing Options
NB Voltage:
Not available 1.01G, 1.4V~1.7V on 1.02G
Memory Slots:
Four 240-pin DDR2 DIMM Slots
Dual-Channel Configuration
Regular Unbuffered Memory to 8GB Total
Expansion Slots:
1 - PCIe X16
3 - PCIe X1
3 - PCI Slot 2.3
Onboard SATA/RAID:
6 SATA 3Gbps Ports - Intel ICH8R
(RAID 0,1,5, 1+0,JBOD)
1 SATA 3Gbps Ports - JMicron JMB363
1 e-SATA 3Gbps Port - JMicron JMB363
Onboard IDE:
1 ATA133/100/66 Port (2 drives) - JMicron JMB363
Onboard USB 2.0/IEEE-1394:
10 USB 2.0 Ports - 4 I/O Panel - 6 via Headers
2 Firewire 400 Ports by VIA VT6307 - 1 I/O Panel, 1 via Header
Onboard LAN:
Gigabit Ethernet Controller - PCI Express Interface
Attansic L1
Onboard Audio:
ADI 1988A 8-channel High Definition Audio CODEC
Power Connectors:
ATX 24-pin, 4-pin EATX 12V
I/O Panel:
1 x PS/2 Keyboard
1 x PS/2 Mouse
1 x Parallel Port
1 x S/PDIF Optical
1 x S/PDIF Coaxial
1 x IEEE 1394a
1 x Audio Panel
1 x RJ45
1 x eSATA
4 x USB 2.0/1.1
BIOS Revision:
AMI 0601
Board Revision:
1.01G, 1.02G
ASUS is replacing the P5B (non-deluxe) with the P5B-E. The improvements in the board have centered around better performance and overclocking capabilities. ASUS has improved the BIOS while upgrading or adding additional capacitors on the board. Our opinion is that they have succeeded based upon our test results. The current motherboard that is shipping is a 1.01G revision with either the C1 or C2 P965 stepping. As we witnessed in an
earlier article
there is not a real difference in performance between the two chipsets.
The current P5B-E 1.01G is very well optioned and sells for around US $160. ASUS will be launching a new revision of the motherboard oriented to the enthusiast crowd in the near future and it sports a new PLL controller that allows up to 1.7V for the MCH and 2.45V for the memory. The current 1.01G board does not offer voltage selections for the MCH and memory is limited to 2.10V. The board revision is 1.02G and we do not know if the name will change at this time or not. However, this should not deter the majority of users from considering the 1.01G motherboard as there is no difference in the performance of the boards except in overclocking when utilizing mid to lower range memory modules that require additional voltage.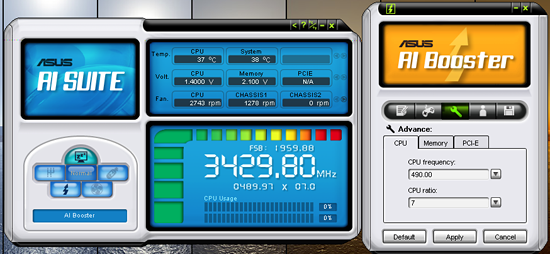 ASUS supports their AI Suite of utilities with the P5B-E that include AI N.O.S., AI Gear, AI Nap, AI Booster, and Q-Fan applications. ASUS AI Gear allows for four different fixed settings ranging from maximum performance to maximum power saving. ASUS AI Nap is a power savings utility and Q-Fan controls the CPU and chassis fans. AI Booster allows you to overclock the CPU to a certain level without rebooting to the BIOS. AI N.O.S. determines the load on the system and automatically overclocks the system up to 20%.
We found when setting the AI N.O.S. setting to auto that the system would boot our E6300 at 7x266 with the memory set at DDR2-800 with timings of 5-5-5-15. Once in XP and stressing the system with game play or 3DMark06 it would automatically raise the FSB to 275 with the memory at DDR2-824. If we set the AI N.O.S. from Auto to Sensitive then we could predetermine the percentage of overclock capability with the Turbo setting up to 20%. At the 20% setting the system would lock up due to our memory running at DDR2-958, something not possible with our GEIL DDR2-800 being limited to 2.1V. The FSB setting was 7x319 with memory timings at 5-5-5-18.
Once we backed down to a 15% overclock setting then the system would operate normally. This resulted in a 7x306 FSB with the memory speed at DDR2-920 with timings of 5-5-5-18. We found this to be strange as the system would operate with the memory set manually to 4-4-4-12 at DDR2-980 in our overclock tests. Overall, we still suggest you manually adjust the BIOS for optimum settings with your components.