Abit AB9-Pro: Overclocking
FSB Overclocking Results
Abit AB9-Pro
Overclocking Testbed
Processor:
Intel Core 2 Duo E6300
Dual Core, 1.86GHz, 2MB Unified Cache
1066FSB, 7x Multiplier
CPU Voltage:
1.4375V (default 1.3250V)
Cooling:
Scythe Infinity Air Cooling
Power Supply:
OCZ GameXStream 700W
Memory:
Geil PC2-6400 800MHz Plus (2x1GB- GX22GB6400PDC)
(Micron Memory Chips)
Video Cards:
1 x MSI X1950XTX
Hard Drive:
Seagate 320GB 7200RPM SATA2 16MB Buffer
Case:
Cooler Master CM Stacker 830
Maximum CPU OC:
(Standard Ratio)
436x7 (4-4-4-12, 1:1, 2.3V)
3052MHz (+64%)
.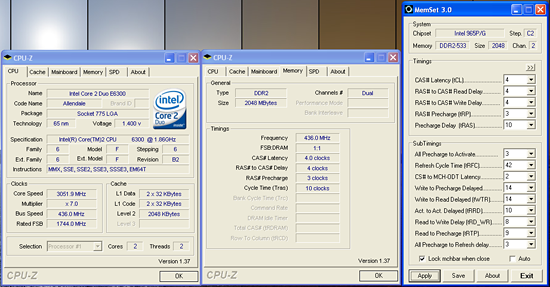 Click to enlarge
Our E6300 posted very good results when compared to our
earlier overclocking test results
that resulted in a maximum FSB speed of 366. However, the 7x436FSB level is the lowest of our test group today and does not match up to the promise of this board's performance. We also have an issue with our CPU requiring 1.4375V on this board to reach a stable 3.05GHz. We normally only require 1.40V in order to reach this level and noticed the board would not boot without an increase to 1.4375V although it was rock stable at this setting. Vdroop averaged around .02V to .03V during overclocking and heavy system loads. Our memory is usually very stable up to DDR2-900 at 4-3-3-10 settings but required slightly looser timings on this board. Although the overclocking results are not as high as our other boards, the ability to now run up to 436FSB in a stable manner is fine for the majority of people who want to overclock.
Memory Stress Testing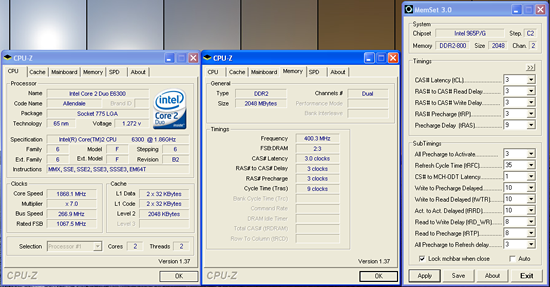 Click to enlarge
Memory stress tests look at the ability of the Abit AB9-Pro to operate at the official DDR2-800 memory frequency at the best performing memory timings our GEIL PC2-6400 can achieve on this board.
Abit AB9-Pro
Stable DDR2-800 Timings - 2 DIMMs
(2/4 slots populated - 1 Dual-Channel Bank)
Clock Speed:
800MHz
CAS Latency:
3
RAS to CAS Delay:
3
RAS Precharge:
3
RAS Cycle Time:
9
Voltage:
2.20V
The Abit AB9-Pro was very stable with 2 DDR2 modules in Dual-Channel mode at the settings of 3-3-3-9 at 2.2V with the 1.4 and above BIOS. By increasing the voltage to 2.25V we could run at 3-3-3-6 timings although there were not any real performance improvements unless we utilized MemSet to change other latency settings.
Abit AB9-Pro
Stable DDR2-800 Timings - 4 DIMMs
(4/4 slots populated - 2 Dual-Channel Bank)
Clock Speed:
800MHz
CAS Latency:
3
RAS to CAS Delay:
4
RAS Precharge:
3
RAS Cycle Time:
10
Voltage:
2.20V
We had to change our timings to 3-4-3-10 from 3-3-3-9 when installing two additional modules. We were able to keep our voltage set to 2.20V at this setting. We were able to maintain these settings up to a 7x405FSB, DDR2-810, setting with 2.30V. Our maximum overclock with four DIMMs installed was 7x418FSB, DDR2-836 4-4-3-12, with the memory set at 2.30V. Once again, we had to use BIOS 1.4 or higher in order for these settings to work.
In fact, on the first two BIOS releases this particular memory would not even boot when installed in this board. The memory itself is designed to run at 2.0V or higher depending upon the latencies selected. GEIL actually rates this memory at 2.4V for 3-4-3-8 operation at DDR2-800 although we have not required voltages above 2.2V at this setting.