Battery Life
So far, we've talked a lot about performance, but one of the major reasons for getting a laptop is mobility. It's difficult to be truly mobile if you find your battery is constantly going dead, requiring you to find a power outlet so you can plug in and recharge. Thus, battery life becomes an important performance metric for any laptop review. It's also worth mentioning that the smaller size of the MSI notebook is going to appeal to some people that are after a truly thin and light notebook, while others will prefer to have a slightly larger display and keyboard at the cost of a bit more weight. Larger displays also draw more power, and of course the various other components play a role in battery life.
All this is a way of saying that we're comparing battery life and power between two very different laptops, with the only similarity being the amount of memory and processor clock speed. A smaller Core 2 Duo notebook with integrated graphics would almost certainly come with longer battery life. Still, given that both these laptops have the same 4800 mAHr battery size, we can at least see how the two systems compare.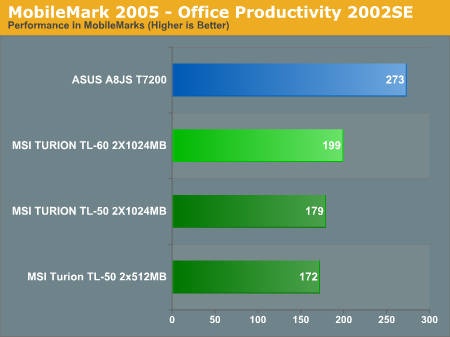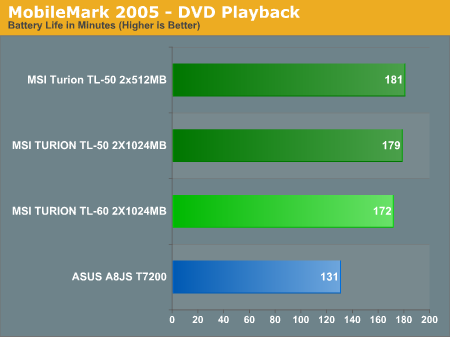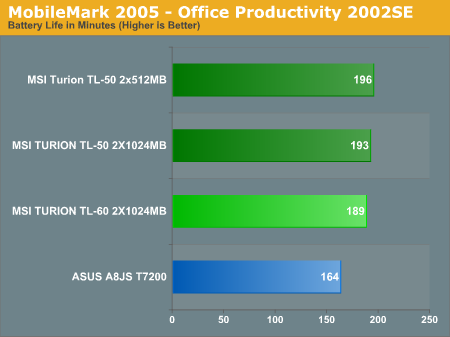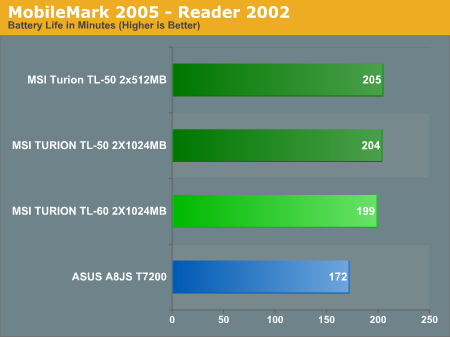 With the exception of office productivity performance, the smaller, slower MSI laptop comes out at the top of our mobility benchmarks. The ASUS notebook may be 37% faster in productivity tasks, but the MSI offers 15% more battery life. When the system is basically idle, which is represented by the Reader benchmark, the MSI system continues to have 15% more battery life. Once we get to DVD playback, things become more interesting, as the MSI offers over 30% more battery life, with just over 2 hours and 40 minutes of playback time. That should be enough to get you through all but the longest DVDs, as well as most continental US flights. Given that the displays are active throughout testing in all of the battery benchmarks, we're not exactly sure why the DVD playback shows such a large discrepancy. It could be that the optical drive on the MSI notebook is simply better at conserving power, or else the MSI system is more efficient when it comes to handling MPEG-2 decoding and video output. Most likely, DVD playback is causing the GeForce Go 7700 GPU in the ASUS system to increase its power use.
If you want longer battery life, you basically end up with a few options. The first option is to simply get a larger battery, which may or may not be possible depending on what notebook you have. Both of these laptops include 4800 mAHr batteries, whereas larger laptops can often be configured with 8000 mAHr or larger batteries, so the second option is to look into getting a larger laptop that comes with a larger battery. The Dell E1705 with X1400 graphics is a good example of this option, and you can see the
battery life we measured in our review
. Of course, larger batteries also mean more weight to carry around, not to mention the weight of the larger laptops. Depending on the laptop model, versions that use IGP instead of discrete graphics will often have longer battery life (as seen in this comparison with the ASUS). A final option is to simply purchase a spare battery (or batteries) so that you can swap batteries when one runs low. This also adds to the weight you carry around, but other than the periodic delay to swap batteries, your total battery life is only limited by how much you're willing to spend and how much you want to carry.