Overclocking
Gigabyte GA-965P-DS3
Overclocking Setup
Processor:
Intel Core 2 Duo E6600
Dual Core, 2.4GHz, 4MB Unified Cache
1066FSB, 9x Multiplier
CPU Voltage:
1.5250V (default 1.3250V)
Cooling:
Scythe Infinity Air Cooling
Power Supply:
OCZ GameXStream 700W
Memory:
Geil PC2-6400 800MHz Plus (2x1GB- GX22GB6400PDC), 2.30V
(Micron Memory Chips), Transcend PC2-6400 TS128MLQ64V8J, 2.10V
(JetRAM Memory Chips)
System Platform Drivers:
Intel - 8.1.1.1001
Video Cards:
1 x MSI X1950XTX
Hard Drive:
Seagate 320GB 7200RPM SATA2 16MB Buffer
Case:
Cooler Master CM Stacker 830
Operating System:
Windows XP Professional SP2
Maximum CPU OC:
(Standard Ratio)
385x9 (3-3-3-9, 1:1), CPU 1.500V, F6 BIOS
3465MHz (+44%)
415x9 (3-5-4-12, 1:1), CPU 1.525V, F7 BIOS
3735MHz (+56%)
Maximum FSB OC:
(Lowest Ratio)
425x8 (4-3-4-12, 1:1), CPU 1.500V, F6 BIOS
3400MHz (+59%)
450x8 (4-4-3-15, 1:1), CPU 1.525V, F7 BIOS
3600MHz (+69%)
.
Our test setup represents a blend of components that would make for a very balanced upper mid-range system with gaming in mind. We changed our choice of memory from the typical DDR2-1000 modules that we use from OCZ and Corsair to a high performance set of DDR2-800 modules from GEIL and Transcend. These modules and others like them in the current $200~$300 range represent what most users would probably choose for a system at this level. Until the Micron D9 issue is fully solved, the modules from GEIL perform just as well as the DDR2-1000+ offerings on this board for significantly less money.
We also found in testing that the Transcend memory performed extremely well although the modules are rated at DDR2-800 at 5-5-5-15. We were able to run these modules at 4-4-3-10 at DDR2-800 with 2.00V and 5-4-4-12 up to DDR2-980 at 2.10V. If you are looking for a low priced alternative to the Micron D9 based memories at this time, we highly recommend the Transcend memory. Although it will not reach the speeds of the more expensive DDR2-1066 or even high-end DDR2-800 modules, it will satisfy the needs of most users looking to overclock their Core 2 Duo processors to the 450FSB range.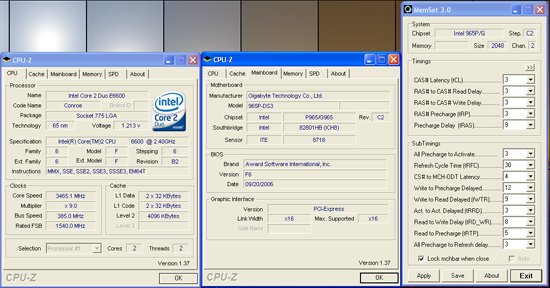 Click to enlarge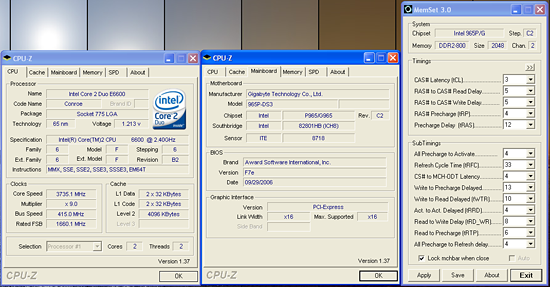 Click to enlarge
Our combination of components resulted in a maximum stable overclock of 9x385 FSB with the F6 BIOS. While we were able to POST and enter Windows XP up to 9x393 FSB, the system was not completely stable during our benchmarking tests. We were also able to boot and enter Windows XP at 9x408 FSB with the F6 BIOS but we had to change our memory settings to 5-6-5-18 for the system to complete the entire benchmark suite that includes eight hours of dual Prime95. The performance penalty from running the relaxed memory latencies along with the switch to the 1333 memory controller strap once we passed the 401 FSB setting resulted in performance that was up to 7% less across a wide variety of games, applications, and synthetic benchmarks. We determined our final setting of 9x385 FSB offered the best blend of performance and stability with the F6 BIOS. We also tested the F4 and F5 BIOS releases and had the same basic results.
Upon loading the F7E BIOS we were able to reach a maximum stable overclock of 9x415 FSB with memory settings at 3-5-4-12. We were able to enter XP up to a 9x422 setting but once again could not complete our benchmark testing even with relaxed memory timings and additional voltages. Our E6600 retail CPU is not the strongest sample available and generally tops out at 9x427 FSB in our 975X motherboards. Our memory choice will operate at a 3-4-3-10 setting on the 975X motherboards at the same 9x415 setting but we were unable to boot at this memory setting on the DS3. After experimenting with several memory settings we arrived at the 3-5-4-12 configuration for providing the best memory performance at this FSB speed.
While increasing our overclock capability by 30FSB is substantial we will have to see in our benchmarks if there is an actual performance difference. The switch of the memory controller strap from 1067 to 1333 at the 401 FSB setting creates a memory performance penalty due to the relaxed MCH timings. On the average P965 motherboard and BIOS setup, the MCH is actually being overclocked from the 365 FSB to 400 FSB level. This is one of the main reasons why it is generally difficult to dial in a stable system in the 390~400FSB range without additional MCH voltage, cooling, and high-end memory. We typically notice an increase in FSB speed of 25~30MHz along with similar memory settings is required to make up for the performance delta created when switching to the next memory controller strap setting.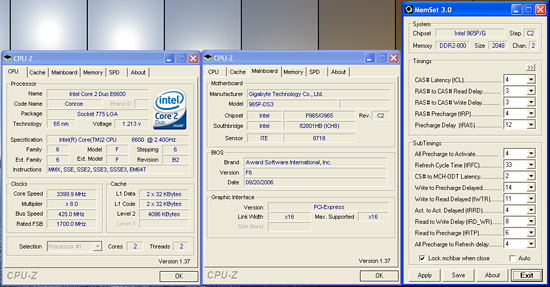 Click to enlarge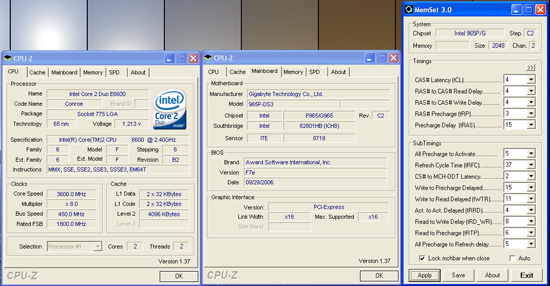 Click to enlarge
Our 8x multiplier settings almost mirrored the results of our 9x settings with a net FSB speed improvement of 25MHz. Our previous best result with the F6 BIOS was at 8x425 FSB with 4-3-4-12 settings and was improved to 8x450 FSB with 4-4-3-15 memory timings with the F7E BIOS. We are certain our FSB improvements could have been greater but any setting over 450FSB resulted in greatly relaxed timings and increasing system instability up to our maximum POST setting of 8x464 FSB. The inability to increase the FSB further or to run tighter memory timings is directly tied back to our Micron D9 issue on this board.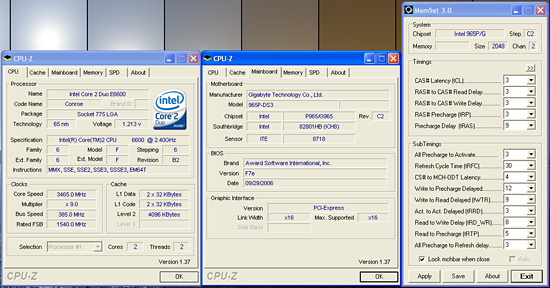 Click to enlarge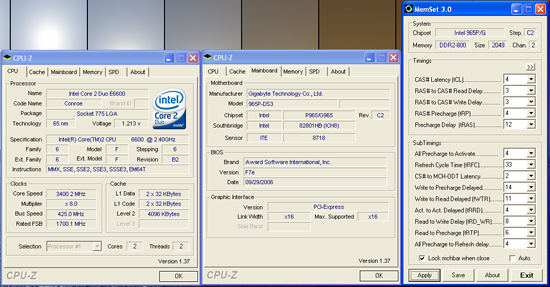 Click to enlarge
We are providing screenshots of the F7E BIOS set to the same maximum stable F6 BIOS settings. Our first thought was that the memory timings were being manipulated to improve the overclocking capability of this BIOS. However, the settings that are available for change remain the same. We will see in our abbreviated benchmarks if this results in like performance between the two BIOS releases. The result of the improved overclocking capability is hopefully from Gigabyte's ability to further optimize the BIOS and not from relaxing MCH or hidden memory timings.