Baseline Intel Midrange Platform
As we mentioned already, Intel has without a doubt regained the performance crown when it comes to CPUs. For pure number crunching, 3D rendering, video encoding, and other CPU intensive tasks, Intel's Core 2 Duo processors almost invariably outperform AMD's Athlon X2 offerings. They do cost a bit more, but they also run cooler and overclock better. All other things being equal, we currently recommend Intel configurations over AMD configurations, although there are a few advantages the AMD platform still holds. Most of our components remain the same as the previous page, with the exception of the motherboard and processor.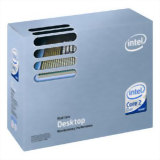 Again, we feel there is little reason to consider anything other than a dual core processor these days. For Intel platforms, you really don't get much choice unless you want to go with an old Pentium 4 processor, as the single core versions of the Core 2 architecture won't be released for several more months. As with the AMD system, we selected the lowest end processor for our baseline configuration. The Core 2 Duo E6300 comes clocked at 1.86 GHz and features 2MB of shared L2 cache. Overclocking attempts with the E6300 have been extremely successful, and the limiting factor is almost always the motherboard and/or memory unless you spend money on higher end components. The default 7X CPU multiplier means that reaching a CPU clock speed of 3 GHz (something that is possible with most Core 2 Duo chips) will require a front side bus speed of 428 MHz, not to mention memory that can also run at DDR2-856 or higher. Unfortunately, motherboards that will support such bus speeds cost more money.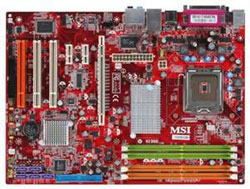 Unlike the AMD platform, picking an ideal motherboard for socket 775 is a bit trickier. We could always go with one of the cheap ASRock motherboards that we have reviewed recently, but most of those are a bit quirky and none of them overclock very well. For a midrange system, we really don't want to skimp on the motherboard at all, and the most reasonable choice is to get a board that uses the P965 chipset. The MSI P965 Neo-F gets our recommendation, as it is currently the cheapest P965 motherboard available and it still performs reasonably well. It won't overclock as high as many of the other offerings on the market, but it is a very solid offering overall. The ECS P965 P965T-A and Foxconn P9657AA-8KS2H are similar in terms of stability, features, and overclocking support -- better in some areas, and worse in others. After our talk above about how high the E6300 can overclock, we need to make it absolutely clear that you'll never come near those overclock levels with any of the three motherboards we've just mentioned. Plan on flashing the BIOS as well, as the vast majority of P965 motherboards have had some serious memory compatibility issues with the initial BIOS revisions. Assuming you can live with those limitations, at $100 the board is still a reasonable option, but you do get what you pay for.
We've covered the memory and video card choices already, so let's move on to the storage and other options. The choice of DVD-RW drives is pretty simple: get whatever it is cheapest. Some of the DVD burners are more compatible with a wider range of media, but overall the NEC ND-3550A works very well and at $30 there's little reason to get anything else. If prices change in the near future, LG, BenQ, Pioneer, and LiteOn are reasonable alternatives.
Choosing a hard drive takes a bit more effort. Most of the major SATA drives are worth consideration, so it comes down to a matter of price and capacity, but warranty and noise levels also play a role. The Samsung 3.0Gbps 250GB SpinPoint P offers an extremely low price/GB and it is also the quietest hard drive presently available. It is not the fastest drive available, so if you do a lot of hard disk intensive tasks you might prefer something else, but 250GB of storage and a quiet drive to go with our silent GPU seems to make sense as a baseline recommendation. Western Digital, Seagate, Maxtor (who is now owned by Seagate), and Hitachi all offer varying features, prices, warranties, etc. If you are less concerned about noise levels, the Western Digital 250 GB SE16 is a close second place that only costs a couple dollars more.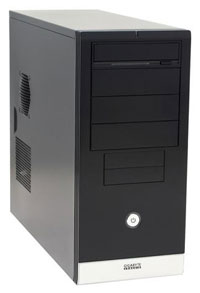 We won't worry too much about the keyboard and mouse other than to say get whatever you like best. Most of us like Microsoft and Logitech input devices, but if you have a personal preference stick with that. For the case, we wanted something that was reasonably easy to work with, reasonably quiet, and not too expensive. The Gigabyte GZ-X1 fits these requirements and it also includes a 350W power supply. The power supply may not be the best for extreme overclocking or running a high-end configuration, but the baseline selections that we've chosen will be hard-pressed to get over ~250W of total power draw. If you don't like the way the Gigabyte case looks, as with the keyboard feel free to get something that you do like. For the power supply, if you want something better than a bundled PSU, we would recommend looking at Fotron Source (FSP Group/Sparkle), Enermax, OCZ, and SeaSonic as quality upgrades, although most aftermarket PSUs that are substantially better than the bundled 350W PSU are likely to cost quite a bit of money.
We have covered all of the baseline components with the exception of the operating system and the display. We will save discussion of the LCD choices for a separate section. As for the operating system, Windows XP Media Center Edition 2005 falls somewhere between XP Home and XP Professional, both in terms of price and features. For home networks, we definitely prefer XP Professional over XP Home, but MCE 2005 includes most of the features we like and it only costs about $10 more than XP Home. In addition, users who add a TV tuner also get the MCE interface, which does a very good job at providing PVR functionality.