We previewed the
ASUS P5B Deluxe
in our Conroe Buyers Guide and were impressed with its features and performance even though we had a very early BIOS release. However, the launch price of near $250 placed it squarely in the middle of the 975X chipset boards that offered equal or better performance along with additional features such as ATI CrossFire support and, more importantly, maturity. Honestly, the entire P965 launch was premature and was fraught with performance and memory compatibility issues. Over the past couple of months ASUS has worked diligently at enhancing the performance of the board along with providing greatly improved memory compatibility. This same situation has held true with the vast majority of Intel P965 based motherboards and we are just now getting to the point of accepting the P965 platform as a logical choice for the entire Core 2 Duo processor range.
One interesting feature of the more performance oriented P965 motherboards has been their ability to overclock up to 550FSB on a regular basis, something the 975X motherboards cannot do at this time. In fact, we expect to see stable 600FSB (2400 MHz quad-pumped) plus levels coming in the near future on the P965 platform. While this is certainly impressive, memory bandwidth suffers in certain FSB ranges as the memory controller strap changes introduce additional latencies along with a reduction in the MCH clock speed. We will delve into this subject matter in our upcoming P965 roundup but additional details can be
located here
.
Overall platform performance generally favors the 975X chipset and it comes at a price, but in most cases you will need a benchmark result to see the differences. The cost, ease of overclocking capability, widespread availability, and now maturing state of the P965 products has generally been an advantage against the 975X products. However, the inability of the P965 chipset to run ATI CrossFire has been viewed as a distinct disadvantage in some circles. Whether this is truly a disadvantage or not is debatable, but for those owners wanting to run CrossFire on a capable P965 platform it has been a drawback. We also feel the inability of the P965 platform to operate in CrossFire mode has been an issue with the motherboard manufacturers who see this as an important feature on their product checklist. However, this perceived shortcoming has now changed.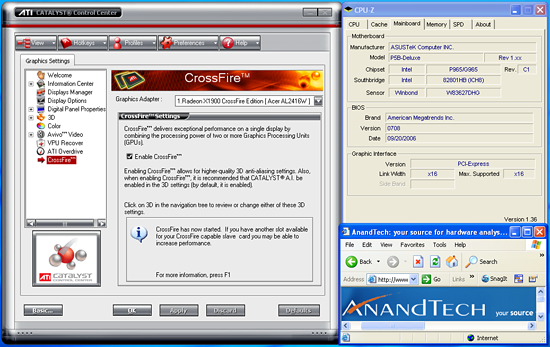 Click to enlarge
As of this week, the ability to use your ATI CrossFire setup on the P965 platform is officially supported by Intel and ATI.
MSI announced
ATI CrossFire capability on their P965 Platinum motherboard earlier this week. We have the board in-house for testing and just received an updated BIOS that should enable CrossFire operation. We fully expect Gigabyte and others to announce full support for ATI CrossFire on their respective P965 offerings shortly.
We digress for moment but it would also be nice to have SLI support. At this time NVIDIA SLI is not officially sanctioned on the Intel platform, although the more industrious users can run SLI with unofficial and unsupported drivers. The only official SLI platforms for Core 2 require NVIDIA chipsets which presently offer extremely poor overclocking support (typically less than 320FSB). In the meantime, can we enjoy our CrossFire experiences without worry on our P965 motherboards? That is the question we set out to answer today.
Part of that question can be answered quickly as ASUS has released the first production level BIOS that fully enables CrossFire compatibility for their P5B Deluxe motherboard. We have been testing BIOS 0706 for the last week with a beta ATI Catalyst 6.9 driver set. We found the performance to be acceptable when compared directly to the 975X based ASUS P5W-DH Deluxe but it was lacking in certain areas. We tested this BIOS with the official
Catalyst 6.9 drivers
and while performance and compatibility improved with the official drivers there were still some issues. The engineers at ASUS continued their round the clock efforts at enhancing the performance and released a beta BIOS to us yesterday. The performance of the 0708 beta BIOS generally resulted in overall performance improvements of 3%~9% in our testing. While both the ATI driver and ASUS BIOS still have room for incremental performance improvements, the initial results we will show today are indicative of this platform combination.
ASUS will release their official performance enhanced CrossFire capable BIOS early next week. The BIOS will be version 0709 and will include their new C.G.I. technology. ASUS C.G.I. stands for ASUS Cross Graphics Impeller and is a feature that if enabled will automatically optimize system performance if a CrossFire configuration is detected. The optimizations occur within the Direct Media Interface between the P965 MCH and ICH8R that is utilized to enable CrossFire operation. The 975X chipset utilizes Peer-to-Peer write capability within the MCH to enable 2x8 PCI Express lane capabilities for CrossFire. This feature is not available in the P965 so ATI enables CrossFire support utilizing the Direct Media Interface (DMI) to link the x16 GPU slot (16 PCI Express Lanes) residing on the MCH and the x4 GPU slot (4 PCI Express Lanes) residing on the ICH.
In theory, you should be able to load the Catalyst 6.9 drivers on any P965 motherboard that contains the required x16/x4 PCI Express slot layout and start using CrossFire. It turns out for the motherboard manufacturers that certain BIOS calls need to be implemented for this to occur properly and these same BIOS settings need to be optimized for improved performance. We have not tried all of our CrossFire capable P965 motherboards at this time but so far the three we have tested require BIOS updates for proper CrossFire operation. This leads us into today's preview, so let's take a closer look at how the Intel P965 compares to the 975X chipset in CrossFire performance.