Power
Power draw is also an important factor when evaluating a graphics solution. For a card that performs or overclocks well, it can be a big drawback if the card draws a lot of extra power, especially for those running SLI setups. We test power by measuring the total wattage of the system with each card installed in two different states. The first state is while the system is idle, without any programs running, and the second state is under load, by running a graphically intensive benchmark. The benchmark we used to stress the graphics cards was 3DMark06, specifically, the fill rate (single and multi-texturing) and the pixel shader tests.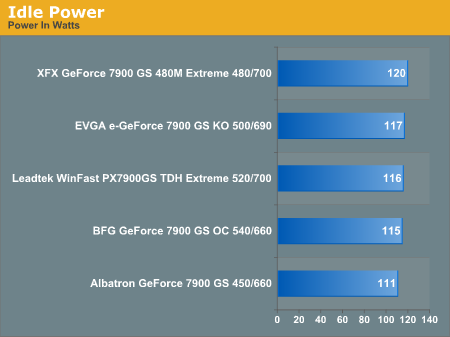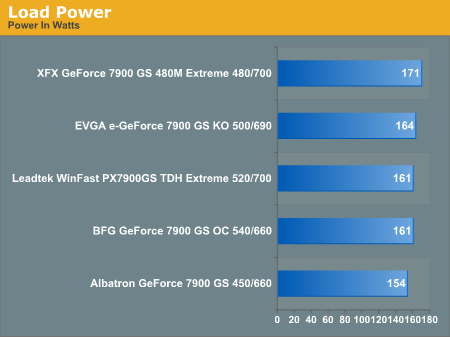 The first thing we notice here is that the XFX GeForce 7900 GS RoHS Extreme is the most power-hungry card while the system is both idle and under load. Under load, the difference is more pronounced, and the system draws about seven more watts than the card with the second highest power draw. This could be a bit of a problem for those interested in overclocking it themselves. A card with this kind of power draw will most likely get hotter and put more of a strain on your power supply while being overclocked. Conversely, the Albatron 7900 GS draws the least amount of power at both states, which makes sense considering its low clock speeds.
What is a little strange and could be seen as a plus for this card, is that the BFG 7900 GS OC, our highest-clocked 7900 GS, got the second lowest score in our power tests at both idle and load states. However, it was almost exactly tied with the Leadtek WinFast PX7900 GS TDH Extreme, which was our second-highest factory clock card. This is a bonus for both of these cards.
Heat
Similar to the way we tested power consumption, we measured the heat level of the cards in two different states: idle and after five minutes of stress testing. In order to stress test the card, we made use of ATI Tool's "Scan for Artifacts" function on their "fuzzy cube" 3D view. This feature basically works by drawing a 3D cube with some kind of fuzz map over and over and about five minutes of "scanning" with this tool gives us the same kind of heat reading we typically get from a period of extended gameplay.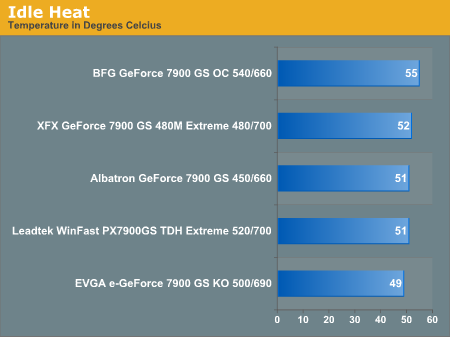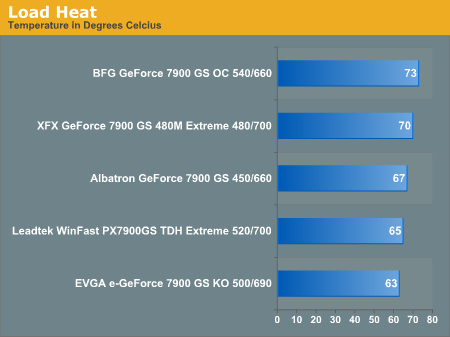 Here we see that the factory overclocked BFG GeForce 7900 GS OC generates the most heat of the five, which isn't too surprising given its level of performance. Interestingly, there doesn't seem to be much correlation between power loads and heat levels for these cards, as our numbers show. The coolest-running 7900 GS we have is the EVGA e-GeForce 7900 GS KO, which might make it the 7900 GS of choice for those concerned about heat levels because of their climate or case circulation. Something notable here is that the Leadtek PX9700 GS TDH Extreme gets a fairly low heat score in our tests in spite of having one of the higher factory overclocks.
Lower temperatures can also mean better overclocking potential, which may explain the higher overclock we got with the EVGA card. Overclockers also know that adding more voltage can improve stability when overclocking - whether it be for CPUs, GPUs, or memory - and that might explain the higher power draw of the XFX card.