Half-Life 2: Episode One Performance
Episode One of the new Half-Life 2 series makes use of recent Source engine updates to include Valve's HDR technology. While some people have done HDR that won't allow antialiasing (even on ATI cards), Valve put a high value on building an HDR implementation that everyone can use with whatever settings they want. Consistency of experience is usually not important enough to developers who care about pushing the bleeding edge of technology, so we are very happy to see Valve going down this path.
We use the built-in timedemo feature to benchmark the game. Our timedemo consists of a protracted rocket launcher fight and features much debris and pyrotechnics. The Source engine timedemo feature is more like the nettimedemo of Id's Doom 3 engine, in that it plays back more than just the graphics. In fact, Valve includes some fairly intensive diagnostic tools that will reveal almost everything about every object in a scene. We haven't found a good use for this in the context of reviewing computer hardware, but our options are always open.
The highest visual quality settings possible were used including the "reflect all" setting which is normally not enabled by default, and anisotropic filtering was set at 8x. While the Source engine is notorious for giving great framerates for almost any hardware setup, we find the game isn't as enjoyable if it isn't running at at least 30fps. This is very attainable even at the highest resolution we tested on most cards, and thus our target framerate is a little higher in this game than others.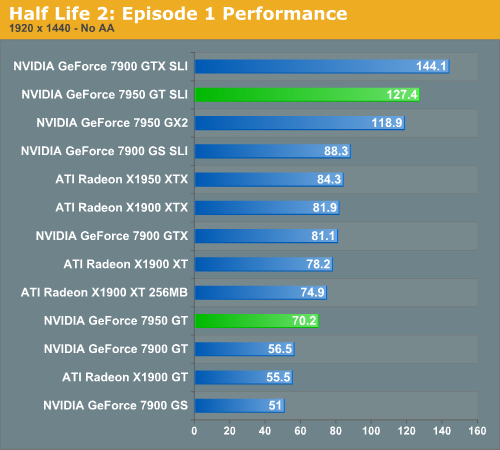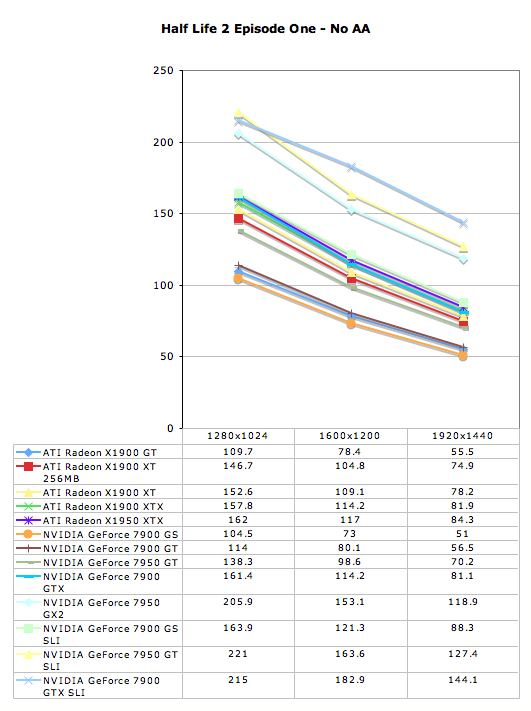 Half-Life 2 Performance is rather uneventful, as all of these cards are completely playable at the very highest settings all the way up to our highest resolution tested. Frame rates will fluctuate throughout the game, but for now at least Half-Life 2 games run without difficulty on all the midrange and faster GPU configurations. It is interesting to note that the 256MB X1900 XT has about a 6% advantage over the 7950 GT throughout our Half-Life 2 testing with AA turned off.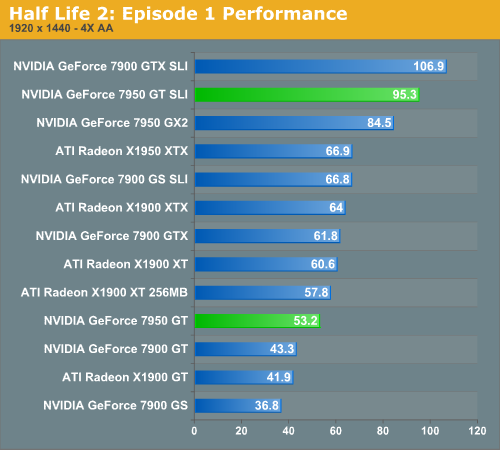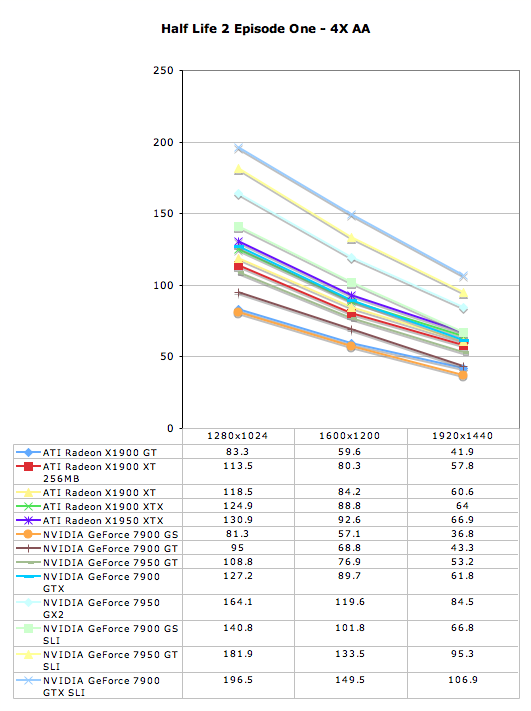 Even with 4xAA, everything remains easily playable. Like our sans AA testing, the X1900 XT 256MB outperforms the new 7950 GT across the board. Multi-GPU configurations are not necessary at all under Half-Life 2 without the use of a huge display.