Application Performance using SYSMark 2004 SE
We'll kick off our look at general application performance with SYSMark 2004 SE and as always, and we'll look at the overall score as well as the scores in each of the two suites - Internet Content Creation and Office productivity.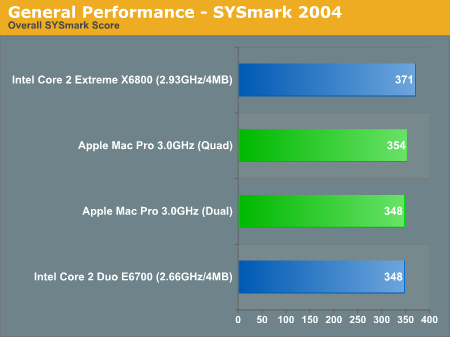 Overall SYSMark performance ends up being pretty close between the 3GHz quad core Mac Pro configuration and our dual core Core 2 Extreme X6800 test bed, with the latter holding on to just under a 5% performance advantage. The overall impact of going from two to four cores is negligable in the overall score as well, making the 3.0GHz Mac Pro about the speed of a Core 2 Extreme X6800 PC.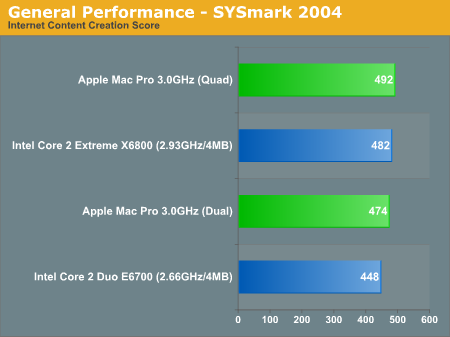 Looking at the ICC score, the quad core Mac Pro and the X6800 are virtually tied with only 2% separating the two. Once again we see no real benefit to having four cores over two on the Mac Pro in these tests and thus performance is about the same as a high end desktop PC.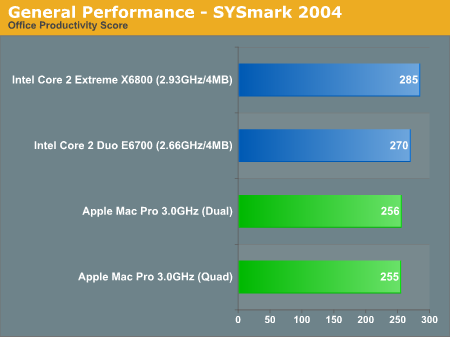 Thanks to its high latency FB-DIMM memory subsystem, the Mac Pro is about 10% slower than our Core 2 Extreme test bed in the Office Productivity tests. It's not a huge reduction in performance but there will definitely be times where there is a noticeable performance drop compared to a similarly equipped Core 2 system.
The breakdown of the SYSMark scores follows below, as you will see there are some benchmarks where the extra two cores really help the Mac Pro out and others where the memory subsystem is at fault for reducing performance. Overall, based on the SYSMark 2004 results, the Mac Pro at 3.0GHz ends up performing like a similarly clocked Core 2 machine, which isn't bad at all.