Basic Features
Abit AW9D-MAX Specifications
Market Segment:
Performance Enthusiast
CPU Interface:
Socket T (Socket 775)
CPU Support:
LGA775-based Pentium 4, Celeron D, Pentium D, Pentium EE, Core 2 Duo
Chipset:
Intel 975X + ICH7R
Bus Speeds:
133 to 600 in 1MHz Increments
Memory Speeds:
SPD, 533, 667, 800
NorthBridge Strap:
CPU, 1066, 800, 533
PCIe Speeds:
Auto, 100MHz~200MHz
PCI:
Fixed at 33.33
Core Voltage:
Base CPU V to 1.7250V in 0.0250V increments
CPU Clock Multiplier:
Auto, 6x-11x in 1X increments if CPU is unlocked
DRAM Voltage:
1.75V ~ 2.65V in .05V or .10V increments, above 2.35V all increments are .10V.
DRAM Timing Control:
SPD, 4 Options
NB Voltage:
1.50V ~ 2.00V in .01V increments
Memory Slots:
Four 240-pin DDR2 DIMM Slots
Dual-Channel Configuration
Regular Unbuffered Memory to 8GB Total
Expansion Slots:
2 - PCIe X16 (x8 operation in multi-GPU setup)
2 - PCIe X1
1 - PCI Slot 2.3
1 - Audio Max Slot
Onboard SATA/RAID:
4 SATA 3Gbps Ports - Intel ICH7R
(RAID 0,1,1+0,JBOD)
3 SATA 3Gbps Ports - Silicon Image 3132
1 e-SATA 3Gbps Port - Silicon Image 3132
Onboard IDE:
1 ATA100/66/33 Port (2 drives) - Intel ICH7R
Onboard USB 2.0/IEEE-1394:
8 USB 2.0 Ports - 4 I/O Panel - 4 via Headers
2 Firewire 400 Ports by TI TSB43AB22A - via Headers
Onboard LAN:
Gigabit Ethernet Controller - PCI-E Interface
Realtek RTL 8111B
Onboard Audio:
Realtek ALC882M HD-Audio 8-channel CODEC - Dolby Master Studio
Power Connectors:
ATX 24-pin, 8-pin EATX 12V, 4-pin 12V Molex
I/O Panel:
1 x PS/2 Keyboard
1 x PS/2 Mouse
2 x RJ45
1 x eSATA
4 x USB 2.0/1.1
BIOS Revision:
AWARD W628 - Beta
Abit has delivered a well optioned but very performance oriented 975X board that should sell for around US $229 or under. While our BIOS is still beta we were surprised at the stability of the motherboard during our benchmarking. We will provide screenshots and a more in-depth look at the BIOS once we receive a shipping version. At this time the one glaring omission is the lack of advanced DRAM timing control settings and a 1333 memory strap that would certainly let this board overclock further. Abit only allows the basic four timings to be changed (tCAS, tRCD, tRP, tRAS) and for a board of this caliber we believe this is a mistake. The ability to increase the MCH voltage to 2.00V and memory to 2.65V is impressive considering the limits on the other 975X based boards. However, we wish the memory settings above 2.35V were available in .05V increments instead of .10V increments.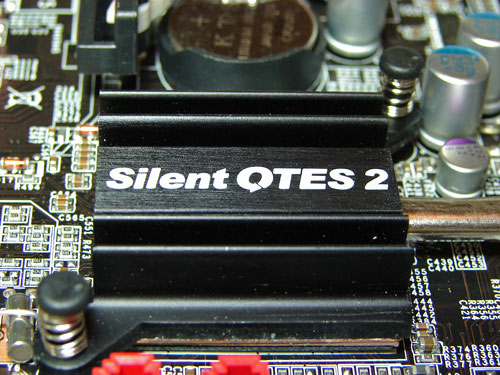 One of the main BIOS issues consisted of the inability of the board to lower the CPU multiplier on standard Core 2 Duo processors (and raise it on the Core 2 Extreme), a feature available in current Gigabyte and ASUS boards. The weirdest issue was that setting the PCI Express speed above 100Mhz would render our SATA drives inoperable in most instances. We had to hunt and peck for an acceptable increase in the PCI Express speed before our drives would be recognized. Our Seagate drives would work at 102 and 108 at certain times while our WD SE16 drives would only work at 105 with the Raptors not working at anything above 100MHz. In the end, none of the SATA drives would work above 100MHz consistently so we left this setting at the default.
We also had trouble overclocking the board at first unless we disabled the Abit EQ thermal controls. This held true when trying to increase our CPU or memory voltages at various times. If the system defaulted to standard EQ limit settings (memory voltage at 2.1V maximum) then we would have to disable the Abit EQ controls, set our increased voltages, and then enable EQ before we could overclock the system. Although this typically worked, the bios would sometimes lose its way and no longer accept the extended voltage settings we specified in the EQ utility. We ended up disabling EQ voltage monitoring altogether during overclocking. Our remaining issue was the bios was unforgiving with specific DDR2 modules at certain settings. We generally found that the 4:5 ratio would work at times with our other DDR2-800 test modules when a 1:1 ratio would not and vice versa. We certainly believe from our discussions with Abit that these BIOS issues will be fixed before retail release but the board basically works fine at this time.