Quake 4 Performance
There has always been a lot of debate in the community surrounding pure timedemo benchmarking. We have opted to stick with the timedemo test rather than the nettimedemo option for benchmarking Quake 4. To be clear, this means our test results focus mostly on the capability of each graphics card to render frames generated by Quake 4. The frame rates we see here don't directly translate into what one would experience during game play.
Additionally, Quake 4 limits frame rate to 60 fps during gameplay whether or not VSync is enabled. Performance characteristics of a timedemo do not reflect actual gameplay. So why do we do them? Because the questions we are trying to answer have only to do with the graphics subsystem. We want to know what graphics card is better at rendering Quake 4 frames. Any graphics card that does better at rendering Quake 4 frames will play Quake 4 better than another card for Quake 4. While that doesn't mean the end user will see higher performance in the game, it does mean that the potential for seeing more performance is there. For instance, if the user upgrades a CPU before the next graphics card upgrade.
What this means to the end user is that in-game performance will almost always be lower than timedemo performance. It also means that graphics cards that do slightly better than other graphics cards will not always show a tangible performance increase on an end user's system. As long as we keep these things in mind, we can make informed conclusions based on the data we collect.
Our benchmark consists of the first few minutes of the first level. This includes both inside and outdoor sections, with the initial few fire fights. We tested the game with Ultra Quality settings (uncompressed normal maps), and we enabled all the advanced graphics options except for VSync. Id does a pretty good job of keeping framerate very consistent, and so in-game framerates of 25 are acceptable. While we don't have the ability to make a direct mapping to what that means in the timedemo test, our experience indicates that a timedemo fps of about 35 translates into an enjoyable experience on our system. This will certainly vary on other systems, so take it with a grain of salt. But the important thing to remember is that this is more of a test of relative performance of graphics cards when it comes to rendering Quake 4 frames -- it doesn't directly translate to Quake 4 experience.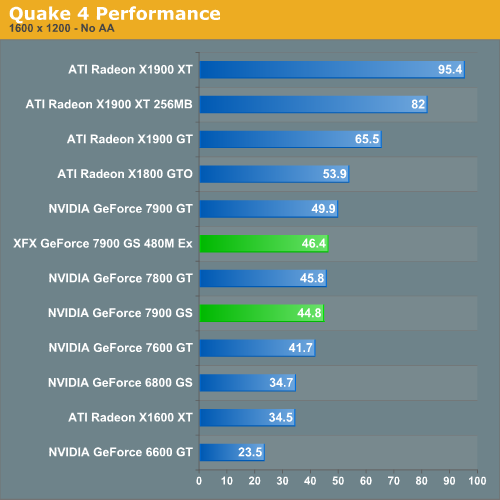 It seems that even an overclock can't save NVIDIA's newest part from succumbing to the latest ATI OpenGL enhancements that have drastically improved Doom 3 engine based game performance. Of course, not all OpenGL games faired well with the latest round of drivers from ATI, with City of Heros/Villains performing very poorly in spite of its use of OpenGL. ATI cards seem to do very well in this benchmark indeed with the X1900 GT coming out the clear performance and value winner.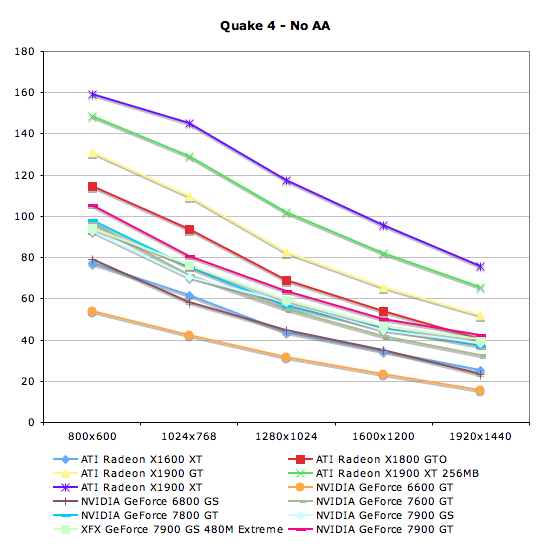 Quake 4 - No AA

800x600

1024x768

1280x1024

1600x1200

1920x1440

ATI Radeon X1600 XT

77.1

61.8

43.8

34.5

25.3

ATI Radeon X1800 GTO

114.7

93.5

68.9

53.9

40.3

ATI Radeon X1900 GT

130.8

109.6

82.7

65.5

51.7

ATI Radeon X1900 XT 256MB

148.3

129.2

101.8

82

65.6

ATI Radeon X1900 XT

159.2

145.2

117.5

95.4

75.7

NVIDIA GeForce 6600 GT

54

42.4

31.3

23.5

15.5

NVIDIA GeForce 6800 GS

78.9

58.4

44.8

34.7

23.5

NVIDIA GeForce 7600 GT

96.5

71.2

54.6

41.7

32.4

NVIDIA GeForce 7800 GT

98

75.3

56.3

45.8

36.9

NVIDIA GeForce 7900 GS

92.5

70.2

58.2

44.8

38.3

XFX GeForce 7900 GS 480M Extreme

94

76.1

59.3

46.4

40.1

NVIDIA GeForce 7900 GT

105.2

80.6

63.6

49.9

42.2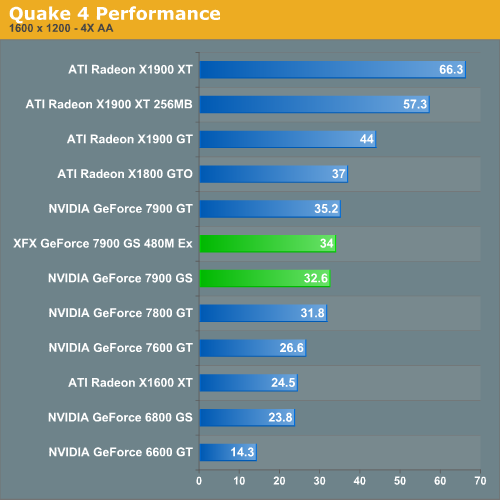 Enabling 4xAA serves to clench Quake 4 as a benchmark that greatly favors ATI hardware when running at the highest possible quality settings. This is the exact opposite of what we have been saying about Quake 4 performance ever since the game launched, but it seems ATI has finally solved their OpenGL performance issues -- at least with this particular engine.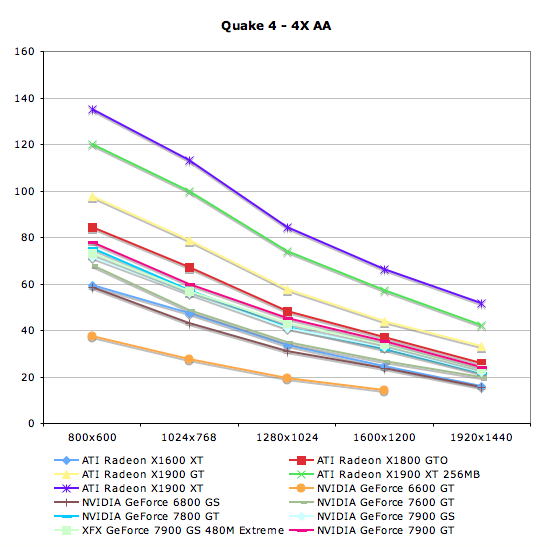 Quake 4 - 4X AA

800x600

1024x768

1280x1024

1600x1200

1920x1440

ATI Radeon X1600 XT

59.4

47.5

33.7

24.5

15.7

ATI Radeon X1800 GTO

84.2

67.1

48.3

37

25.7

ATI Radeon X1900 GT

97.7

78.6

57.5

44

33.1

ATI Radeon X1900 XT 256MB

119.8

99.8

73.9

57.3

42.1

ATI Radeon X1900 XT

134.9

113

84.2

66.3

51.5

NVIDIA GeForce 6600 GT

37.6

27.7

19.3

14.3

NVIDIA GeForce 6800 GS

58.7

42.8

30.9

23.8

15.3

NVIDIA GeForce 7600 GT

67.9

48.5

34.7

26.6

19.9

NVIDIA GeForce 7800 GT

75.1

57.1

41.2

31.8

21.5

NVIDIA GeForce 7900 GS

71.6

55.8

40.9

32.6

22.1

XFX GeForce 7900 GS 480M Extreme

73.3

56.9

43

34

23.1

NVIDIA GeForce 7900 GT

78

60

45.1

35.2

23.9