Our Thoughts
First, we should note that certain Gigabyte P965 boards also allow downward unlocks with the latest BIOS releases. ASUS joins them in offering this feature, and they have broken new ground with the 0507 BIOS for the P5B Deluxe. The ability to specify multipliers - even if it's only downward unlocked - is so significant that every other manufacturer will have to follow suit or lose market share to the two motherboard giants.
At present, every Core 2 Duo chip we tried unlocked down (this included both B1 and B2 steppings); however, none of our samples unlocked both up and down. ASUS tells us that many Core 2 Duo chips also unlock upwards, but the upper limit is around a 14X multiplier with those chips that do unlock in both directions. If true, we're certain those chips that can unlock completely will be quickly figured out by enthusiasts and those models and steppings will become the most highly desired Core 2 Duo chips.
Certainly this new BIOS makes the ASUS P5B a much more desirable motherboard. We do need to remind readers, however, that we have generally reached even higher overclocks on the 975X chipset when compared 1:1 with the 965P. ASUS has told us they are not finished with this "Conroe Unlock" feature and that they are working on BIOS revisions to also bring Core 2 Duo unlock to 975X chipset motherboards. We have seen hardware modifications to the Intel 975 BadAxe that allow unlocking, and it would be great if ASUS can accomplish the same with a simple 975 BIOS upgrade, as they have on the P5B Deluxe.
With innovations like this ASUS BIOS, the Intel Core 2 Duo processor is gaining features that make it even more desirable in today's market. To summarize our findings, below are the highest overclocks we could achieve at each ratio with the tested processors:
Core 2 Overclocking
CPU
Stock Speed
X10
X9
X8
X7
X6
Intel Core 2 Duo E6700
2.66GHz
360
3.6GHz
400
3.6GHz
440
3.52GHz
494
3.46GHz
494
2.96GHz
Intel Core 2 Duo E6600
2.40GHz
-
402
3.62GHz
445
3.56GHz
495
3.47GHz
495
2.97GHz
Intel Core 2 Duo E6400
2.13GHz
-
-
445
3.56GHz
511
3.58GHz
514
3.08GHz
Intel Core 2 Duo E6300
1.86GHz
-
-
-
525
3.68GHz
532
3.19GHz
Those interested in getting the most out of their high-performance DDR2 will be very happy with the unlocking feature. It allows options like the running the memory at 1:1 at DDR2-800 and 3-3-3 timings as we have done in this screen capture of a 9x400 overclock on an E6700 with memory set at the DDR2-533 ratio.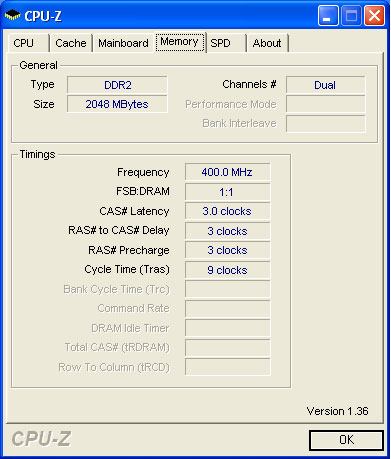 ASUS has earned our thanks for making the 965P chipset worth considering again. With overclocks up to 532 in our testing, with multipliers settable to x6 on all tested chips, and with multipliers purportedly also unlocked at the top on some formerly locked Conroe chips this BIOS upgrade has to be considered a must for any ASUS P5B Deluxe owner. For those considering a new Conroe board, the already desirable P5B has just moved to the head of the 965P class. The only feature missing now is support for CrossFire video configurations, which remains an advantage of the 975X for gaming enthusiasts.