As more experience has been gained in overclocking Core 2 Duo chips, it is becoming clear that the 4MB cache E6700 and E6600 do not overclock quite as well as the 2MB Cache chips. There is not a huge difference in the overclocking of 2MB and 4MB at each multiplier, but there is a small advantage to the 2MB design for overclocking. Keep in mind, however, that 2MB performance is lower, so that tends to offset any advantage the 2MB E6400 and E6300 designs might enjoy.
E6400
The E6400 starts at 8x266 or 2.13GHz. With the new 507 BIOS we managed to reach stable speeds of 445x8, 511x7, and 514x6. This composite should give you a better idea of performance at a FSB of 445x8. There is a huge amount of capture information in this image, so you will need to click to enlarge it to readable size.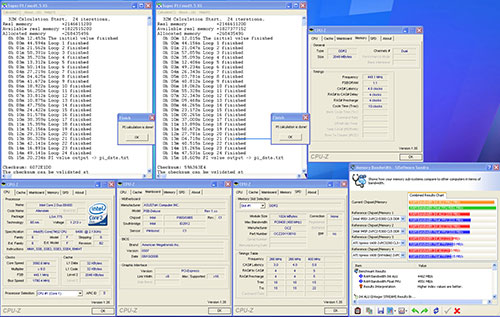 Click to enlarge
The jump from 2.13GHz to 3.58GHz is an amazing overclock of 1449MHz, or almost 1500 MHz. Percentage wise, this is a bit more than 68%. With the new ASUS BIOS, we now have the ability to do similar overclocks with the bus speed. With the 6400 the bus speed can now be adjusted from 266 to 514, which represent s a potential bus speed overclock of 93% - almost double the stock 266 FSB speed.
E6300
At $183 the E6300 represents the best value among the Core 2 Duo processors. The 65nm architecture combined with a low starting speed of 1.83GHz presents buyers with some amazing overclocking potential. These capabilities are enhanced further with the ASUS 0507 BIOS.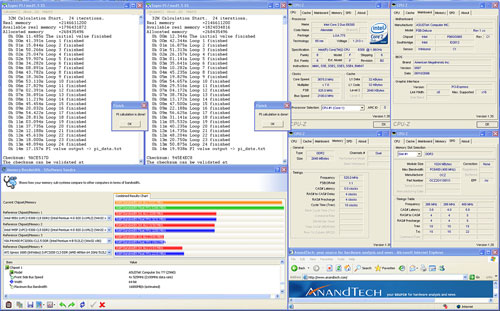 Click to enlarge
The E6300 unlocked down and reached 525x7 at stock multiplier. We were very near the limits of the ASUS P5B with the new BIOS and Scythe Infinity air cooling since dropping to x6 only gained us a few more MHz on the FSB, namely 532 at 6X. This is a100% bus overclock and it clearly demonstrates the added flexibility of the lower speed Core 2 Duo chips.
While the 2MB cache E6400 and E6300 reached higher bus speeds and CPU clocks than the 4MB E6700 and E6600, keep in perspective that the 4MB versions perform faster clock for clock. Any advantage the 2MB might have in our testing is small and is more than offset by the 4MB performance advantage. Still, the 2MB models are definitely impressive overclockers and they are both excellent values in the Core 2 Duo line-up.